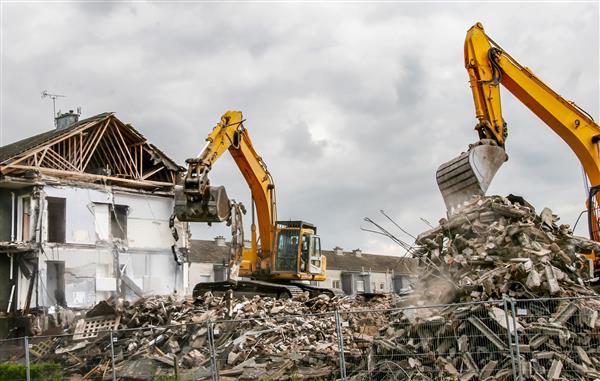 Omni Demolition: A Residential House Demolition Company You Can Count On
Hiring a professional to handle your house demolition in Albany, NY may be the best decision you will ever have to make. We pride ourselves in being one of the best house demolition companies countrywide. If you wish to keep your business local and be assured of expert service, Omni Demolition's residential demolition contractors provide exceptional service. Home demolition is not an easy task. In fact, there are many important considerations to bear in mind. One of which is safety because tearing down a structure will require the right equipment, tools, and skilled operators. Call in a professional to have the area checked. Whether you require a simple mobile home demolition or a major residential complex levelling, you can enjoy superior quality services. Cracks tend to widen over time, and this allows moisture to seep into the material. The extra moisture weakens the integrity of the structure. By working with experts, you can avoid such issues.
How We Provide Outstanding Albany, NY Home Demolition Services
Whenever we provide house demolition service in Albany, NY, we thoroughly survey the area to check all the weak spots. We want to deliver our Albany, NY services as safely as possible by using various tools and hydraulic equipment. Our residential demolition contractors are stringent when it comes to following the EPA guidelines. Hire only residential demolition companies that have the know-how and technical knowledge to tailor their approach to your distinctive home demolition project. Our professional contractors provide reliable services even for something as small as a mobile home demolition.
Getting a Home Demolition Evaluation in Albany, NY
Selecting among the many house demolition companies in Albany, NY can be a tough task, especially if it's your first time knocking down a house. House demolitions may cost a fortune but if it means ensuring the safety and well-being of the entire family, it is worth it. A teardown can be a worthwhile option for you, but be aware of some home demolition companies' potential snares, traps, and costs up front. We make it our business to assign dedicated and committed residential demolition contractors to work on your project. In case you have questions, you can easily consult with our mobile home demolition professionals. Make sure you only contact licensed companies to do the job for you. You can count on our staff at Omni Demolition to answer your questions or concerns about our services.
Residential Demolition Permits Needed in Albany, NY
If you play by the rules and you have all your ducks in a row with the city you won't have the house demolition inspector in Albany, NY issuing you stop work notices half way through your job. Other special inspections and documentation even for a mobile home demolition might be asked from you depending on the state you are in. All the processing, inspection, and actual permit fees will cost you a significant amount of money that can actually add up to the final budget for the project. If you fail to acquire demolition permit, you may be penalized. Do not hesitate to ask our team about all the necessary documentation before proceeding with the demolition work.Preparing for a Residential Demolition Project in Albany, NYMake sure to keep your kids and pets out of the property once the Albany, NY home demolition team arrives. This way, you can prevent any unnecessary incidents and ensure that the plan will run smoothly. If water, electricity, or gas lines are not cleared during the demolition of a structure, a collapse could result in a dangerous explosion or exposure to chemicals. These dangerous situations can put every person at a demolition site at risk for serious injury. Once your permit application is granted, the next step is to prep your house for demolition. Getting a timeline is vital because all demolition projects, even mobile home demolitions, leave a huge mess, and a timeline will give you an idea when the demolition will actually take place and how long the entire process will be. These types of projects mostly require permits and you can count on us to take care of this for you.
When is Residential Demolition in Albany, NY Necessary
There are a lot of reasons as to why a residence would need to be demolished. This ranges from wanting to renovate the house, a natural disaster that has damaged parts of the house, or the need to remove an existing structure so you can build a new one. New structures are hardly demolished, but every so often old buildings that were poorly constructed don't pass the test of time. Also, overcrowded or outdated structures are prone to various infestations or contamination. If you are ready tear down a property that is falling apart, it is a wise decision to ask for the help of a professional residential demolition team. With the help of our friendly Albany, NY residential demolition specialists, you can ensure the safety of your loved ones and your personal valuables. A house demolition crew would then be needed in these situations.
Exceptional Quality Residential Demolition Equipment for Your Albany, NY House
Residential demolition contractors use a wide range of home demolition equipment. Irrespective of whether you are looking into a home demolition or a commercial project in Albany, NY, Omni Demolition carries out any demolition job using specialized tools to guarantee a smooth project completion. We can work on various materials as well. Through our high-powered tools and equipment, we can assure the timely completion of our services. We guarantee to work fast so you can start rebuilding your property right away.
Give Us a Ring Today for Home Demolition Services in Albany, New York
Never delay your demolition project because you may be at risk of getting hurt or spending a lot of money on repair jobs. Our superior work ethic is the reason we exceed our customers' expectations. Our years of experience being residential demolition contractors in Albany, New York enable us to understand and anticipate our customers' needs. We are very rigorous when it comes to professional behavior and hard work on the demolition site. We are only a phone call away for all your demolition needs.
Zip Code Areas We Service in Albany
12208, 12209, 12204, 12206, 12207, 12202, 12203, 12205, 12210, 12222, 12201, 12212, 12214, 12220, 12223, 12224, 12225, 12226, 12227, 12228, 12229, 12230, 12231, 12232, 12233, 12234, 12235, 12236, 12237, 12238, 12239, 12240, 12241, 12242, 12243, 12244, 12245, 12246, 12247, 12248, 12249, 12250, 12255, 12257, 12260, 12261, 12288