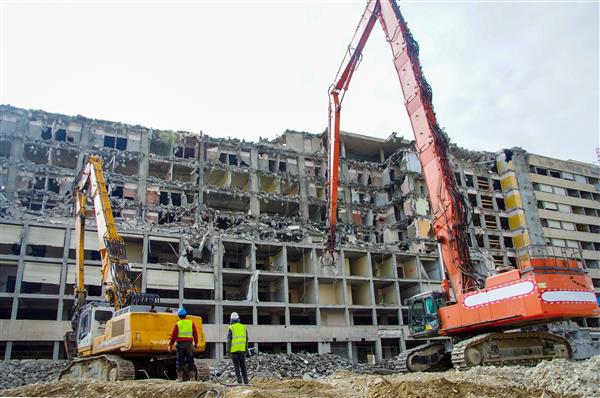 Demolition Contractors Brooklyn, NY The Demolition Company That You Can Count On
For years, Omni Demolition has continuously served and established its reputation as the most trusted demolition contractor in Brooklyn, NY. We are dedicated to working on your project with no distractions whatsoever. At any given time, our demolition contractor will be at your service to help you with your demolition, excavation and wrecking projects in Brooklyn, NY. Here at Omni Demolition, you can expect nothing less than high-quality customer service and spotless workmanship courtesy of our seasoned demolition experts. This minimizes the chances of accidents or injuries at the demolition site.
Demolition vs. Deconstruction in Brooklyn, NY
Demolition is aimed at basically bringing down a structure. Our demolition experts are most experienced in going over construction sites to see what items may be salvaged and put aside to be used again, often saving time and resources. A deconstruction may be a prerequisite to the actual demolition process where hazardous materials are taken out prior to the tear down of the structure. We have the know-how in identifying the value of extracted materials and their potential for reuse.
Complete Accountability from Highly Skilled Specialists for Your Demolition Project in Brooklyn, NY
Our demolition experts will handle your property professionally from start to finish. Some demolition contractors offer their services at rock bottom prices but this may cost you more in the long run. Being in the business for years, our experience and continued trainings ensure that you work with only the most able specialists in the industry. Our demolition contractor will handle your needs on a one-on-one level and ensure that your project is given the undivided attention it deserves. Our service delivery is focused on safety and efficiency. Our service delivery is focused on safety and efficiency.
Our Demolition Services in Brooklyn, NY
Industrial Demolition services: Complexity and size do not intimidate us. We have successfully torn down enormous structures such as manufacturing plants, factories, warehouses and even utility installations.
Commercial Demolition Services: This type of demolition requires tact in working around obstacles. Our demo company is highly skilled in demolishing commercial structures such as hotels, retail spaces, office buildings, warehouses, bridges and airplane hangars among others.
Concrete Demolition and Recycling Services: This type of demolition is environmentally friendly and saves on cost. Rubble from concrete demolition is reused by our demolition experts to make gravel or as one of the materials for making new concrete.
Scrap Metal Demolition Services: Our demo company will expertly demolish your scrap metal projects. Our crew will downsize as well as dismantle the steel structures then process, bundle and recycle the materials.
What Distinguishes Us from Other Demolition Companies in Brooklyn, NY
We take pride in having some of the most seasoned demolition experts among numerous demolition contractors in Brooklyn, NY. We take pride in employing some of the finest calibre of demolition experts throughout the city. No matter the nature of your project or timelines, our demolition company in Brooklyn, NY will deliver to your satisfaction. Being a demo company in this business for years, we have perfected the process of demolishing structures as cost-effectively and safely as possible.
Main Methods for Demolition and Deconstruction in Brooklyn, NY
Explosive Demolition: Conducted by our skilled demolition experts in Brooklyn, NY, this method requires properly laying out detonators and explosives to bring a structure down to a pulp.
Non-Explosive Demolition: Although somehow rare, our local demolition contractors use a wrecking ball to tear down a structure. Compared to using explosives, this method costs less; however, there is limited control on the amount of damage each swing can make.
Selective Demolition: In cases of remodeling or renovation, demo contractors may be required to pull apart specific areas of the structure. We exceed other building demolition companies when it comes to precision in conducting selective demo such as disassembling interiors, floor coverings, ceilings and walls.
Demolition Equipment in Brooklyn, NY
Hydraulic Breakers – Our demo company uses a hydraulic breaker to demolish rocks and concrete structures. Its powerful hammer causes destruction on the targeted object in a matter of seconds.
Wrecking balls – A massive ball made of steel, it is suspended on a crane and maneuvered into a swinging motion to tear down a building. It sounds less dangerous than using explosives but the use of wrecking balls gives little control to the depth of damage done, hence it requires careful and professional handling.
Hydraulic shears and rock breakers – Used by specialists to cut through various materials such as concrete, metal, wood, and steel.
Bulldozers – These can be utilized to apply pressure on a structure and weaken it as well as to haul waste and other materials onsite.
Dumpers – In the demolition business, they are used for moving rubble and debris away from the demolition site.
Cranes – Aside from being used to secure a wrecking ball, demolition contractors in our demo company also use cranes to lower and lift materials within the site.
Crawler Loaders – Flexible heavy equipment, crawler loaders can move on top of uneven surfaces and are also used for excavating and lifting.
Contact Us for Any Demolition Services in Brooklyn, New York
There is no other demolition company in Brooklyn, New York that offers high quality services with reasonable prices as us. We will meet all your demands and give the same meticulous attention to your projects no matter the size. Consult with a reliable demolition company and save yourself from all the worries. Our Brooklyn deconstruction and demolition company has highly skilled personnel with years of experience in the demolition business. Give us a call at
(855) 885-3366
and we guarantee a refreshing customer experience that you can only get from us.
Zip Code Areas We Service in Brooklyn
11212, 11213, 11216, 11233, 11238, 11209, 11214, 11228, 11204, 11218, 11219, 11230, 11234, 11236, 11239, 11223, 11224, 11229, 11235, 11201, 11205, 11215, 11217, 11231, 11203, 11210, 11225, 11226, 11207, 11208, 11211, 11222, 11220, 11232, 11206, 11221, 11237