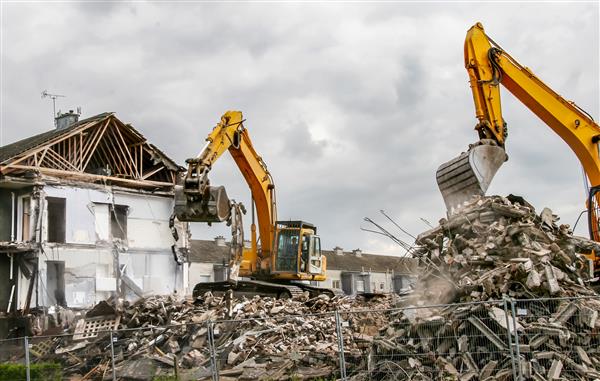 Residential House Demolition by Omni Demolition
When it comes to house demolition, we are the #1 choice in Brooklyn, NY. Omni Demolition is one of the best house demolition companies in the country. Omni Demolition has many full-time employees; we own our trucks and equipment; and our residential demolition contractors are well trained and capable of handling any demolition job. We have been in business for many years providing exceptional customer service. You can always count on our team of professionals to work on your project swiftly especially when it comes to small projects such as a mobile home demolition. We at Omni Demolition never fail to provide quality and hassle-free demolition services.
How We Stand Out from Other Brooklyn, NY Home Demolition Companies
Whenever we provide house demolition service in Brooklyn, NY, we thoroughly survey the area to check all the weak spots. Your safety is our top priority. We follow strict safety measures to avoid accidents. The scale and method of all demolition strategies are dependent on the budget available, the size of the project, and any external factors that might be in play-for instance, the need to demolish a structure without causing any damage to the nearby structure. Trust our team to discuss every detail of the demolition plan. Guided by years and years of practice, our residential demolition contractors can finish your project within a very short timeframe. Whether it is for a small home or a huge mansion, you must always be cautious in selecting residential demolition companies as amateur employees may make mistakes adding extra delays and costs to the project. We put our best foot forward whether we're working on a mobile home demolition project or demolishing a three-storey home.
Making a Decision After You Get a Brooklyn, NY Home Demolition Cost Estimate
Selecting among the many house demolition companies in Brooklyn, NY can be a tough task, especially if it's your first time knocking down a house. The professionals know what they should keep and what they should not. In addition to the cost, you should also consider the complete package as a whole Some home demolition companies offer cheap rates yet sub-par services. We guarantee to send qualified residential demolition contractors to assist you. In case you have questions, you can easily consult with our mobile home demolition professionals. This way, you can get more for your money. When you're browsing for a team for your home project, make sure you compare their rates.
Residential Demolition Permits to Procure in Brooklyn, NY
Apart from safety issues, you will also need to secure all required permits from local authority. Other special inspections and documentation for your mobile home demolition may be asked from you depending on the state you are in. There are several requirements you will need to secure so the local government can process your application. Other special inspections and documentation may be asked from you depending on the state you are in. Failure to secure all the necessary permits can get you penalized.Getting ready for a Residential Demolition in Brooklyn, NYWhen planning for a home demolition project in Brooklyn, NY, you should make sure that everything is removed from the site. Start by clearing the area and removing all your furniture and valuables. The structure must be cleared; all of the utilities such as electricity, water, and gas including the elimination of any risky materials must be dealt with, and any biodegradable materials must be taken away. When it comes to preparing even a simple mobile home demolition, you want to be sure that everyone is on the same page.
Do I Really Need a Residential Demolition Service in Brooklyn, NY?
If you think you only need to apply a few layers of cement here and there to reinforce the walls or the foundation of your home, then you ought to think again. When the structural integrity of a building is compromised, you should already seek the help of professional demolition contractors. Otherwise, you are increasing the risk of getting caught in an accident and suffering from physical injuries. Small cracks can result in bigger and more serious problems along the way. As such, we suggest proactively approaching structural issues. Our Brooklyn, NY residential demolition experts are well-prepared to take on your request on your preferred schedule. A house demolition crew would then be needed in these situations.
Why We Excel in Providing Residential Demolition Service in Brooklyn, NY
For many years, thousands of homeowners have depended on our team of residential demolition contractors to help them with their property. With the extensive industry background of our contractors, you can definitely enjoy outstanding home demolition deals, regardless of how small or big your property is. Aside from our extensive tools and equipment, our experts are equipped with advanced technical skills and industry experience. Through our high-powered tools and equipment, we can assure the timely completion of our services.
Contact us Today and Book a Brooklyn, New York Home Demolition
We have built a reputation in the house demolition industry as one of the leading demolition companies. Our superior work ethic is the reason we exceed our customers' expectations. Our residential demolition contractors have been rated #1 in Brooklyn, New York. Get in touch with us today! Call us at
(855) 885-3366
for a full cost estimate.
Zip Code Areas We Service in Brooklyn
11212, 11213, 11216, 11233, 11238, 11209, 11214, 11228, 11204, 11218, 11219, 11230, 11234, 11236, 11239, 11223, 11224, 11229, 11235, 11201, 11205, 11215, 11217, 11231, 11203, 11210, 11225, 11226, 11207, 11208, 11211, 11222, 11220, 11232, 11206, 11221, 11237