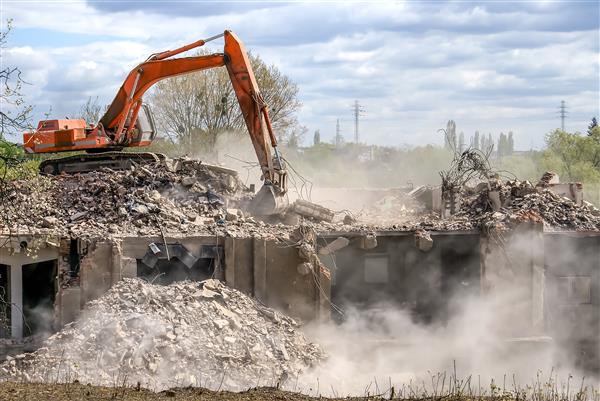 Trust Only the Authority in the Concrete Removal Business in Canton, OH
When looking for a concrete removal contractor in Canton, OH, relying on ads may not be the best option, so if you are doing your own research, we are here to help you make the right decision. Here at Omni Demolition, our concrete slab removal services are completed all the while making you feel like a VIP. For many years, we have been delivering quality solutions such as construction site cleanup, demolition jobs and concrete hauling. Our high ratings clearly speak for our loyal clients and how much value they get from hiring us as their contractor. Simply contact us about your project—we are ready to help.
Specialized Equipment Used for Concrete Removal in Canton, OH
Manual concrete demolition is done on small or residential structures. Other equipment used to ensure maximum success in service delivery are mounted breakers, which are popular in concrete slab removal because of their impact energy, speed and versatility. We give importance to our client's time which is why we ensure equipment and material readiness to avoid any delays to your projects. We strategically plan out tasks and delegate enough manpower especially in removing concrete driveway, conducting concrete slab demolition, or doing a concrete wall demolition. Depending on the nature of the project, we select different equipment to deliver maximum results. After the demolition, the waste has to be dealt with, so we also have special machinery for concrete hauling. We are well equipped in handling all your concrete removal and concrete hauling projects.
When Do You Need Concrete Demolition Services in Canton, OH?
Concrete demolition in Canton, OH solves the potential issue of unsafe structures. It not only allows you to erect new buildings but it also gets rid of aging, dilapidated and unsafe structures. We have all the equipment needed to perform quality concrete hauling or demolition. Concrete structures are built to withstand great pressure. With our trusted services, you have our assurance that the job will be done correctly and safely.
Concrete Removal Permits and Other Construction Requirements in Canton, OH
You will need to obtain several permits and approvals from the government if you plan on carrying out a concrete removal or concrete hauling project in Canton, OH. Some of the concrete structures requiring permits include seawalls and sidewalks, among others. Unlike other concrete removal companies, Omni Demolition will take care of all the permit preparations for you. Often, the permits are necessary to allow governing bodies to check on how the demolition process is being conducted. For one, you will need a permit. The purpose of a permit is to ensure that the governing body is able to monitor the work being done in its jurisdiction for the safety of all involved. Before you begin a demolition job, it is advisable to first understand the laws and requirements of your location. Here at Omni Demolition, all you have to do is submit a duly completed application form to us and we will do all the legwork.
How Much Cost Will I Incur in a Concrete Demolition Project in Canton, OH?
For starters, there are demolition permits which can cost you a lot depending on the location of the project. In addition to permit application fees in Canton, OH, there is no accurate range of expenses that we can give outright as every project requirement is unique. If you live in an urbanized location, expect the permit application fees to go up to a thousand dollars or more. Before you book services even as small as a patio demolition, make sure you ask for the rates first. You can ask our contractors to provide a free quote for a patio removal or other services. Additional fees may follow for services like inspections for water, electrical and sewer disconnections. The actual demolition typically ranges from $4,000 to $14,000.
Expected Duration of a Concrete Demolition in Canton, OH
Time taken to complete a concrete demolition project usually depends on a number of things. To eliminate demolition delays, we plan all our concrete slab removal and concrete hauling in Canton, OH effectively with hands-on management principles. We put a lot of thought into every step of the process so the safety of our workers and the satisfaction of our clients are completely assured. Depending on what we mutually agree on, your project can be completed in a few days, a couple of weeks or even months. Thorough preparation and planning need to be done in order to execute the project safely and with precision.
Is It Possible to Recycle concrete in Canton, OH?
It is not only an environmentally friendly process of utilizing concrete rubble but it is also a cost cutting measure for your concrete demolition and removal project. Ever wonder how this type of material can be used again? Our team recycles crushed and cut concrete slabs. Our concrete demolition contractors can also use the recycled concrete for landscaping. We can help you recover some funds by forwarding not just concrete but also metal scraps to their respective recycling centers. Recycled concrete is typically available at a much lower price so you get to save money while also helping save the environment.
Why Come to Us for All Your Concrete Demolition Needs in Canton, Ohio
Our company, Omni Demolition has established a huge number of loyal patrons who prefer our concrete demolition services over other services providers in Canton, OH. Omni Demolition has all the skills, tools and equipment needed to perform a concrete slab removal or hauling service. We guarantee to provide superior quality concrete slab removal, site cleanup and other services no matter where you live in the city. Our flexibility allows us to work on your project according to your timeline and schedule. We can guarantee incident-free operations with very minimal to zero disruption to adjacent properties. Contact us today for a concrete removal service!
Zip Code Areas We Service in Canton
44710, 44714, 44702, 44703, 44706, 44707, 44704, 44705, 44708, 44709, 44701, 44711, 44735, 44750, 44767, 44799