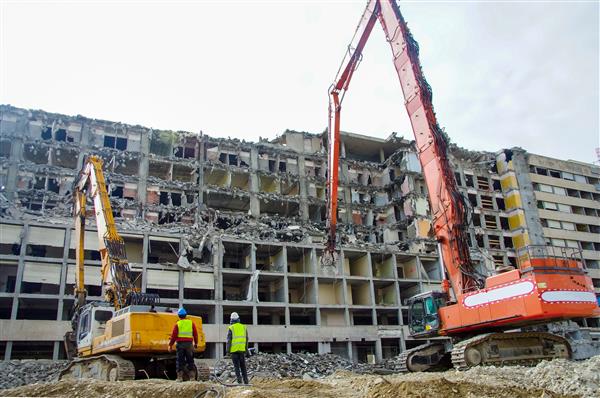 Professional Demolition Contractors Canton, OH – What You Need to Know when Hiring a Demolition Company
Omni Demolition is composed of reliable and dependable demolition contractors in Canton, OH. Just like any other major construction or remodeling plan, having a property demolished requires the skills of professionals, along with the use of appropriate equipment. At any given time, our demolition contractor will be at your service to help you with your demolition, excavation and wrecking projects in Canton, OH. Our demolition experts employ the safest and most efficient ways of wrecking and demolishing old homes, dilapidated buildings and any other structure you may want demolished. The primary projects we undertake are demolition and deconstruction.
Better Understanding of Demolition and Deconstruction in Canton, OH
Demolition can be described as dismantling of buildings or a specific room by a demolition expert. Our demolition experts are most experienced in going over construction sites to see what items may be salvaged and put aside to be used again, often saving time and resources. A deconstruction may be a prerequisite to the actual demolition process where hazardous materials are taken out prior to the tear down of the structure. In instances where a building will be remodelled or reconstructed, a deconstruction is more appropriate.
Why Hire Us for Your Demolition Project in Canton, OH
Our demolition experts as well as our demolition contractors in Canton, OH have highly specialized equipment and all the resources needed to complete any project you may have for us, however big or small it may be. Some demolition contractors may offer you an attractive contract with a very cheap price tag, but are you sure you are getting a steal? It is our core mission to exceed all your expectations. Do not be tricked by demolition contractors who cannot walk the talk. From cost estimation up to the site clean-up, you can rest assured that we have everything covered. From cost estimation up to the site clean-up, you can rest assured that we have everything covered.
Choose from Our Wide Variety of Demolition Services in Canton, OH
Industrial Demolition services: We have the expertise, equipment and manpower to take down, mills, plants, manufacturing buildings among others without compromising the integrity of neighbouring structures.
Commercial Demolition Services: We know all the ins and outs of this delicate procedure. No matter the job, you can be rest assured that our demo company will give you the best results. Our demolition experts have the know-how and experience to bring down buildings and structures even in very tight spaces. Be it tearing down a mall, strip center, warehouse, bridge, hangar or structures in metropolitan areas, we have got you covered.
Concrete demolition and recycling services: We are the only demolition experts who carefully set aside re-usable materials from your site for possible future use such as slabs to be crushed later on into gravel.
Scrap Metal Demolition Services: Our demo company will also clear out your property of any undesirable steel erections and salvage any existing metal scraps for recycling.
We are the Leading Demolition Company in Canton, OH
Our demolition company in Canton, OH offers a broad spectrum of solutions which enables us to deliver prompt and successful results. Our team uses sophisticated equipment and observes high standards in every operation. An emerging demo company from years back, we are now among the top contractors in the city when it comes to leveling residential, commercial and industrial properties. Being a demo company in this business for years, we have perfected the process of demolishing structures as cost-effectively and safely as possible.
Methods Used for Demolition and Deconstruction in Canton, OH
Explosive Demolition: Conducted by our skilled demolition experts in Canton, OH, this method requires properly laying out detonators and explosives to bring a structure down to a pulp.
Non-Explosive Demolition: Our local demolition contractors will use a wrecking ball attached to a crane to knock down a building. The heavy wrecking ball is swung several times on the targeted structure before it can collapse.
Selective Demolition: This process entails tearing down a part of the structure. Efficiency is maximized by recycling reusable material thus reducing waste and lessening the impact on the environment. As the leading demo contractors, we have set standards that other building demolition companies have a hard time measuring up to.
Demolition Equipment in Canton, OH
Hydraulic Breakers – Our demo company uses a percussion hammer attached to an excavator. This powerful equipment is used for bringing down concrete structures.
Wrecking balls – A massive ball made of steel, it is suspended on a crane and maneuvered into a swinging motion to tear down a building. It sounds less dangerous than using explosives but the use of wrecking balls gives little control to the depth of damage done, hence it requires careful and professional handling.
Hydraulic Shears and Rock Breakers – They are used to cut through concrete, rocks, wood and metal.
Bulldozers – These powerful machines are used to bring down smaller sized buildings or structures. They are also used to transfer debris and rubble to trucks.
Dumpers – A necessity in every demolition business, dumpers are used to haul waste materials off the demolition site. It ensures the pre-construction area is free from any trash or debris brought about by the demolition.
Cranes – Demolition contractors use cranes to attach a wrecking ball to it. The wrecking ball suspended on a crane is then swung to the targeted structure. A demo company can use cranes to remove debris from high areas of a demolished structure. Cranes can also be used to load debris onto a dumper.
Crawler Loaders – Flexible heavy equipment, crawler loaders can move on top of uneven surfaces and are also used for excavating and lifting.
For all your Demolition Needs contact us in Canton, Ohio
If you are looking for a reliable demolition company in Canton, Ohio, there is no need to look any further. Ensure a spotless pre-construction site when you sign with us. Find out why we have remained the #1 demolition company for years as you experience top of the line customer service. Our Canton deconstruction and demolition company is licensed and highly reputable. Call us
(855) 885-3366
today for all your demolition solutions.
Zip Code Areas We Service in Canton
44710, 44714, 44702, 44703, 44706, 44707, 44704, 44705, 44708, 44709, 44701, 44711, 44735, 44750, 44767, 44799