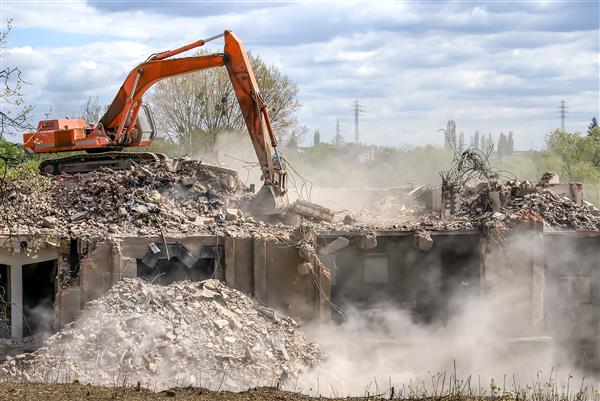 Trust Only the Authority in the Concrete Removal Business in Moore, OK
Concrete removal is part and parcel of construction and demolition projects in Moore, OK. No need to risk it with small-time providers of concrete slab removal when you can sign with Omni Demolition for an affordable price. Our team of seasoned experts accomplishes everything from concrete hauling to onsite cleaning, with outstanding workmanship and dedication that no specialized training can teach. We have spent years perfecting our services.
High-power Equipment Best for Concrete Removal in Moore, OK
Be careful of contractors in Moore, OK that use outdated and broken down equipment for this could mean impending delays to your project, or work that is so poorly done you will have to hire another company to redo the job. Concrete slab removal in Moore, OK requires the use of special equipment to get the job done perfectly, efficiently and safely. Our tools and equipment can be used on various projects of various sizes. As such, our services such as concrete slab demolition and concrete wall demolition are perfect for any type of situation. Rotary hammers, on the other hand, can demolish concrete using the hammer alone or they can make holes in concrete. Pavement breakers are also used for heavy demolition jobs. In primary demolition, equipment and tools such as the wrecking ball, hammers and crushers demolish concrete into big sized rubble.
Why You May Need Concrete Demolition Services in Moore, OK
We have handled all kinds of cement deconstruction in Moore, OK and we can safely say, our team is experienced in anything and everything under the sun. Concrete is no exception and the time inevitably comes when you will need to demolish your concrete structure in Moore, OK, for one reason or another. We have all the equipment needed to perform quality concrete hauling or demolition. Concrete demolition is necessary when your structure becomes old and dilapidated; when your structure has widespread cracking; when moisture penetrates into the ground, freezes and then pushes up the concrete; or when you plan to improve or put up a new structure. All of the technicians follow safety procedures to ensure the project flows smoothly without any delays.
Getting Concrete Removal Permits in Moore, OK – We Got That Covered
The state and local authorities in Moore, OK require necessary permits whether you will be conducting a concrete removal or concrete hauling project. While other concrete removal companies may factor processing the permits and approvals as additional costs to you, at Omni Demolition, we take care of that for you. The governing bodies also ensure that environmental and safety regulations are complied with. This however varies with your location. Ignoring permit requirements can become a costly affair. Your local council may require that you get planning permits, demolition permits and a concrete demolition consent.
How Much Do I Need to Pay for Concrete Demolition Services in Moore, OK?
The national average concrete removal cost is between $1500 to $2000. There are a number of factors that contribute to the overall cost of your concrete demolition project such as the type of concrete used. Other companies reach a higher price range of $15,000+. Whether you have an easy patio demolition or patio removal job for us or a major road removal project, expect nothing less than V.I.P. treatment and a premium end result. Additional fees may follow for services like inspections for water, electrical and sewer disconnections. Another cost to factor in is demolition permits. Depending on where you are situated and size of the project, permits and associated costs can cost you around $200 or as high as $10,000 in some cases.
Expected Duration of a Concrete Demolition in Moore, OK
Frankly speaking, there is no general timeframe that can be given as each concrete demolition job is different from the other. The processes such as concrete slab removal, concrete hauling and recycling may be the same but the situations will always have some variation. What we can say is that for all contractual projects, we do what we can in terms of equipment and manpower readiness to ensure nonstop operations and an early finish. After we check the overall condition of your property in Moore, OK, we can start discussing the available options. With that in mind, it might take days, weeks or even months to have your project completed depending on its nature, type and all the other aforementioned factors.
Can Concrete Be Recycled in Moore, OK?
Concrete demolition and removal projects make the most amount of wastes and debris which is why, instead of throwing them away, it is best to make an effort to avoid harming the environment when disposing of these materials. Concrete recycling is a more viable option of taking care of demolition waste. With the help of our professional concrete demolition contractors, you can recover some costs and contribute to other projects with your recycled concrete. We repurpose the material so they can be used to create asphalt pavement and other similar structures. This not only lessens the environmental impact but it also minimizes the overall cost on your concrete demolition project.
Make the Wise Decision by Calling Us for Concrete Demolition in Moore, Oklahoma
Our team is only a call away when our clients need urgent concrete demolition services. While the end result of our services is a torn down building or structure, we use a number of concrete slab removal techniques to achieve our purpose. We are self-driven in completing all our tasks with accuracy. Our experts are the best at what they do. This is not a job for amateurs and if done wrongly, it could be costly on your end. Concrete demolition in Omni Demolition is the best way to safely tear down buildings or structures made from concrete.
Zip Code Areas We Service in Moore
73160