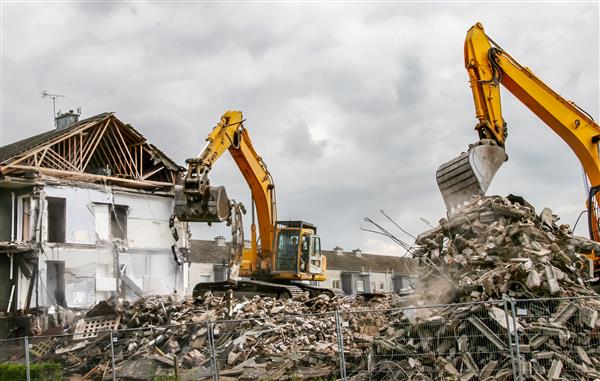 Guaranteed Superior Quality House Demolition in Moore, OK Only at Omni Demolition
Sometimes, it is best to book a house demolition in Moore, OK than to call in a renovation team to restore your property. You must learn how to choose among the many house demolition companies in the city. Don't let the damage worsen and affect the rest of your house. You may need to have a section of your house removed because it can cause huge problems in the future. We have a team of specialists who can work on big projects such as multi-level buildings or smaller ones like a mobile home demolition project. It could be about making your dream home a reality or making some improvements in the appearance of an old house.
Home Demolition Techniques in Moore, OK
At every house demolition job, we make sure that the project is accident-free when we demolish a Moore, OK property. We do this by conducting an initial inspection and checking every section of the building we need to work on. We have been in this line of work for many years, making us your best option when you need help with demolition. We carefully create a plan to effectively target which parts we need to work on first. Let our residential demolition contractors work on each necessary part of your house. When hiring residential demolition companies in Moore, OK, you need to be very cautious as amateur operators in this field may make mistakes that can create a costly mess out of something as simple as a mobile home demolition project.
What is the Cost of a Home Demolition in Moore, OK
A house demolition in Moore, OK can cost a substantial amount of money to properly execute. Variables that affect the cost of a demolition project include asbestos-contaminated materials that are not only more labor intensive to remove, but also cost roughly three times as much to safely get rid of in contrast to other materials like timber or concrete. There are a few things home demolition companies use to determine the total cost of a service, and the list includes your project location and the condition of the structure. Omni Demolition guarantees to provide a complete price quotation, free of charge. Once you approve, and the necessary documentations are processed, we can send our residential demolition contractors to start the house or mobile home demolition project. Upon your request, we can provide a full breakdown of the fees you will need to pay. At Omni Demolition, you are welcome to ask for a free cost estimate.
Residential Demolition Permits to Acquire in Moore, OK
Aside from the actual demolition job, obtaining the needed house demolition permits in Moore, OK will also come with a price, even when it's only for a mobile home demolition. There are several requirements you will need to secure so the local government can process your application. The engineers need to make sure that the building will be brought down in a safe manner and all the debris is contained within the site and will not affect the local neighborhood. Failure to secure all the necessary permits can get you penalized.
What Should I Do Before the Start of My Residential Demolition in Moore, OK
On the day of the demolition, be sure that no one except for the contractors have access to your property, to avoid delays and accidents during the duration of the Moore, OK mobile home demolition or home demolition project. Start by clearing the area and removing all your furniture and valuables. Flooding and electrical fires are a dangerous threat at every demolition. Make sure you remove any personal items or important home equipment. There shouldn't be anything left inside the house during the demolition job to avoid interruptions. As much as possible, consult with our team and ask for a timeline so you know what to expect. We can smoothly deliver the services you need on the schedule you want.
Reasons for a Residential Demolition in Moore, OK
Several residential demolition projects arise from improving a newly bought piece of estate or cleaning up a landscape. A new structure may be needed after an earthquake, fire or flood, or some other incident that damaged the house or building severely. It won't take long for our team to tear down the weak parts of your home. Whatever reasons you have, you can get a quote on residential demolition costs in Moore, OK from us.
Why We Excel in Providing Residential Demolition Service in Moore, OK
Omni Demolition residential demolition contractors have always provided safe and reliable home demolition services in Moore, OK. Our residential demolition contractor uses equipment like cranes, wrecking balls, bulldozers, jackhammers, sledgehammers or chainsaws. Some of the heavy machinery that demolition contractors need to use consist of wrecking balls, cranes, bulldozers, jackhammers, chainsaws and sledgehammers. Occasionally, they even need to use explosives. Thanks to our high-powered tools and equipment, we can swiftly work on your requests. Be it a one or three storey house, we can definitely provide exceptional services.
Call Us Now for Reliable Home Demolition Services in Moore, Oklahoma
We have the required connections, equipment and knowledge to revert your site to flat dirt, safely and on schedule. Whatever your demolition requirements are, we can give the best demolition contractor experience. Our crew is always available to help you. Our residential demolition contractors have been rated #1 in Moore, Oklahoma. Our company has proudly served many residential, commercial and industrial property owners in Moore, OK, and we're proud to assist you as well. Give us a call at
(855) 885-3366
so we can get started on your demolition project!
Zip Code Areas We Service in Moore
73160