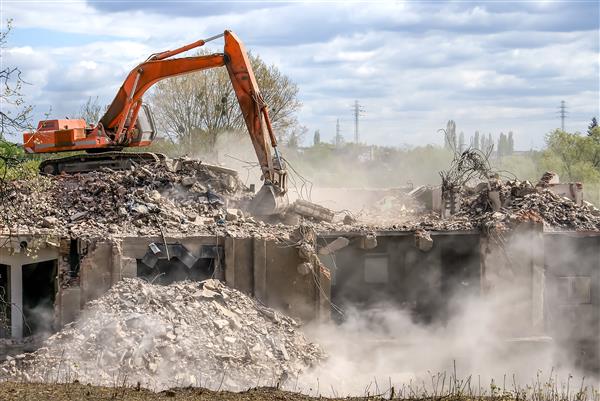 Your Premium Concrete Removal Company in Beaverton, OR
Concrete removal in Beaverton, OR is definitely not a job for the faint at heart and that is why many recommend hiring only seasoned expert contractors like those at Omni Demolition to handle your projects. When it comes to concrete slab removal and concrete hauling, we are your number one choice. Our undeniable success in the business is proof that the team here at Omni Demolition is highly capable and dependable.
Concrete Removal Tools and Equipment We Use in Beaverton, OR
Omni Demolition uses advanced equipment to cut or crush concrete. We have access to pallet jackets, hoists, bobcats and other equipment so we can ensure the timely delivery of our Beaverton, OR concrete slab removal services. A few examples of the equipment we use include chipping hammers, demolition hammers and hydraulic concrete crushers. Whether we are hired for removing concrete driveway, concrete slab demolition, or concrete wall demolition, you can guarantee no equipment failure onsite. Depending on the nature of the project, we select different equipment to deliver maximum results. They also reduce concrete into recyclable pieces. We are meticulous in our service delivery ensuring that your solution is customized to achieve the best possible results.
When Should I Book a Concrete Demolition Service in Beaverton, OR?
Concrete demolition in Beaverton, OR is necessary when you need to bring down an old structure in order to erect a new one. The structure degrades as the years go by. No matter the size of your demolition and concrete hauling project, we are well able to handle it for you. The most common reasons why concrete wears out easily include extreme temperature fluctuations, corrosion and overload. Our team of experts is capable of doing the job safely.
What Documents Should I Prepare for My Concrete Removal Project in Beaverton, OR?
In almost all cases, you will need permits for carrying out a concrete removal or concrete hauling project in Beaverton, OR. While other concrete removal companies may include additional fees for processing the required permits, we at Omni Demolition have got you covered. Omni Demolition ensures a smooth operation for every single client that puts their faith in our services. There are several instances where you need to get a permit from your local council such as: when a building is to be entirely demolished, part of the building is to be demolished or more than a half of a given floor area of a building or structure is to be demolished. At Omni Demolition, you can trust our team to assist you in securing the required clearances and permits.
Cost Estimates of Concrete Demolition in Beaverton, OR?
The most common question in every contractual project is how much will it cost. In addition to the demolition permit costs, you should also factor in the total cost of the service. In urban areas, demolition companies charge a minimum of $4,000 for their fees. Other companies reach a higher price range of $15,000+. Whether you have a patio demolition or a patio removal project, you can be sure that we are well equipped to handle any demolition project you may have. Our ever-helpful staff will be happy to give you a competitive estimate for your project. Another cost to factor in is demolition permits. Depending on where you are situated and size of the project, permits and associated costs can cost you around $200 or as high as $10,000 in some cases.
Typical Duration of a Beaverton, OR Concrete Demolition Service
We are confident in our service delivery timelines. One of our primary focuses is on the time taken to complete your concrete demolition project. We plot reasonable timetables for the complete operation in Beaverton, OR, from preparation, to actual concrete slab removal, up to concrete hauling and site clearing. Depending on our agreement and forecast, work can be completed within a day, a week or even a month. The bigger the demolition structure, the more time it will take to complete the job. That said, depending on the size of your project, your budget and legal requirements, your project in Beaverton, OR can take days, weeks or even months.
Recycling Concrete in Beaverton, OR?
Concrete demolition and removal projects make the most amount of wastes and debris which is why, instead of throwing them away, it is best to make an effort to avoid harming the environment when disposing of these materials. A demolition project can generate tons of waste materials. Fortunately, we can recycle the removed concrete so you can use them as base materials for your asphalt pavement, patios and other parts of the project. Feel free to ask our concrete demolition contractors about recycled concrete. The aggregate is used in the production of new structural concrete. We can guide you through the process if you choose to have your concrete waste recycled.
Work with Concrete Demolition Experts in Beaverton, Oregon

Our concrete demolition services in Beaverton, OR include concrete slab removal and any other concrete removal service you may need. Our expert contractors at Omni Demolition have unparalleled skills and experience in the concrete slab removal business. Experience a professional concrete removal service that is reasonably priced. Our experts are the best at what they do. This is not a job for amateurs and if done wrongly, it could be costly on your end. We professionally handle each client request in Beaverton, OR.
Zip Code Areas We Service in Beaverton
97225, 97005, 97007, 97006, 97008, 97075, 97076, 97077, 97078, 97079