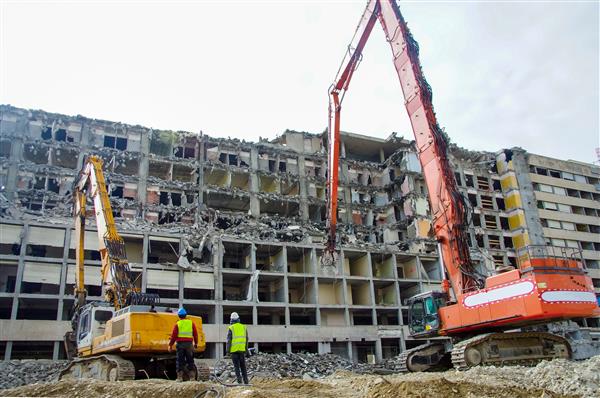 The Demolition Company with Demolition Contractors in Beaverton, OR You Can Count On
It can be a huge challenge finding reliable and affordable demolition contractors in Beaverton, OR, but that is what Omni Demolition is here for. We set the standards in world-class demolition services. We have an enduring assurance to safety. We have a team of seasoned demolition experts ready to act on any project. The primary projects we undertake are demolition and deconstruction.
The Difference Between Demolition and Deconstruction in Beaverton, OR
Demolition is the process of tearing down or pulling down buildings and structures by a demolition expert. Our demolition expert tests and removes hazardous material before knocking down the building. Deconstruction in Beaverton, OR involves taking a structure apart. The materials can be reused in rebuilding or reconstruction.
You can Trust Us with Your Demolition Project in Beaverton, OR
Our demolition experts have a solid record of work experience aside from continually receiving refresher trainings every now and then to ensure that they are well updated with any enhancements or changes in technology and procedural protocol. Compared to other demolition contractors who are highly profit-driven, we are committed to giving back to the community through outstanding workmanship and transparent transactions. Hiring inexperienced contractors results in lousy jobs and may even cause delays on your targeted completion date. Our demolition contractor will handle your needs on a one-on-one level and ensure that your project is given the undivided attention it deserves.
Our Main Demolition Services in Beaverton, OR
Industrial Demolition services: We are the authority in collapsing massive structures like bridges, factories, industrial buildings and plants.
Commercial Demolition services: Our demo company uses superior equipment and expertise in tackling various commercial demolition structures such as strip malls, warehouses, office buildings, hotels, bridges, grocery stores and airplane hangars among others.
Concrete Demolition and Recycling Services: Concrete recycling results in saving costs in that it decreases the cost of transportation and disposal. Our demolition experts will break, remove and then crush concrete after demolition. The concrete can be used as an aggregate in new concrete.
Scrap Metal Demolition Services: Allow our demo company to take down your metal structure. Our experts will downsize and process scrap metal for the purpose of recycling or reusing.
A class Above the Rest in Beaverton, OR
We take pride in having some of the most seasoned demolition experts among numerous demolition contractors in Beaverton, OR. We are on a continuous path to success and we have managed to do this through perfection in our demolition services. As an established demolition company in all of Beaverton, OR, we see to it that our services, equipment and workmanship are always above customer satisfaction. Each project in our demo company is always given the care and attention that our customers deserve and expect.
Our Methods for Demolition and Deconstruction in Beaverton, OR
Explosive Demolition: We have a team of demolition experts in Beaverton, OR who thoroughly oversee the process of using explosives to crumble a structure, including the strict adherence to safety regulations and environmental protocols.
Non-Explosive Demolition: Although somehow rare, our local demolition contractors use a wrecking ball to tear down a structure. Compared to using explosives, this method costs less; however, there is limited control on the amount of damage each swing can make.
Selective Demolition: Recommended for buildings that are being rebuilt, selective demolition involves carefully removing some parts of the building to make way for a modified construction. Unlike new and upcoming building demolition companies, our demo contractors are experienced in extracting parts of the building while still maintaining its structural integrity.
Common Equipment Used for Demolition in Beaverton, OR
Hydraulic Breakers – Our demo company uses a hydraulic breaker to demolish rocks and concrete structures. Its powerful hammer causes destruction on the targeted object in a matter of seconds.
Wrecking balls – A wrecking ball is used together with a crane. This heavy steel ball is suspended from a crane and is used to bring down an entire structure or part of it. Although not widely used, this method is as fast as it is cost effective.
Hydraulic Shears and Rock Breakers – They can be able to quickly and effectively cut through rocks, concrete, steel, wood and metal.
Bulldozers – These can be utilized to apply pressure on a structure and weaken it as well as to haul waste and other materials onsite.
Dumpers – Not every demolition business have their own dumpers but we use them for taking waste products and debris off the site.
Cranes – Demolition contractors will need to use a crane in long-reach or high-reach demolition projects. A wrecking ball is suspended on a crane, from where it is swung to demolish a structure partly or wholly. A crane is a very important piece of equipment in any demo company.
Crawler Loaders – Also called caterpillars, crawlers have flexible ground mechanism allowing them to be useful even on uneven terrain. They are primarily used for excavating.
We are the Number to Call for Premium Demolition Services in Beaverton, Oregon
Our demolition company is a leading demolition company in Beaverton, Oregon with proven resources, knowledge, professionalism and experience to successfully manage any demolition project you may have. For years now, we have helped all our clients demolish and deconstruct their buildings and structures successfully. We take any demolition challenge head on. Our demolition company provides all our clients with dynamic solutions for all their Beaverton demolition and deconstruction needs. We are the Beaverton deconstruction and demolition company to go to for premium and safe demo services. For all your demolition needs, call us at
(855) 885-3366
.
Zip Code Areas We Service in Beaverton
97225, 97005, 97007, 97006, 97008, 97075, 97076, 97077, 97078, 97079