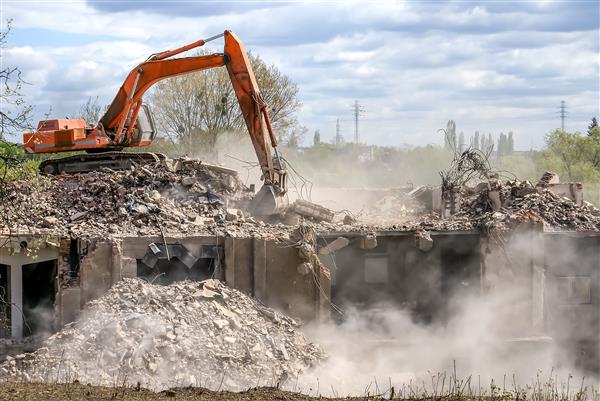 Your Company of Choice for All Your Concrete Removal Needs in Portland, OR
We are experts in providing concrete removal in Portland, OR. If you have a desire to transform your old home into a new one, then we will no doubt make it happen here at Omni Demolition with our concrete slab removal and concrete hauling services. Ultimately, when you need concrete demolition services to ensure that your building structure is exactly as you envision it to be, you will definitely need Omni Demolition to make it happen. They are dedicated to only one outcome: 100% success in project execution.
Concrete Removal Tools and Equipment We Use in Portland, OR
At Omni Demolition, we use quite a number of heavy machinery and equipment for concrete demolition. One of our major investments include acquiring heavy-duty equipment capable of doing the most challenging concrete slab removal projects in Portland, OR. Hydraulic slitters are very efficient in breaking thick and dense concrete. Mechanical concrete demolition is used on bigger sized structures such as a concrete silo. Types of equipment used for getting this kind of job done are bulldozers, excavators, loaders and cranes. We also use jackhammers, pallet jacks, bobcats and hoists for demolition work such as removing concrete driveway, concrete slab demolition and concrete wall demolition. It pays to work with professionals, most especially when you don't know what to do. Diamond wire saws are able to to cut through thick concrete and is usually used in heavy demolition work.
When Do You Need Concrete Demolition Services in Portland, OR?
Concrete is designed to last a very long time if it is installed properly. However, like every other type of material, its structure will also degrade over time. Whether the project requires breaking asphalt or concrete in residential, commercial or industrial spaces, we have the equipment and service crew ready to do the job. The concrete demolition and concrete hauling process is necessary in some circumstances such as when your structure has aged significantly, when your building has widespread cracking, when you are planning to improve or upgrade your structure and when frost heave occurs. For plumbing, steam fitting and electrical works, concrete demolition is in most cases the only option that allows pipe penetrations. Since concrete is a sturdy material, you will need to hire the services of experts to have your project executed safely and with precision.
Permit requirements for a Concrete Removal in Portland, OR
You can't proceed with your concrete removal or concrete hauling project without securing a permit in Portland, OR. While other concrete removal companies may factor processing the permits and approvals as additional costs to you, at Omni Demolition, we take care of that for you. Omni Demolition ensures a smooth operation for every single client that puts their faith in our services. We will make sure that you have all the permits you need to ensure an uninterrupted execution of your demolition project. Height and size of your demolition project are factors considered in determining whether or not you will need to get a permit for the job.
Cost of Concrete Demolition in Portland, OR
Some contractors in Portland, OR will give you rock bottom packages which could mean poor quality services while some will be too expensive with no guarantee that they will deliver as promised. For highly urbanized locations, such as Chicago, you can expect to pay more. Quite a number of concrete removal companies in Portland, OR reduce the cost per square foot once the project is a given size. Whether you have a patio demolition or a patio removal project, you can be sure that we are well equipped to handle any demolition project you may have. There are special circumstances that can affect the cost of your demo project. We guarantee to provide a competitive and reasonable price. Our quote covers the entire concrete demolition process.
How Much Time Should a Concrete Demolition Project Take in Portland, OR?
Firstly, we begin with a site visit. Then we discuss all the aspects of the concrete demolition project with you. Next, we develop the best possible way to tackle the task at hand. We understand the importance of honoring our commitments and we deliver our concrete slab removal and concrete hauling services in Portland, OR with no excuses. Depending on our agreement and forecast, work can be completed within a day, a week or even a month. Depending on what we mutually agree on, your project can be completed in a few days, a couple of weeks or even months. We adhere to all the fundamental and basic principles of effective project management. The length of the project will mainly be affected by the size and current condition of the structure that needs to be demolished.
Is it Possible to Recycle Concrete Demolition Waste in Portland, OR?
Whether you are an environmental advocate or you just want to make some extra money, recycling wastes from a completed concrete demolition and removal project is the way to go. It is a cost-saving measure on your end. The process of recycling done by our concrete demolition contractors includes salvaging rubble from demolition, crushing it, pre-sizing and sorting. The aggregate can then be used to make new concrete. We can guide you through the process if you choose to have your concrete waste recycled.
Make the Wise Decision by Calling Us for Concrete Demolition in Portland, Oregon
Our concrete demolition services in Portland, OR consist of concrete slab removal and concrete removal service. Omni Demolition has been a well-respected authority in concrete slab removal for many years. We are self-driven in completing all our tasks with accuracy. We use various techniques when we provide our services to ensure that we finish the project within the targeted time frame. Don't risk your safety; work with demolition professionals in Portland, OR.
Zip Code Areas We Service in Portland
97227, 97221, 97220, 97229, 97203, 97202, 97201, 97206, 97205, 97204, 97209, 97208, 97266, 97219, 97212, 97236, 97232, 97233, 97230, 97239, 97218, 97214, 97215, 97216, 97217, 97210, 97211, 97213, 97207, 97228, 97238, 97240, 97242, 97250, 97251, 97252, 97253, 97254, 97256, 97258, 97280, 97282, 97283, 97286, 97290, 97291, 97292, 97293, 97294, 97296