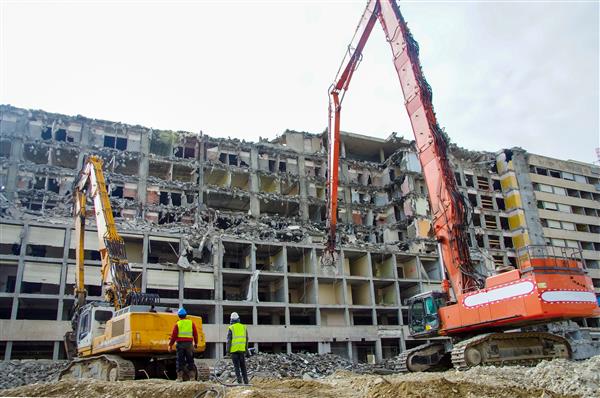 Demolition Contractors Portland, OR: Your Trusted Demolition Company
Omni Demolition is composed of reliable and dependable demolition contractors in Portland, OR. Just like any other major construction or remodeling plan, having a property demolished requires the skills of professionals, along with the use of appropriate equipment. Our contractors ensure that the necessary safety measures and procedures are in place in the work environment. Always making sure that our clients are not kept in the dark, our demolition experts will guide you accordingly when it comes to recommended methods, pricing and procedures to be enacted. We are highly competent and able to handle any project you may have.
The Main Variances of Demolition and Deconstruction in Portland, OR
Demolition is taking down or dismantling a building or structure with a strong and overwhelming force whose end result is rubble or waste. Whether you require complete or selective knocking down of a building in Portland, OR, we are the specialists to call. Deconstruction, on the other hand, is the disassembling of a building while preserving its re-usable parts. If you are going to rebuild or remodel an existing building and you wish to maintain some segments, a deconstruction is recommended. Our demolition experts are most experienced in going over construction sites to see what items may be salvaged and put aside to be used again, often saving time and resources.
Highly Recommendable Services for Any Demolition Project in Portland, OR
Our demolition experts will handle your property professionally from start to finish. Some demolition contractors offer their services at rock bottom prices but this may cost you more in the long run. It is our core mission to exceed all your expectations. Taking down a structure sounds chaotic but unlike other demolition contractors, our services are done with utmost care and with as little disturbance to the community as possible. Our service delivery is focused on safety and efficiency. Our service delivery is focused on safety and efficiency.
Professional Demolition Services in Portland, OR
Industrial Demolition Services: This type of demolition service requires a surgical approach. We have a systemic, controlled and detailed solution in place for demolishing facilities such as chemical plants, manufacturing plants, port facilities, oil refineries, factories, and lumber mills among others.
Commercial Demolition services: We isolate the targeted building before performing the actual demolition so as not to cause any damage to its neighboring structures. Our demo company, has handled tearing down malls, airplane hangars, markets, and even bridges.
Concrete demolition and recycling services: Our demolition experts can break down concrete surfaces and slabs into reusable gravel.
Scrap Metal Demolition Services: Our demo company is experienced in salvaging scrap from your demolition project. You can recycle the scrap metal. This will minimize on wastage and cost.
We Take the Lead Among Other Demolition Companies in Portland, OR
Our highly trained demolition contractors are able to offer flexible services to suit your specific needs. Our demolition experts and demolition contractors are dedicated to meeting all your needs. No matter the nature of your project or timelines, our demolition company in Portland, OR will deliver to your satisfaction. When it comes to bringing down old, dilapidated or unwanted property, we have vast experience as a demo company and we will ensure that our services do not cause any unintended damage or pollution
Methods Used for Demolition and Deconstruction in Portland, OR
Explosive Demolition: If you want to demolish a big structure, you have to bring out the big guns. Our demolition experts in Portland, OR use explosive demolition for larger buildings. It is as effective as it is safe.
Non-Explosive Demolition: When a building structure does not allow the use of bombs, a wrecking ball is often utilized to take it down. Compared to other local demolition contractors, our experts use wrecking balls with careful precision. The heavy steel ball is swung into the targeted building causing it to gradually crumble.
Selective Demolition: Our demo contractors are the most sought-after for their record in successfully extracting or tearing down selected parts of a structure. We are one of the few building demolition companies who can conduct a customized approach depending on the client requirement.
Main Equipment Used in Demolition in Portland, OR
Hydraulic Breakers – This strong hammer is built to withstand heavy and rigorous use. As one of the high-quality demolition tools used by our demo company, it offers greater productivity in regards to speed, efficiency and its overall performance.
Wrecking balls – Heavy and solid balls made of steel, wrecking balls are safely suspended on a crane and used to weaken a building until it gives.
Hydraulic shears and rock breakers – Used by specialists to cut through various materials such as concrete, metal, wood, and steel.
Bulldozers – They are used to push demolition debris. They are also used to tear down smaller structures, clear the property of rubble or pile the debris.
Dumpers – A dumper or a tipper truck is essential in the demolition business. This vehicle is specially designed to carry debris such as gravel, or demolition waste in bulk away from the property. It makes cleaning up the property after demolition easier and faster.
Cranes – Aside from being used to secure a wrecking ball, demolition contractors in our demo company also use cranes to lower and lift materials within the site.
Crawler Loaders – They are efficient in moving heavy rubble and waste from the demolition site. They can also be used to demolish heavy structures as well as clear the ground.
For all your Demolition Needs contact us in Portland, Oregon
We are your dependable and trusted demolition company in Portland, Oregon. Ensure a spotless pre-construction site when you sign with us. Our demolition company never offers excuses; we simply provide professional and timely services guaranteed to accommodate your budget. Our Portland deconstruction and demolition company is licensed and highly reputable. Call us today at
(855) 885-3366
and allow us to assist you with your demolition requirements.
Zip Code Areas We Service in Portland
97227, 97221, 97220, 97229, 97203, 97202, 97201, 97206, 97205, 97204, 97209, 97208, 97266, 97219, 97212, 97236, 97232, 97233, 97230, 97239, 97218, 97214, 97215, 97216, 97217, 97210, 97211, 97213, 97207, 97228, 97238, 97240, 97242, 97250, 97251, 97252, 97253, 97254, 97256, 97258, 97280, 97282, 97283, 97286, 97290, 97291, 97292, 97293, 97294, 97296