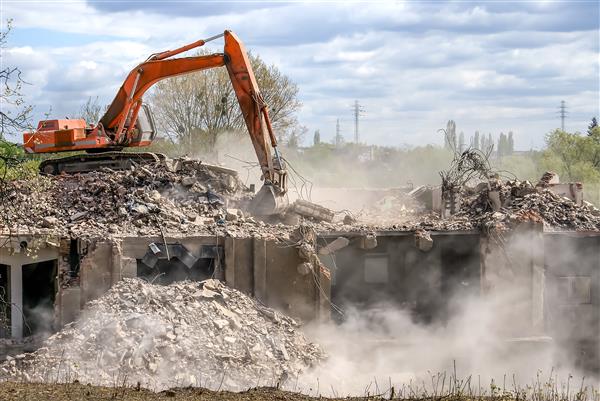 Finding the Best Concrete Removal Company in Allentown, PA
When looking for a concrete removal contractor in Allentown, PA, relying on ads may not be the best option, so if you are doing your own research, we are here to help you make the right decision. Omni Demolition has the best concrete slab removal experts in the region. We have spent years perfecting our services. We are the most knowledgeable when it comes to cost-effective concrete hauling and recycling. When your concrete structure has become old, shaky, unstable and unsightly, it is definitely time to consider getting rid of it for aesthetic reasons and most importantly, for safety purposes. They are dedicated to only one outcome: 100% success in project execution.
Concrete Removal Tools and Equipment We Use in Allentown, PA
Our contractors at Omni Demolition can perform a wide range of services because they are well-equipped. Within a reasonable timeframe, we can cut, crush and remove any size of concrete structure. Some of the equipment we have includes bobcats, trackers, pallet jacks and track loaders. One of our major investments include acquiring heavy-duty equipment capable of doing the most challenging concrete slab removal projects in Allentown, PA. A few examples of the equipment we use include chipping hammers, demolition hammers and hydraulic concrete crushers. Demolition hammers are efficient and quick when it comes to demolition work such as removing concrete driveway, concrete slab demolition or concrete wall demolition. Consulting with a trained expert is important, as there are a number of things that need to be considered before embarking on concrete removal, such as your legal obligations and safety requirements. Other equipment used in demolishing concrete are pallet jacks, hoists and bobcats.
Addressing Your Concrete Demolition Needs in Allentown, PA
One of the most important questions when it comes to concrete demolition services in Allentown, PA is if the circumstances call for demolition at all. If your property in Allentown, PA is showing deep and widespread cracks, sunken or fragmented concrete slabs, or signs of frost heave, it is time to call our phone number and consult with the experts. At Omni Demolition, we will see to it that you receive superior quality concrete hauling and demolition service in Allentown, PA. Concrete demolition is also important in removing unsafe structures from a property. With our trusted services, you have our assurance that the job will be done correctly and safely.
Which Concrete Removal Permits are Required in Allentown, PA?
You can't proceed with your concrete removal or concrete hauling project without securing a permit in Allentown, PA. Some of the concrete structures requiring permits include seawalls and sidewalks, among others. Unlike other concrete removal companies, Omni Demolition will take care of all the permit preparations for you. Often, the permits are necessary to allow governing bodies to check on how the demolition process is being conducted. If you have just moved to Allentown, PA or if this is your first ever attempt in handling a major renovation or structural change, chances are you do not know which requirements you need and how you can get the necessary permits completed. You will be required to submit a few documents depending on the type and size of your project. Height and size of your demolition project are factors considered in determining whether or not you will need to get a permit for the job.
Concrete Demolition Expenses in Allentown, PA
The first step is to determine how much the job will cost you. The cost of demolition is impacted by several things like the amount of concrete that needs to removed. We are not after a one-time money-making scheme. Instead we take care of our clients to maintain a healthy and harmonious professional relationship that will last for years. Whether you have an easy patio demolition or patio removal job for us or a major road removal project, expect nothing less than V.I.P. treatment and a premium end result. To know how much you need to prepare for your project, we highly recommend getting in touch with your chosen demolition company in Allentown, PA. Another cost to factor in is demolition permits. Depending on where you are situated and size of the project, permits and associated costs can cost you around $200 or as high as $10,000 in some cases.
How Long is a Concrete Demolition Service in Allentown, PA?
Every concrete demolition project is unique even if identical procedures may be done and the same equipment will be used which is why no specific time frame can be given without the details of the area involved. Concrete slab removal and concrete hauling is a delicate procedure. The removal process requires the use of an arsenal of state-of-the-art equipment, skilled experts and adequate manpower. We have handled countless demo jobs in Allentown, PA and our loyal clients can testify to our diligence in completing our projects on time. Your safety and satisfaction are both assured at our company as we strive to deliver polished services.
Why Recycle Concrete in Allentown, PA?
A crucial aspect we consider in a concrete demolition and removal project is where to put the debris. Because we are an environmentally friendly company, preserving our surroundings is at the forefront of our mission. Our concrete demolition contractors can use recycled concrete as a cheaper alternative of aggregate as opposed to newly mined aggregate. It is also an environmentally friendly approach of dealing with the waste. Once concrete waste is salvaged, the uncontaminated concrete free of paper, wood and other materials is crushed.
Your Company of Choice for All Your Concrete Demolition Needs in Allentown, Pennsylvania
If you have been looking to hire a concrete slab removal expert, chances are you have seen ads from other providers in Allentown, PA who offer the cheapest concrete demolition services, but are you sure you want to risk spending on a contractor that has no credibility and is seemingly desperate for clients? Hopefully not. Our expert contractors at Omni Demolition have unparalleled skills and experience in the concrete slab removal business. We will work diligently and efficiently on your projects no matter the size. First rate customer service need not make a dent in your savings. If not demolished properly, concrete can cause serious harm and injury to the environment and people. Don't risk your safety; work with demolition professionals in Allentown, PA.
Zip Code Areas We Service in Allentown
18105, 18104, 18101, 18103, 18102, 18109