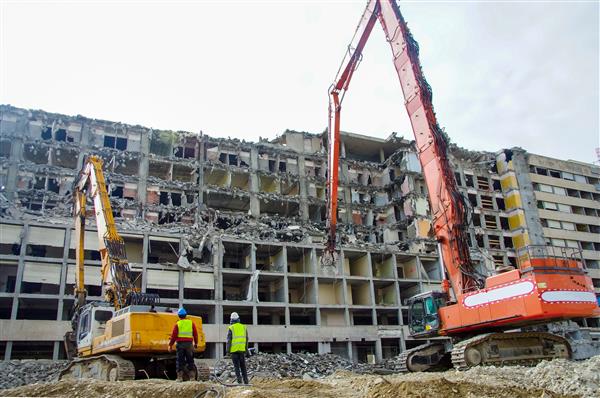 Expert Demolition Contractors Allentown, PA: Your Partner Demolition Company
Omni Demolition has demolition contractors at your service whose specialty is providing superior-quality, safe and cost-effective services for all our clients. We are dedicated to working on your project with no distractions whatsoever. Our contractors ensure that the necessary safety measures and procedures are in place in the work environment. Our demolition experts provide top-notch work. We have the resources and expertise to offer you the best solutions in a safe and professional manner.
The Difference Between Demolition and Deconstruction in Allentown, PA
Demolition can be described as dismantling of buildings or a specific room by a demolition expert. A demolition expert typically recommends a deconstruction before the actual demolition to be rid of any potentially dangerous materials in the building or to salvage items that can still be re-used in the future. Deconstruction differs from demolition in that, it involves tearing apart a building or a home in a manner that salvages materials. No matter how complex your project is, we are happy and ready to serve in Allentown, PA.
Why Sign Us for Your Demolition Project in Allentown, PA
Our demolition experts have done thousands of contracts and not a single one has given us negative feedback. Compared to other demolition contractors who are highly profit-driven, we are committed to giving back to the community through outstanding workmanship and transparent transactions. Most sales agents will promise everything just to close a deal but are no longer accountable when their team fails to deliver. Taking down a structure sounds chaotic but unlike other demolition contractors, our services are done with utmost care and with as little disturbance to the community as possible.
We Offer Demolition Services in Allentown, PA Fit for Your Needs
Industrial Demolition services: We focus on enhancing safety and maximizing productivity. We are responsive and flexible enough to be able to deal with any complications that such a challenging demolition project may bring. With our knowledgeable technicians and superior equipment, we can handle demolishing refineries, highways, powerplants, bridges, mines and airports among others.
Commercial Demolition services: Our demo company, has proven to be knowledgeable in demolishing commercial buildings despite their confinement in between other structures. Using specialized equipment plus our own unique strategy, we have in the past taken down airplane hangars, grocery stores, bridges, shops, and warehouses.
Concrete demolition and recycling services: If you want to save time and money, our demolition experts can also extract concrete materials and slabs onsite to be broken down into reusable gravel.
Scrap Metal Demolition Services: Allow our demo company to take down your metal structure. Our experts will downsize and process scrap metal for the purpose of recycling or reusing.
A class Above the Rest in Allentown, PA
We are professional demolition contractors who offer superior quality services. Our team uses sophisticated equipment and observes high standards in every operation. Using cutting edge technology added to our team's expertise, our demolition company is guaranteed to deliver more than promised. Each project in our demo company is always given the care and attention that our customers deserve and expect.
Main Methods Used in Demolition and Deconstruction in Allentown, PA
Explosive Demolition: Done by licensed demolition experts in Allentown, PA, this method may sound dangerous and it could be when proper procedures are not followed. After explosives are strategically laid out, a switch is all it takes to completely take down a building.
Non-Explosive Demolition: In instances where the height of the building makes it unsafe to use explosives, a wrecking ball is used by local demolition contractors to weaken the structure before tearing it down.
Selective Demolition: A more complex method compared to using explosives or wrecking balls, selective demolition requires demo contractors to remove certain parts of a structure while keeping the rest of it in place. We have mastered this technique and take pride in being skilled in doing what other building demolition companies cannot.
The Main Equipment Used in Demolition in Allentown, PA
Hydraulic breakers – Also known as hydraulic hammers, our demo company uses this to demolish rocks or concrete structures.
Wrecking balls – A wrecking ball is used together with a crane. This heavy steel ball is suspended from a crane and is used to bring down an entire structure or part of it. Although not widely used, this method is as fast as it is cost effective.
Hydraulic Shears and Rock Breakers – They are used to cut through concrete, rocks, wood and metal.
Bulldozers – A favorite among contractors, a bulldozer can be an intimidating piece of equipment on wheels although it is fairly easy to maneuver. It can be used to transport copious amounts of waste, as well as to wreck walls. Dumpers – If you are in the demolition business, you will definitely need a dumper/ tipper truck for transporting demolition waste.
Cranes – Demolition companies use cranes to move materials from different levels of a structure. A demo company will also use this machinery together with a steel ball. For a wrecking ball to work, it has to be attached to the crane.
Crawler Loaders – They are effective in bringing down structures. They can also be used to clean up a demolition site. Crawler loaders can help move debris. Its tracks enable the unit to move easily and freely on the property.
Dial OurNumber for Top Rated Demolition Services in Allentown, Pennsylvania
Our demolition company is a leading demolition company in Allentown, Pennsylvania with proven resources, knowledge, professionalism and experience to successfully manage any demolition project you may have. For years now, we have helped all our clients demolish and deconstruct their buildings and structures successfully. You can rest easy knowing that we have a solution for all your demolition projects. Signing with our demolition company guarantees a stress-free project, from the accurate estimation, the actual operations, onsite clearance as well as processing required permits. Our Allentown deconstruction and demolition company is licensed and highly reputable. Give us a call at
(855) 885-3366
and we guarantee a refreshing customer experience that you can only get from us.
Zip Code Areas We Service in Allentown
18105, 18104, 18101, 18103, 18102, 18109