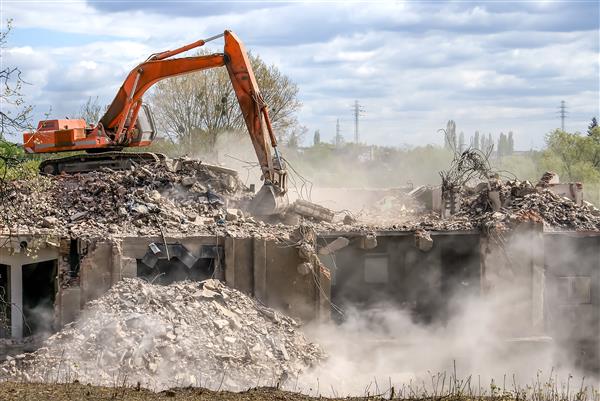 Trust Only the Authority in the Concrete Removal Business in Pittsburgh, PA
When looking for a concrete removal contractor in Pittsburgh, PA, relying on ads may not be the best option, so if you are doing your own research, we are here to help you make the right decision. No need to risk it with small-time providers of concrete slab removal when you can sign with Omni Demolition for an affordable price. We offer affordable concrete hauling services without compromising quality and safety. As such our contractors know how to carry out the necessary service you need to rebuild or remodel your home. Simply contact us about your project—we are ready to help.
Specialized Equipment Used for Concrete Removal in Pittsburgh, PA
We use hydraulic hammers, pneumatic hammers, mounted breakers, pallet jackets, hoists, and bobcats among others in Pittsburgh, PA. Other equipment used in concrete slab removal in Pittsburgh, PA are jack hammers, hoists, pallet jacks and bobcats. It takes professionals with years of experience to safely remove concrete. We strategically plan out tasks and delegate enough manpower especially in removing concrete driveway, conducting concrete slab demolition, or doing a concrete wall demolition. It pays to work with professionals, most especially when you don't know what to do. Book with us for stress-free services and operations that finish on time.
When to Consider Booking a Pittsburgh, PA Concrete Demolition Service
There could be various reasons for a complete or partial concrete demolition, but no matter what the cause is, rest assured that we will carefully assess the situation so we can give you the right solution. Temporary resurfacing cracked surfaces or patching up crumbling foundations will only cause repeated spending, more hassles and even threaten the safety of the building occupants. We continually educate our professionals on safe concrete demolition and concrete hauling services. Oftentimes, damages to properties require a complete removal and replacement instead of a concrete resurfacing which only hides the damage. We are an environmentally friendly company.
Permit requirements for a Concrete Removal in Pittsburgh, PA
Planning to undertake a concrete removal and concrete hauling project in Pittsburgh, PA? Great. While other concrete removal companies may charge you extra fees to have your permits processed, our experts at Omni Demolition will sort it out for you. Start by applying for a permit from the local authority. The council can decline your application for a demolition project if you have not obtained a planning permit. All you have to do is let us know what you need done and relax—we are here to do all the legwork for you.
How Much Can a Concrete Demolition Project Cost in Pittsburgh, PA?
The most common question in every contractual project is how much will it cost. The bigger the size of the concrete, the more the job will cost. Final costs depend on factors such as disposal fees(some companies charge this separately). We have the expertise, manpower and equipment to carry out any demolition project in Pittsburgh, PA; even smaller jobs such as patio demolition and patio removal. Another factor that contributes to the overall cost is whether or not the concrete debris will be recycled. We can help you regardless of the type of project you wish to work on.
How Long Do Concrete Demolition Projects Take Place in Pittsburgh, PA?
Concrete is usually reinforced with tough steel making it virtually indestructible. A concrete demolition project needs the services of professionals to have it done right and safely. We understand the importance of honoring our commitments and we deliver our concrete slab removal and concrete hauling services in Pittsburgh, PA with no excuses. Depending on our agreement and forecast, work can be completed within a day, a week or even a month. It entails dividing slabs into sub-sections as well as grids, then removing them piece by piece. Advanced machinery is able to work at a faster speed thus, completing your job faster. However, using advanced equipment can be costly.
Is it Possible to Recycle Concrete in Pittsburgh, PA?
Whether you are an environmental advocate or you just want to make some extra money, recycling wastes from a completed concrete demolition and removal project is the way to go. Managing reusable resources is an effective way of minimizing the growing amount of wastes that households, commercial establishments and industrial buildings produce. Our concrete demolition contractors can use recycled concrete as a cheaper alternative of aggregate as opposed to newly mined aggregate. In this day and age of strict adherence to environmental laws, recycling concrete is a welcomed option. This not only lessens the environmental impact but it also minimizes the overall cost on your concrete demolition project.
Contact Our Pittsburgh, Pennsylvania Concrete Demolition Experts
That is why you need our concrete demolition services in Pittsburgh, PA from experienced professionals to execute such complex undertakings. Omni Demolition has all the skills, tools and equipment needed to perform a concrete slab removal or hauling service. Our history of completed projects speaks for us when it comes to expertise, safety requirement compliance, and outstanding workmanship. First rate customer service need not make a dent in your savings. We can guarantee incident-free operations with very minimal to zero disruption to adjacent properties. Call us today at
(855) 885-3366
for a free consultation and ask one of our agents for a free estimate.
Zip Code Areas We Service in Pittsburgh
15216, 15217, 15214, 15212, 15210, 15211, 15218, 15219, 15290, 15233, 15260, 15232, 15205, 15204, 15207, 15206, 15201, 15203, 15208, 15224, 15213, 15234, 15222, 15221, 15220, 15226, 15120, 15230, 15231, 15240, 15242, 15244, 15250, 15251, 15252, 15253, 15254, 15255, 15257, 15258, 15259, 15261, 15262, 15264, 15265, 15267, 15268, 15270, 15272, 15274, 15275, 15276, 15277, 15278, 15279, 15281, 15282, 15283, 15286, 15289, 15295