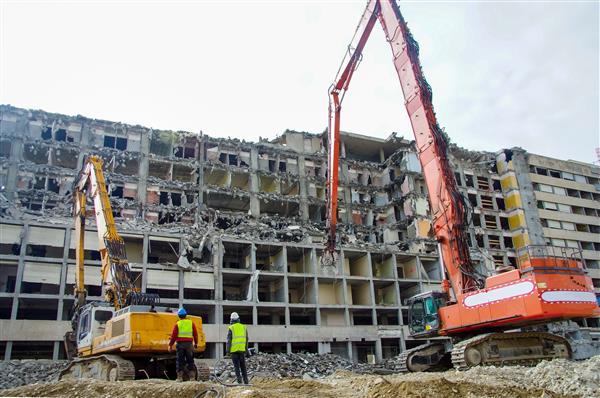 Professional Demolition Contractors Pittsburgh, PA – What You Need to Know when Hiring a Demolition Company
Here at Omni Demolition, we believe that pricing is not the only factor that you must consider when getting the services of demolition contractors in Pittsburgh, PA. Just like any other major construction or remodeling plan, having a property demolished requires the skills of professionals, along with the use of appropriate equipment. You can trust that our demolition experts are all well-versed when it comes to everything that has to do with eco-friendly demolition, as well as health and safety guidelines. You can rest assured that our affordable services are top-notch. To achieve this, our demolition experts apply strong verbal, communication, analytical, managerial, decision-making and time-management skills.
The Objectives of Demolition and Deconstruction in Pittsburgh, PA
Demolition can be described as dismantling of buildings or a specific room by a demolition expert. A demolition expert may order a careful deconstruction prior to a demolition to carefully remove chemically hazardous materials as a safety precaution. Deconstruction is when a demolition expert takes a structure apart carefully, one piece at a time. We have the know-how in identifying the value of extracted materials and their potential for reuse.
Highly Recommendable Services for Any Demolition Project in Pittsburgh, PA
We maintain multi-disciplined and highly seasoned demolition experts and demolition contractors in Pittsburgh, PA-fully trained in material handling and equipment operation. An experienced and well-trained demolition contractor will manage your project and ensure that the job gets done. We pride ourselves in being reliable and efficient service providers who will cater to all your unique needs. Our demolition contractor will use special equipment and apply all the necessary skills in ensuring that the demolition process does not cause harm or injury to anyone or anything. From cost estimation up to the site clean-up, you can rest assured that we have everything covered. From cost estimation up to the site clean-up, you can rest assured that we have everything covered.
Our Main Demolition Services in Pittsburgh, PA
Industrial Demolition services: We are the authority in collapsing massive structures like bridges, factories, industrial buildings and plants.
Commercial Demolition services: Our demo company uses superior equipment and expertise in tackling various commercial demolition structures such as strip malls, warehouses, office buildings, hotels, bridges, grocery stores and airplane hangars among others.
Concrete demolition and Recycling Services: Our demolition experts are able to recycle your concrete slabs and structures by crushing them and turning them into reusable gravel.
Scrap Metal Demolition Services: Our demo company maximizes the value of scrap metal as part of our scrap metal demolition service. This significantly minimizes the cost of the project.
What Sets Us Apart from Others Pittsburgh, PA
We take pride in deploying demolition experts and demolition contractors who are not simply knowledgeable on the job but also skilled and experienced all across the state. Our resources are as varied as they are effective: dependable and advanced equipment as well as expert personnel. Our demolition company in Pittsburgh, PA makes use of a unique approach that minimizes waste and maximizes recyclable materials. Our demo company offers packages that are reasonably priced as well due to the fact that we have mastered an efficient way of demolition that cuts unnecessary expenses.
Our Methods for Demolition and Deconstruction in Pittsburgh, PA
Explosive Demolition: Done by licensed demolition experts in Pittsburgh, PA, this method may sound dangerous and it could be when proper procedures are not followed. After explosives are strategically laid out, a switch is all it takes to completely take down a building.
Non-Explosive Demolition: Our local demolition contractors use a wrecking ball attached to a crane to knock down buildings. It is a cheaper and faster method unlike explosive demolition.
Selective Demolition: This method is used when buildings are being remodeled or rebuilt and the client wishes to retain some parts of the structure. Not all contractors can perform this demolition as it involves meticulous planning and careful effort. Our demo contractors are veterans in conducting selective demolition especially in handling specialized equipment required for the job. You can trust our team of experts in providing calculated and top of the line performance, which other inexperienced building demolition companies cannot guarantee.
Important Demolition Equipment in Pittsburgh, PA
Hydraulic Breakers-They turn excavators into powerful and effective demolition machines. Our demo company uses hydraulic breakers to break rocks, concrete and other hard materials.
Wrecking balls – A massive ball made of steel, it is suspended on a crane and maneuvered into a swinging motion to tear down a building. It sounds less dangerous than using explosives but the use of wrecking balls gives little control to the depth of damage done, hence it requires careful and professional handling.
Hydraulic Shears and Rock Breakers – They are able to demolish steel structures. Hydraulic shears are also used for recycling or secondary breaking. Rock Breakers are robust pounding hammers that are usually fitted to excavators. They are used to demolish rocks, as the name suggests or concrete.
Bulldozers – Commonly seen in construction sites, bulldozers are not only good for flattening surfaces but also for moving and transporting waste materials. It can also be maneuvered to knock down weak walls and structures.
Dumpers – Dumpers are also known as tipper trucks. They are used for transporting rubble or waste from the demolition site. If you are in the demolition business, safety is paramount and some of the safety hazards are demolition wastes. A dumper is a very important in removing the large amount of debris from the site.
Cranes – Demolition contractors use cranes to transfer materials within the site especially from lower to upper floors and vice versa. Aside from being used as a pulley, our demo company also uses cranes for wrecking balls.
Crawler Loaders – They are efficient in moving heavy rubble and waste from the demolition site. They can also be used to demolish heavy structures as well as clear the ground.
Go Ahead and Contact Us for All Your Demolition Needs in Pittsburgh, Pennsylvania
If you are in dire need of a reliable demolition company in Pittsburgh, Pennsylvania but are quite not sure what kind of method you will require and how much it will cost you, do not hesitate to call us. We have a brilliant track record of achieving 100% success despite hostile or challenging work environments. Contact us today and let our demolition company take the pressure off of you. Get in touch with the leading Pittsburgh deconstruction and demolition company. Contact us at
(855) 885-3366
.
Zip Code Areas We Service in Pittsburgh
15216, 15217, 15214, 15212, 15210, 15211, 15218, 15219, 15290, 15233, 15260, 15232, 15205, 15204, 15207, 15206, 15201, 15203, 15208, 15224, 15213, 15234, 15222, 15221, 15220, 15226, 15120, 15230, 15231, 15240, 15242, 15244, 15250, 15251, 15252, 15253, 15254, 15255, 15257, 15258, 15259, 15261, 15262, 15264, 15265, 15267, 15268, 15270, 15272, 15274, 15275, 15276, 15277, 15278, 15279, 15281, 15282, 15283, 15286, 15289, 15295