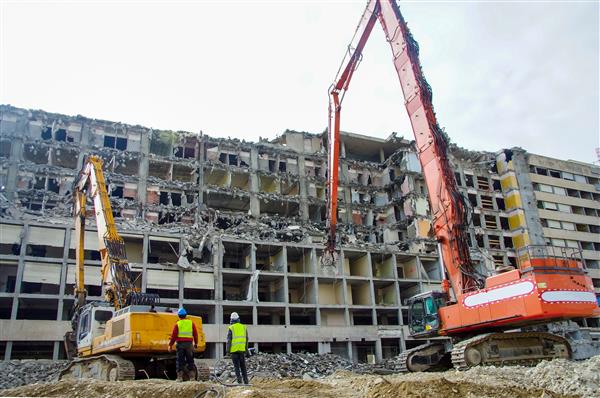 Demolition Contractors in Bethlehem, PA: Your Trusted Demolition Company
Omni Demolition has demolition contractors at your service whose specialty is providing superior-quality, safe and cost-effective services for all our clients. We set the standards in world-class demolition services. No job is ever too big, too small or too demanding for us. If you need a structure or building taken down, our demolition experts will use the fastest and most economical method of demolition. We are highly competent and able to handle any project you may have.
Distinction Between Demolition and Deconstruction in Bethlehem, PA
Demolition is aimed at basically bringing down a structure. Our demolition expert tests and removes hazardous material before knocking down the building. A deconstruction entails careful removal of a structure's segments or hazards such as electrical wires, gas pipes and hydro lines prior to a complete knocking down of the building. The structures can be pulled down manually.
We are the Most Competent Specialists for Your Demolition Project in Bethlehem, PA
Our demolition experts will meticulously execute your demolition project in a timely and safe manner. Some demolition contractors offer their services at rock bottom prices but this may cost you more in the long run. One of our biggest hallmarks is giving you undivided personal attention. Our demolition contractors are not only committed to providing first rate work but also ensure that all steps are taken to cause little to zero disturbance to the environment and to the properties adjacent to the site.
Check Our Broad Range of Demolition Services in Bethlehem, PA
Industrial Demolition services: We have an impeccable history in handling industrial buildings such as warehouses, chemical plants, mills and more. No matter how gigantic the structure is, our team of experts can surely manage.
Commercial Demolition Services: We know all the ins and outs of this delicate procedure. No matter the job, you can be rest assured that our demo company will give you the best results. Our demolition experts have the know-how and experience to bring down buildings and structures even in very tight spaces. Be it tearing down a mall, strip center, warehouse, bridge, hangar or structures in metropolitan areas, we have got you covered.
Concrete demolition and Recycling Services: Our demolition experts are able to recycle your concrete slabs and structures by crushing them and turning them into reusable gravel.
Scrap Metal Demolition Services: You do not have to worry about disposing of scrap metal once your metal structure is demolished, our demo company will help you sort out the scrap metal which can be recycled and reused for building.
We Take the Lead Among Other Demolition Companies in Bethlehem, PA
Our highly trained demolition contractors are able to offer flexible services to suit your specific needs. We provide our clients with value for their money. Our demolition company is committed in service delivery. You will never find a more reliable demolition company in Bethlehem, PA than us.
Methods Applied in Demolition and Deconstruction in Bethlehem, PA
Explosive Demolition: Our demolition experts carefully consider all factors before flipping the switch that will initialize explosives to go off and promptly annihilate the target building in Bethlehem, PA.
Non-Explosive Demolition: Our local demolition contractors will use a wrecking ball attached to a crane to knock down a building. The heavy wrecking ball is swung several times on the targeted structure before it can collapse.
Selective Demolition: This method is used when buildings are being remodeled or rebuilt and the client wishes to retain some parts of the structure. Not all contractors can perform this demolition as it involves meticulous planning and careful effort. Our demo contractors are veterans in conducting selective demolition especially in handling specialized equipment required for the job. You can trust our team of experts in providing calculated and top of the line performance, which other inexperienced building demolition companies cannot guarantee.
Important Demolition Equipment in Bethlehem, PA
Hydraulic breakers – Our demo company uses hydraulic breakers or hammers in crushing otherwise solid surfaces such as concrete, cement and even rocks.
Wrecking balls – Attached to a crane, these heavy balls made of steel are used to weaken structures. They are swayed right into the building causing it to break and collapse.
Hydraulic shears and rock breakers – Designed to cut through the toughest materials with very minimal effort, these tools are attached to excavators to do the job. They can slice through rocks, concrete, metal, wood and steel.
Bulldozers – This powerful machinery has a number of uses in construction. A bulldozer can be used to knock down an old or derelict structure. It can also be used to push away debris and clean up the area.
Dumpers – An efficient demolition business uses dumpers to haul wastes off the demo site for its clearing process. Not having dumpers means requiring a third party contractor to get rid of the trash and may cause delays on the project timeline.
Cranes – Demolition companies use cranes to move materials from different levels of a structure. A demo company will also use this machinery together with a steel ball. For a wrecking ball to work, it has to be attached to the crane.
Crawler Loaders – They are effective in bringing down structures. They can also be used to clean up a demolition site. Crawler loaders can help move debris. Its tracks enable the unit to move easily and freely on the property.
Go Ahead and Contact Us for All Your Demolition Needs in Bethlehem, Pennsylvania
Our demolition company in Bethlehem, Pennsylvania is the best one in town. You can rest easy knowing that we have a solution for all your demolition projects. We are your one-stop-shop demolition company and we offer free consultation plus an accurate estimation of the costs. Our Bethlehem deconstruction and demolition company has highly skilled personnel with years of experience in the demolition business. Call us today at
(855) 885-3366
and allow us to assist you with your demolition requirements.
Zip Code Areas We Service in Bethlehem
18015, 18017, 18016, 18018, 18025