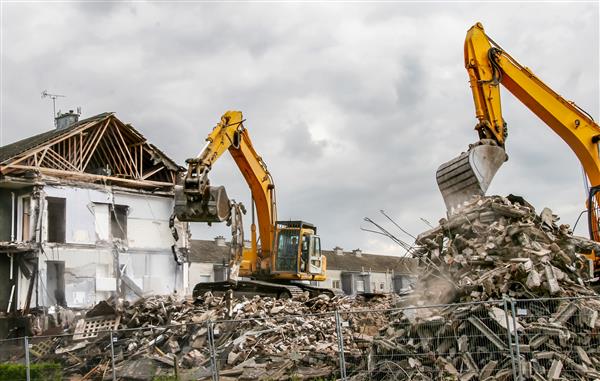 Omni Demolition: A Residential House Demolition Company You Can Trust
A house demolition in Bethlehem, PA is in order when you notice large cracks and other signs of compromised structure. The only challenge you need to face is learning how to select the best among the many local house demolition companies. At Omni Demolition, we take great pride in our residential demolition contractors who have been in this industry for several years. Removing roofing trusses, pulling out foundation and breaking walls are not simple tasks. Unless you have high-power equipment and industry experience, it would be hard, not to mention dangerous, to handle a demolition job on your own. You may need to have a section of your house removed because it can cause huge problems in the future. We have a team of specialists who can work on big projects such as multi-level buildings or smaller ones like a mobile home demolition project.
How We Stand Out from Other Bethlehem, PA Home Demolition Companies
At every house demolition job, we make sure that the project is accident-free when we demolish a Bethlehem, PA property. We do this by conducting an initial inspection and checking every section of the building we need to work on. Demolition methods vary according to building location, construction materials, disposal techniques and the overall demolition goal. The scale and method of all demolition strategies are dependent on the budget available, the size of the project, and any external factors that might be in play-for instance, the need to demolish a structure without causing any damage to the nearby structure. Some of the tools we use to demolish a building include cranes, bulldozers, and excavators. Our experienced residential demolition contractors operate heavy equipment to carry out a demolition project. When hiring residential demolition contractors, you need to be very cautious. It is recommended that you hire a professional even for a simple mobile home demolition project.
Cost Estimation of Home Demolition in Bethlehem, PA
Now that you know how we handle our Bethlehem, PA house demolition service, you might be wondering how much we charge. House demolitions may cost a fortune but if it means ensuring the safety and well-being of the entire family, it is worth it. The best way to go about any demolition project is to hire home demolition companies that present turnkey solutions. This means the residential demolition team will come in, demolish the building, and haul everything away for you. We guarantee to send qualified residential demolition contractors to assist you. Trust our mobile home demolition team to work hard to meet the deadline. We can confidently say that our services are all-inclusive. As much as possible, you have to weigh in your options carefully, because there are a lot of companies that offer affordable packages but fail to deliver quality solutions at the end of the day.
Acquiring a Residential Demolition Permit in Bethlehem, PA
Apart from safety issues, you will also need to secure all required permits from local authority. Some of the usual paperwork required for a house demolition or mobile home demolition job include asbestos inspection repair and dust control clearance. A permit needs to be acquired if there is no existing building permit. The cost of this document varies but it is usually around fifty to sixty dollars. Avoid incurring penalties and delaying your project by applying for the necessary permit.
Things To Prepare Before a Bethlehem, PA Residential Demolition Project Starts
When planning for a home demolition project in Bethlehem, PA, you should make sure that everything is removed from the site. If water, electricity, or gas lines are not cleared during the demolition of a structure, a collapse could result in a dangerous explosion or exposure to chemicals. These dangerous situations can put every person at a demolition site at risk for serious injury. We suggest preparing your house for the demolition job. No one, expect for the demolition team you hired, should have access to the area. When it comes to preparing even a simple mobile home demolition, you want to be sure that everyone is on the same page.
Reasons for a Residential Demolition in Bethlehem, PA
After some time, the structure of a house weakens due to constant exposure to changing weather, as well as other stressors. Or perhaps the land needs to be prepped for a new construction. If you spot cracks, cave-ins or other signs of wear and tear, especially in the home's foundation, contact an expert right away. Depending on the overall condition of your house, professionals may recommend breaking down and rebuilding the affected structure or doing a small renovation job to boost the strength of the material. If you own a home that you want to make major changes to, you need the help of our residential demolition team in Bethlehem, PA. Irrespective of the renovation you are about to make to your house, you need to hire the right company for the job if it involves taking down a portion of your home.
Why We Excel in Providing Residential Demolition Service in Bethlehem, PA
We provide the best services in the city because of our team of brilliant and well-trained residential demolition contractors. We have been the leading company in the city because we have the best contractors who make sure to use only the finest home demolition tools and equipment. Taking down walls to achieve your desired open floor plan might not be as easy as it seems. While it might be tempting to give it a go using a sledgehammer, it's not a wise thing to do. We use our various tools to make hauling materials, breaking walls and excavating materials easier and faster. We will give you an estimated completion date to help you plan your next residential project.
Give Us a Call If You Have a Home Demolition Job in Bethlehem, Pennsylvania
We have the required connections, equipment and knowledge to revert your site to flat dirt, safely and on schedule. We take all residential demolition projects very seriously and focus our efforts on a safe and fruitful demolition process. Let us help you remove the damaged sections of your home or demolish the whole structure today. We have the best Bethlehem, Pennsylvania residential demolition contractors. Rest assured that we follow strict measures when performing our services. We are only a phone call away for all your demolition needs.
Zip Code Areas We Service in Bethlehem
18015, 18017, 18016, 18018, 18025