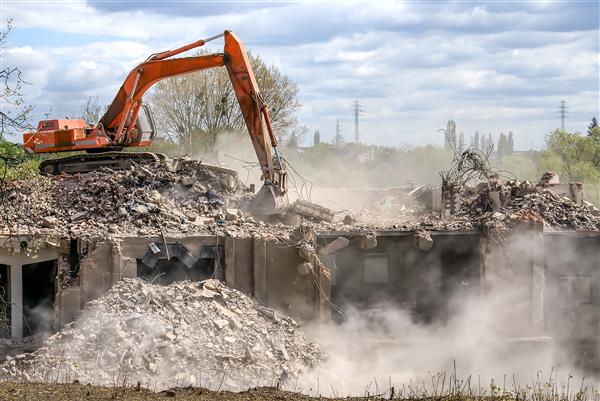 Your Ultimate Concrete Removal Company in Pawtucket, RI
Concrete removal in Pawtucket, RI is definitely not a job for the faint at heart and that is why many recommend hiring only seasoned expert contractors like those at Omni Demolition to handle your projects. Our concrete slab removal and concrete hauling professionals will take the lead during your demolition project, going above and beyond to deliver exceptional and satisfactory services. We guarantee professional workmanship and absolutely no guesswork when you sign with us. At Omni Demolition you can benefit from our affordable fees and quick delivery time.
Cutting Edge Equipment Made for Concrete Removal in Pawtucket, RI
Omni Demolition uses advanced equipment to cut or crush concrete. At Omni Demolition, the type of equipment needed for concrete slab removal in Pawtucket, RI depends on the techniques used to tear down a building or structure. Hydraulic slitters are very efficient in breaking thick and dense concrete. Our tools and equipment can be used on various projects of various sizes. As such, our services such as concrete slab demolition and concrete wall demolition are perfect for any type of situation. Compared to other companies, we conduct regular maintenance jobs on the equipment that we use. Pavement breakers are also used for heavy demolition jobs. In primary demolition, equipment and tools such as the wrecking ball, hammers and crushers demolish concrete into big sized rubble.
When Do You Need Concrete Demolition Services in Pawtucket, RI?
Concrete demolition in Pawtucket, RI solves the potential issue of unsafe structures. Temporary resurfacing cracked surfaces or patching up crumbling foundations will only cause repeated spending, more hassles and even threaten the safety of the building occupants. Whatever your demolition and concrete hauling requirements are, we can help you achieve all your goals at a budget-friendly price. Safety is a huge part of our operations and we follow all precautions to ensure zero incidents from beginning to end. Safety is a primary concern for any concrete demolition job.
Are Permits necessary for Concrete Removal in Pawtucket, RI?
The government usually requires permits for a concrete removal and concrete hauling project in Pawtucket, RI. Unlike other concrete removal companies, we at Omni Demolition will advise you on everything that is required in your concrete removal project-from how to get the necessary permits and the cost of the permits to the cost of the entire project and the time it will take to complete it. Start by applying for a permit from the local authority. You will also need to have a rough estimate of the possible project costs. At Omni Demolition, you can trust our team to assist you in securing the required clearances and permits.
How Much You Should Spend on a Pawtucket, RI Concrete Demolition
For starters, there are demolition permits which can cost you a lot depending on the location of the project. The cost of demolition is impacted by several things like the amount of concrete that needs to removed. Hauling and disposal costs depend on the amount of debris and the distance from the demolition site to the disposal facility. You should contact our reputable professionals in Pawtucket, RI for any concrete removal job such as a patio demolition or patio removal. We provide detailed and accurate estimates that are easy to understand. We can assure you that we have the best priced packages in the area.
Estimated Time Required for a Concrete Demolition Project in Pawtucket, RI
Time taken to complete a concrete demolition project usually depends on a number of things. The processes such as concrete slab removal, concrete hauling and recycling may be the same but the situations will always have some variation. This is a key aspect in our line of work. We understand the importance of service delivery to our clients in a timely manner. It entails dividing slabs into sub-sections as well as grids, then removing them piece by piece. Other factors determining the length of time your demolition project will take are the area of the concrete structure, the thickness of the concrete slab and the type of slab.
Recycling Concrete in Pawtucket, RI?
Constructions, concrete demolition and removal projects produce a lot of by-products and potential waste. Ever wonder how this type of material can be used again? Our team recycles crushed and cut concrete slabs. Our concrete demolition contractors can also use the recycled concrete for landscaping. The aggregate is used in the production of new structural concrete. Concrete recycling also reduces waste in landfills.
Call for a Quick Concrete Demolition Service Today
Our team is only a call away when our clients need urgent concrete demolition services. Our expert contractors at Omni Demolition have unparalleled skills and experience in the concrete slab removal business. They know how to execute their assigned tasks with accuracy and they know how to tactfully minimize the risks associated with concrete slab removal projects. We are a budget friendly company and we will get the job done right the first time. We can guarantee incident-free operations with very minimal to zero disruption to adjacent properties. Call us today at
(855) 885-3366
for a free consultation and ask one of our agents for a free estimate.
Zip Code Areas We Service in Pawtucket
02861, 02860, 02862