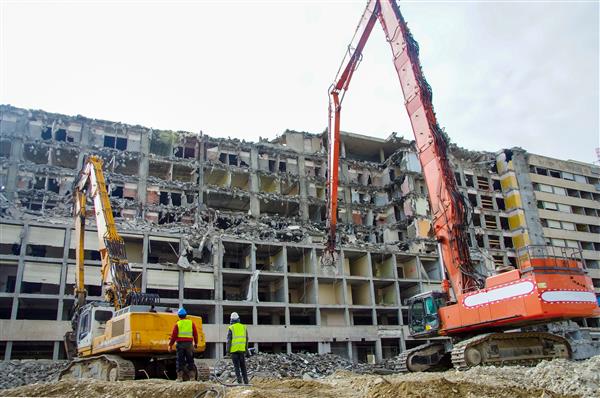 Demolition Contractors Pawtucket, RI: Your Go-To Demolition Company
Omni Demolition has paved the way for many construction services in the city through the exemplary workmanship and warm customer service of our demolition contractors. We will make sure that the project is completed within your budget and stipulated timeframe. We do not sugar-coat our services and we often deliver more than promised. You can trust that our demolition experts are all well-versed when it comes to everything that has to do with eco-friendly demolition, as well as health and safety guidelines. There are no second guesses when you sign with us.
How is Demolition Different from Deconstruction in Pawtucket, RI?
Demolition is the process of knocking down, levelling, razing, tearing down or pulling down a building or a structure. Some projects require complete levelling while others simply need specific parts removed to be replaced. For every client call, we have a demolition expert equipped to do the job. Deconstruction differs from demolition in that, it involves tearing apart a building or a home in a manner that salvages materials. If you are going to rebuild or remodel an existing building and you wish to maintain some segments, a deconstruction is recommended.
Our Commitment to Your Demolition Project in Pawtucket, RI
Our demolition experts will handle your property professionally from start to finish. Hire the most recommended demolition contractor in all of Pawtucket, RI. We pride ourselves in being reliable and efficient service providers who will cater to all your unique needs. Our demolition contractor will handle your needs on a one-on-one level and ensure that your project is given the undivided attention it deserves.
Professional Demolition Services in Pawtucket, RI
Industrial Demolition services: We have the expertise, equipment and manpower to take down, mills, plants, manufacturing buildings among others without compromising the integrity of neighbouring structures.
Commercial Demolition services: Our demo company, has proven to be knowledgeable in demolishing commercial buildings despite their confinement in between other structures. Using specialized equipment plus our own unique strategy, we have in the past taken down airplane hangars, grocery stores, bridges, shops, and warehouses.
Concrete demolition and recycling services: Our demolition experts are experienced in salvaging not only metal scraps but concrete structures and slabs as well.
Scrap Metal Demolition Services: As an all-around demo company, we can also take care of any unwanted steel erections and metal scraps onsite. We follow a certain procedure in salvaging items that are still good for future use so you can be sure nothing goes to waste.
We are on Top of Other Demolition Companies in Pawtucket, RI
Despite being highly preferred over other demolition contractors, we keep our feet grounded. We are on a continuous path to success and we have managed to do this through perfection in our demolition services. You are guaranteed a hassle-free experience when you sign with us, the most trusted demolition company in Pawtucket, RI. As an established demo company, we continue to make innovations in the field of construction while also maintaining the highest standards of our services.
Methods Conducted by Experts on Demolition and Deconstruction in Pawtucket, RI
Explosive Demolition: Our demolition experts in Pawtucket, RI bring down structures or buildings by removing the main structural elements such as the walls and pillars with the help of explosives. This reduces the building's structural stability, causing it to collapse under its own weight. This method is faster, environmentally friendly and safer when compared to other methods.
Non-Explosive Demolition: Certain buildings are not recommended for use of explosives, to which local demolition contractors opt for wrecking balls. Made of steel, a wrecking ball is suspended and swung into the building repeatedly causing it to topple or crumble down.
Selective Demolition: A more complex method compared to using explosives or wrecking balls, selective demolition requires demo contractors to remove certain parts of a structure while keeping the rest of it in place. We have mastered this technique and take pride in being skilled in doing what other building demolition companies cannot.
Well-maintained Equipment for Demolition in Pawtucket, RI
Hydraulic Breakers – Our demo company uses a percussion hammer attached to an excavator. This powerful equipment is used for bringing down concrete structures.
Wrecking Balls – A wrecking ball is a heavy steel ball that is usually suspended from a crane. It is swung to the targeted structure or building in order to take it down.
Hydraulic Shears and Rock Breakers – They are highly effective in cutting steel, metal, concrete, wood and rocks. Their high power to weight ratio enable hydraulic shears to yield a higher output.
Bulldozers – A favorite among contractors, a bulldozer can be an intimidating piece of equipment on wheels although it is fairly easy to maneuver. It can be used to transport copious amounts of waste, as well as to wreck walls.
Dumpers – Copious amount of time is spent clearing demolition sites and this is where dumpers come in very handy. An experienced demolition business deploys dumpers to haul debris and waste away from the site.
Cranes – Demolition contractors use a crane to attach a wrecking ball. A demo company can also use a crane for moving materials on the different levels of the structure or building.
Crawler Loaders – They are very effective in removing materials from the demolition site. They are used to move or clear an area of demolition rubble. Crawler loaders can also be used to push down smaller-sized structures.
For all Your Demolition Services in Pawtucket, Rhode Island, Call on Us
A proper assessment from a qualified demolition company in Pawtucket, Rhode Island is necessary before you proceed with any major changes in your property. When you have a demolition project, do not hesitate to contact us. Our demolition company's spotless track record in handling minor to major demolitions is your guarantee of our high quality service, expertise and commitment to each and every project. As the top Pawtucket deconstruction and demolition company, no job is ever too big or too small for us. Call us
(855) 885-3366
today for all your demolition solutions.
Zip Code Areas We Service in Pawtucket
02861, 02860, 02862