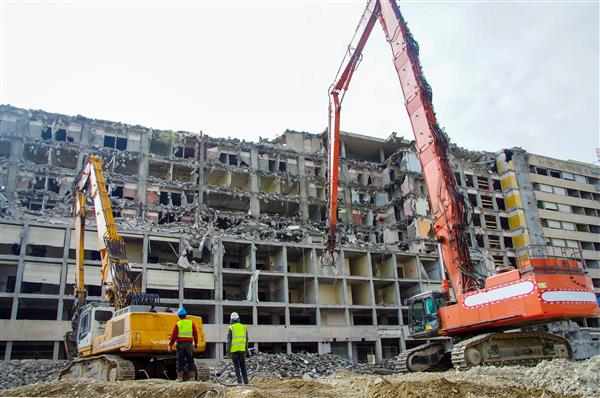 Expert Demolition Contractors Columbia, SC: Your Partner Demolition Company
It can be a huge challenge finding reliable and affordable demolition contractors in Columbia, SC, but that is what Omni Demolition is here for. We set the standards in world-class demolition services. At any given time, our demolition contractor will be at your service to help you with your demolition, excavation and wrecking projects in Columbia, SC. Our demolition experts provide top-notch work. For complex demolition jobs, we offer reliable demolition services.
Better Understanding of Demolition and Deconstruction in Columbia, SC
Demolition is the process of tearing down or pulling down buildings and structures by a demolition expert. A demolition expert may order a deconstruction if parts of the original structure need to be retained or hazardous materials and reusable items need to be extracted before an actual demolition. There are two categories of deconstruction, namely soft strip or selective deconstruction and whole-house deconstruction. The rubble from the process is either disposed-off as waste, used as clean fill or re-used as aggregate. In case of metal structures, the scrap metal is recycled. Selective deconstruction involves going into a property before demolition and removing high value and easily removable materials.
Why Come to Us for Your Demolition Project in Columbia, SC
We maintain multi-disciplined and highly seasoned demolition experts and demolition contractors in Columbia, SC-fully trained in material handling and equipment operation. As professional demolition contractors, we religiously adhere to state policies and regulations. Our word is our bond. We have an impeccable record of giving our clients value for their money while never compromising on the quality of our work. Our demolition contractor will use special equipment and apply all the necessary skills in ensuring that the demolition process does not cause harm or injury to anyone or anything. Our service delivery is focused on safety and efficiency. Our service delivery is focused on safety and efficiency.
We Offer Demolition Services in Columbia, SC Fit for Your Needs
Industrial Demolition services: We have an impeccable history in handling industrial buildings such as warehouses, chemical plants, mills and more. No matter how gigantic the structure is, our team of experts can surely manage.
Commercial Demolition services: If you are looking for a reliable demo company, our reputation and years in the business is your assurance. Our past contracts include leveling bridges, dilapidated malls, airplane hangars, and even grocery stores.
Concrete Demolition and Recycling Services: Our demolition experts will help you realize your green-building initiative. We turn construction debris such as crushed concrete into gravel or a dry aggregate for making new concrete.
Scrap Metal Demolition Services: Instead of hiring another contractor, we will help you save money as our demo company will take care of handling misplaced steel erections and sorting metal scraps for salvaging.
We Stay Ahead Other Demolition Companies in Columbia, SC
Our demolition experts and highly skilled demolition contractors consistently make innovations with the way demolitions are made. Our demolition experts and demolition contractors have an established performance record of completing demolition jobs in the right way, on budget and on time. No matter the nature of your project or timelines, our demolition company in Columbia, SC will deliver to your satisfaction. Our demo company appreciates all our clients and we demonstrate this by endeavoring to give you nothing but the very best.
Main Methods Used in Demolition and Deconstruction in Columbia, SC
Explosive Demolition: Our demolition experts in Columbia, SC bring down structures or buildings by removing the main structural elements such as the walls and pillars with the help of explosives. This reduces the building's structural stability, causing it to collapse under its own weight. This method is faster, environmentally friendly and safer when compared to other methods.
Non-Explosive Demolition: In instances where the height of the building makes it unsafe to use explosives, a wrecking ball is used by local demolition contractors to weaken the structure before tearing it down.
Selective Demolition: This method is used when buildings are being remodeled or rebuilt and the client wishes to retain some parts of the structure. Not all contractors can perform this demolition as it involves meticulous planning and careful effort. Our demo contractors are veterans in conducting selective demolition especially in handling specialized equipment required for the job. You can trust our team of experts in providing calculated and top of the line performance, which other inexperienced building demolition companies cannot guarantee.
We Facilitate High-End Equipment for Demolition in Columbia, SC
Hydraulic Breakers – Our demo company uses a percussion hammer attached to an excavator. This powerful equipment is used for bringing down concrete structures.
Wrecking Balls – A wrecking ball is made from steel. It is suspended from a steel chain attached to a crane and is used to demolish large buildings. It is swung several times towards the intended structure until the structure crumbles. The working of a wrecking ball relies on the skills of an experienced operator.
Hydraulic Shears/ Rock breakers – They are fitted to an excavator and have the ability to cut through concrete, metal, rocks and wood.
Bulldozers – They are used to push demolition debris. They are also used to tear down smaller structures, clear the property of rubble or pile the debris.
Dumpers – In the demolition business, they are used for moving rubble and debris away from the demolition site.
Cranes – Demolition companies use cranes to move materials from different levels of a structure. A demo company will also use this machinery together with a steel ball. For a wrecking ball to work, it has to be attached to the crane.
Crawler Loaders – They are effective in bringing down structures. They can also be used to clean up a demolition site. Crawler loaders can help move debris. Its tracks enable the unit to move easily and freely on the property.
Dial OurNumber for Top Rated Demolition Services in Columbia, South Carolina
Settling with an amateur demolition company in Columbia, South Carolina may seem cost-effective at first but mishaps and faulty work onsite may cost more of your resources, time and energy. You can rest easy knowing that we have a solution for all your demolition projects. Consult with a reliable demolition company and save yourself from all the worries. Our Columbia deconstruction and demolition company is licensed and highly reputable. Contact us at
(855) 885-3366
.
Zip Code Areas We Service in Columbia
29205, 29202, 29203, 29201, 29207, 29208, 29209, 29212, 29225, 29210, 29229, 29147, 29206, 29204, 29211, 29214, 29215, 29216, 29217, 29218, 29219, 29220, 29221, 29222, 29224, 29226, 29227, 29228, 29230, 29240, 29250, 29260, 29290, 29292