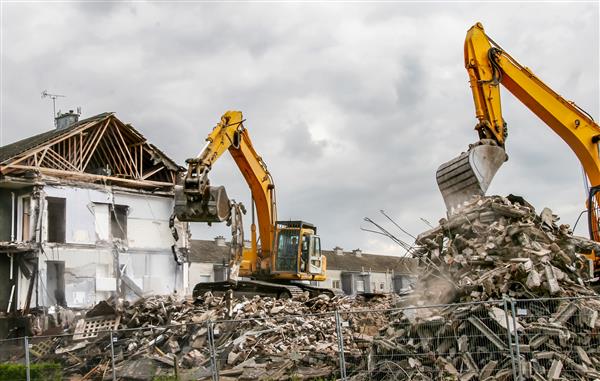 Omni Demolition: A Residential House Demolition Company You Can Trust
It takes a lot of effort and time to do a house demolition in Columbia, SC. It is also quite a risky job, most especially if you don't have the right equipment or if you lack technical background and experience. You must learn how to choose among the many house demolition companies in the city. At Omni Demolition, we take great pride in our residential demolition contractors who have been in this industry for several years. Don't delay the demolition job because the damage can result in accidents, injuries and even expensive repair jobs. Hiring a demolition team is the best option if you want to spare yourself from all the trouble. We also have a great amount of experience with mobile home demolition projects. Omni Demolition is here to assist you with your needs.
How We Stand Out from Other Columbia, SC Home Demolition Companies
We make sure to create a comprehensive plan before we start a house demolition. Accidents can happen in a home demolition site. Our approach differs depending on the size of the building and its overall condition. The techniques we use also differ if you only need an interior demolition job. With the extensive knowledge and experience of our residential demolition contractors, we can provide a reasonable working schedule. Whether it is for a small home or a huge mansion, you must always be cautious in selecting residential demolition companies as amateur employees may make mistakes adding extra delays and costs to the project. Let our mobile home demolition team assist you with your requests today.
What is the Cost of a Home Demolition in Columbia, SC
Asking for a house demolition price quotation in Columbia, SC can help you choose which company to hire. House demolitions may cost a fortune but if it means ensuring the safety and well-being of the entire family, it is worth it. Some home demolition companies also have high rates because there are instances where they need to do additional tasks other than demolition. At Omni Demolition, our residential demolition contractors promise the most cost effective charges together with unparalleled services whether it's for something small like a mobile home demolition or as big as a multi-level condominium. This way, you can get more for your money. At Omni Demolition, you are welcome to ask for a free cost estimate.
Residential Demolition Permits Needed in Columbia, SC
When a structure has been declared dangerous or if a specific area needs to be part of a new redevelopment, house demolition in Columbia, SC is in order. Other special inspections and documentation for your mobile home demolition may be asked from you depending on the state you are in. All the processing, inspection, and actual permit fees will cost you a significant amount of money that can actually add up to the final budget for the project. You will be required to submit all the reports together with the application documents to the local authorizing office in Columbia, SC. Failure to secure all the necessary permits can get you penalized.How to Plan for a Residential Demolition in Columbia, SCTrust our Columbia, SC home demolition specialists to guide you step by step throughout the process so you can avoid delays. Initially, you should clean out your house. Remove all your valuables and furniture. We suggest preparing your house for the demolition job. No one, expect for the demolition team you hired, should have access to the area. Talk to our mobile home demolition professionals for more tips on how to prepare your home. It may be more efficient to transport a mobile home to a local landfill by truck and have the demolition take place at the landfill to save time and money.
Why Should I Pick a Columbia, SC Residential Demolition Over a Renovation Service?
If you own a piece of land and have an older property sitting on it, you might want to demolish it and start from scratch. Perhaps you are happy with the basic structure of your home, but want to add a room. To do this you need a residential demolition professional to do the job, to make sure that the rest of the house remains safe and intact. Weigh in your options. Focus on the safety of your loved ones, most especially if you are dealing with weak foundation or walls. With a residential demolition service in Columbia, SC, you won't need to worry about degraded cement or foundation.
Common Residential Demolition Tools and Equipment Our Columbia, SC Specialists Use
Depending on the demo project, residential demolition contractors might use trucks, loaders, tractors, wheeled tippers, concrete crushers or excavators to cautiously tear down the structure. Pry bars and sledgehammers can be used for interior demolition projects. The tear-down process chosen by demolition contractors is quite different when it comes to completely demolishing a building in one location versus another, depending on the situation and surrounding conditions. We use our own equipment to haul materials, break down walls, excavate foundation beams and more. It would take immense effort and time to manually knock down a house. We know how to handle our equipment well, so we can readily haul debris, break down walls, excavate building foundation beams and more.
Call and Book Your Columbia, South Carolina Home Demolition Appointment Today
We have the required connections, equipment and knowledge to revert your site to flat dirt, safely and on schedule. We have offered demolition services to the people of Columbia, South Carolina for over many years, offering high-end quality services. Our superior work ethic is the reason we exceed our customers' expectations. Our Columbia, South Carolina residential demolition contractors are equipped to handle any size of house. We are very rigorous when it comes to professional behavior and hard work on the demolition site. Contact us today at
(855) 885-3366
so we can get started on your demolition project!
Zip Code Areas We Service in Columbia
29205, 29202, 29203, 29201, 29207, 29208, 29209, 29212, 29225, 29210, 29229, 29147, 29206, 29204, 29211, 29214, 29215, 29216, 29217, 29218, 29219, 29220, 29221, 29222, 29224, 29226, 29227, 29228, 29230, 29240, 29250, 29260, 29290, 29292