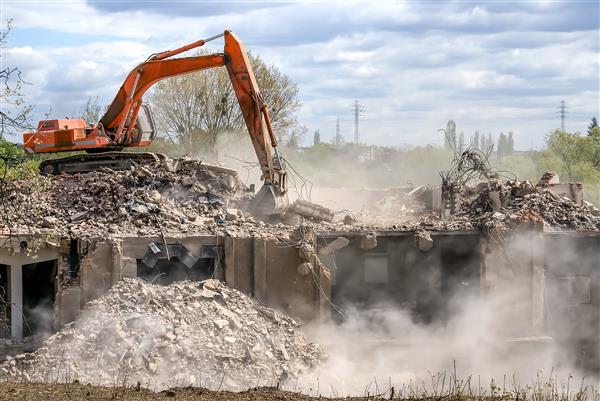 The Leading Company for All Your Concrete Removal Needs in Jackson, TN
Concrete removal involves tearing down concrete buildings and structures in Jackson, TN. Our concrete slab removal and concrete hauling professionals will take the lead during your demolition project, going above and beyond to deliver exceptional and satisfactory services. Whether it is taking down an old building to replace it with a new one or improving the condition of a derelict building, Omni Demolition has the right people for the job. We have spent years perfecting our services.
Tools and Equipment We Use to Perform Our Concrete Removal Service in Jackson, TN
At Omni Demolition, we use a number of equipment for concrete removal. Our contractors at Omni Demolition use a wide range of equipment when we perform our services such as concrete slab removal. We give importance to our client's time which is why we ensure equipment and material readiness to avoid any delays to your projects. Our professional experts in Jackson, TN are able to tackle any task such as removing concrete driveway, concrete slab demolition and concrete wall demolition with the help of our line-up of premium equipment and machinery such as diamond wire saws, demolition hammers, pavement breaks and hydraulic splitters. Through controlled and precise actions, chipping hammers are used to chip away specific areas. We also provide concrete hauling to clean up the site after we finish cutting and crushing your walls, driveways or ceilings.
Conditions that Require a Concrete Demolition in Jackson, TN
Concrete, when constantly exposed to changing weather and temperature, can weaken and crack. It not only allows you to erect new buildings but it also gets rid of aging, dilapidated and unsafe structures. Our concrete removal services and concrete hauling will not only help you get rid of old unsightly structures but will also ensure that your property has better aesthetic appeal. Oftentimes, damages to properties require a complete removal and replacement instead of a concrete resurfacing which only hides the damage. It could be that you want to replace an old structure with a new one or to remodel an existing structure.
When are Concrete Removal Permits Required in Jackson, TN?
Planning to undertake a concrete removal and concrete hauling project in Jackson, TN? Great. Make sure that when you select among the concrete removal companies in the city, you check how well the staff can help you in preparing the requirement. The governing bodies also ensure that environmental and safety regulations are complied with. We take care of everything, including necessary permits for deconstructing, to properly clearing out the construction site and hauling all wastes to be recycled. Some demolition projects will require a planning permit.
How Much Do I Need to Pay for Concrete Demolition Services in Jackson, TN?
Applying for a demolition permit can already cost you more than $200. The price can go up, depending on where your project is located. The larger the square footage, the more tools and labor required for the job. In addition, the more concrete demolished, the higher the disposal fee and the heavier the waste, the higher the cost of transportation. We are not after a one-time money-making scheme. Instead we take care of our clients to maintain a healthy and harmonious professional relationship that will last for years. There will be tricky companies who will make a simple patio demolition or patio removal as complicated as possible to deceive you into agreeing to unreasonably expensive estimates. For a budget of $10,000 you will be able to complete the removal of foundation and reinforced concrete. The actual demolition typically ranges from $4,000 to $14,000.
Estimated Time a Concrete Demolition Project Should Take in Jackson, TN?
We are confident in our service delivery timelines. One of our primary focuses is on the time taken to complete your concrete demolition project. Once you find it satisfactory and approve of the proposal, work on your concrete slab removal and concrete hauling project in Jackson, TN commences. This is a key aspect in our line of work. We understand the importance of service delivery to our clients in a timely manner. The bigger the demolition structure, the more time it will take to complete the job. We do not give our clients overly ambitious timelines.
Is It Possible to Recycle concrete in Jackson, TN?
Concrete demolition and removal projects make the most amount of wastes and debris which is why, instead of throwing them away, it is best to make an effort to avoid harming the environment when disposing of these materials. Managing reusable resources is an effective way of minimizing the growing amount of wastes that households, commercial establishments and industrial buildings produce. Our concrete demolition contractors can also use recycled concrete for landscaping projects. We repurpose the material so they can be used to create asphalt pavement and other similar structures. This not only lessens the environmental impact but it also minimizes the overall cost on your concrete demolition project.
Your Company of Choice for All Your Concrete Demolition Needs in Jackson, Tennessee
By choosing our experts, you can be completely sure that you will receive smooth and exceptional concrete demolition services as compared to hiring other companies. At Omni Demolition, our demolition contractors have specialized skills and years of experience in the field undertaking many concrete slab removal projects. We will ensure that concrete slab removal and other types of concrete removal service are done according to your specifications. Our flexibility allows us to work on your project according to your timeline and schedule. Our professional contractors know the proper way to handle equipment.
Zip Code Areas We Service in Jackson
38305, 38301, 38302, 38303, 38308, 38314