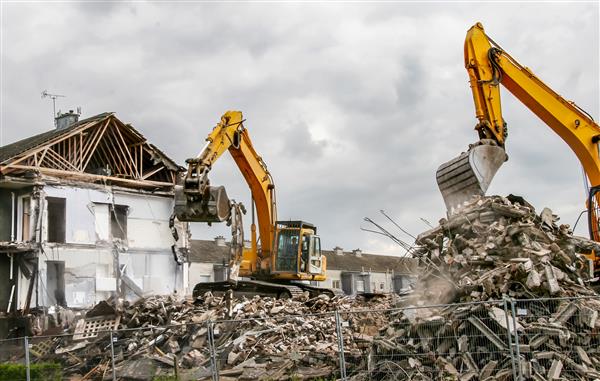 Residential House Demolition by Omni Demolition
It takes a lot of effort and time to do a house demolition in Jackson, TN. It is also quite a risky job, most especially if you don't have the right equipment or if you lack technical background and experience. There are different types of demolition processes. Each process calls for skill and precision, which is why there are reliable house demolition companies that specialize in these construction phases. Don't let the damage worsen and affect the rest of your house. We know that property owners are also affected by house demolitions. Once we get your signal to go ahead, we will make the process simple for you whether our services are needed for a large demolition project or for something as small as a mobile home demolition project. Cracks tend to widen over time, and this allows moisture to seep into the material. The extra moisture weakens the integrity of the structure. By working with experts, you can avoid such issues.
How We Provide Outstanding Jackson, TN Home Demolition Services
There is more to the house demolition industry in Jackson, TN than blowing up buildings, fun as that may be. When a client dials our number to book our Jackson, TN demolition package, we immediately schedule an onsite inspection. This way we can assess the situation, provide a project timeline and come up with a sound plan. We carefully create a plan to effectively target which parts we need to work on first. Let our residential demolition contractors work on each necessary part of your house. As one of the leading residential demolition companies in the city, you can count on us to provide reasonably priced home, condo, townhouse or mobile home demolition services.
Things to Consider When You Get a Home Demolition Price Estimate in Jackson, TN
The cost of a house demolition service in Jackson, TN is influenced by factors such as the location of the property, scale of the project and the magnitude of the structure. The professionals know what they should keep and what they should not. By examining the rates, you can check which among the different home demolition companies in the area offers the most competitive services. At Omni Demolition, our residential demolition contractors promise the most cost effective charges together with unparalleled services whether it's for something small like a mobile home demolition or as big as a multi-level condominium. Upon your request, we can provide a full breakdown of the fees you will need to pay. Rest assured, at Omni Demolition, we only provide professional and cost-effective services.
Required Residential Demolition Preparations in Jackson, TN
Apart from safety issues, you will also need to secure all required permits from local authority. Other special inspections and documentation for your mobile home demolition may be asked from you depending on the state you are in. To apply for a clearance, you will need to complete paperwork for the gas, sewerage, asbestos clearance and electrical wirings. This way, your safety is 100 percent assured. Avoid incurring penalties and delaying your project by applying for the necessary permit. Failure to secure all the necessary permits can get you penalized.Preparing for a Residential Demolition Project in Jackson, TNWe highly recommend keeping your kids, pets and other people away from the vicinity of the house so our Jackson, TN home demolition team can work as quickly as possible. Clear your site by getting rid of all the furniture and personal items so that it is ready to be broken apart. The structure must be cleared; all of the utilities such as electricity, water, and gas including the elimination of any risky materials must be dealt with, and any biodegradable materials must be taken away. Unscrew any wall-mounted decor, throw out unwanted furniture, relocate your appliances and more. A mobile home demolition can be completed very quickly. Limiting house access during the project will also help prevent accidents.
Should I Get a Residential Demolition Service in Jackson, TN?
There will surely come a time when a house is no longer safe for dwelling, and a simple renovation job is no longer enough to reinforce its structure. If you spot cracks, cave-ins or other signs of wear and tear, especially in the home's foundation, contact an expert right away. Weigh in your options. Focus on the safety of your loved ones, most especially if you are dealing with weak foundation or walls. With the help of our friendly Jackson, TN residential demolition specialists, you can ensure the safety of your loved ones and your personal valuables. You can rebuild your home or parts of it to ensure that it is safe for you and your loved ones.
Gear Used for Residential Demolition in Jackson, TN
Depending on the demo project, residential demolition contractors might use trucks, loaders, tractors, wheeled tippers, concrete crushers or excavators to cautiously tear down the structure. Pry bars and sledgehammers can be used for interior demolition projects. Omni Demolition carries out any demolition job using specific tools and equipment to guarantee a smooth completion. Without well-maintained and smooth-operating equipment, contractors won't be able to haul materials or pull out pipes and trusses. Depending on what you are demolishing, you might need to use different tools like tractors, wheeled tippers, concrete crushers and excavators to finish the job. Thanks to our high-precision equipment, we can provide a definite project schedule.
Get in Touch with Us for a Hassle-Free Jackson, Tennessee Home Demolition Service
For more many years, we have provided residents of Jackson, Tennessee with quality demolition services. Think about your safety and everyone else who lives with you. Our residential demolition contractors have been rated #1 in Jackson, Tennessee. We also have a wide array of equipment to ensure a smooth work flow. Dial
(855) 885-3366
and we will gladly assist you.
Zip Code Areas We Service in Jackson
38305, 38301, 38302, 38303, 38308, 38314