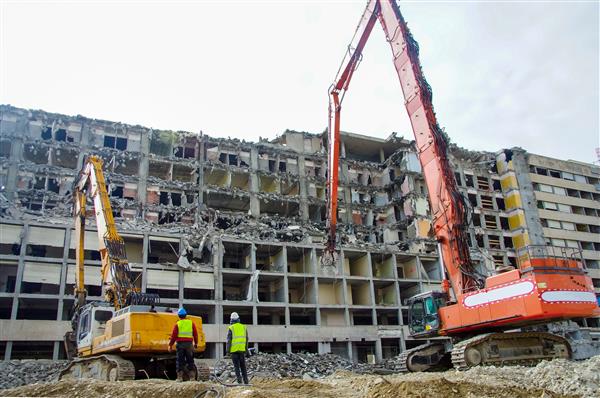 Demolition Contractors in Memphis, TN: The Number 1 Demolition Company
Having been in the demolition business for years, Omni Demolition has built an unshakable reputation as the leading demolition company in Memphis, TN. We are an established service provider when it comes to experience, skills and workmanship. We offer unrivalled expertise and deliver tailor-made solutions to both simple and tough demolition projects. The commitment and competence of our demolition experts guarantee that you will be working with the most suitable partners. The primary projects we undertake are demolition and deconstruction.
We Do Demolition and Deconstruction in Memphis, TN
Demolition can be described as dismantling of buildings or a specific room by a demolition expert. Our demolition experts are most experienced in going over construction sites to see what items may be salvaged and put aside to be used again, often saving time and resources. Knowing the accurate requirements for your project is important to steering it into the right direction. The rubble from the process is either disposed-off as waste, used as clean fill or re-used as aggregate. In case of metal structures, the scrap metal is recycled.
Highly Recommendable Services for Any Demolition Project in Memphis, TN
We maintain multi-disciplined and highly seasoned demolition experts and demolition contractors in Memphis, TN-fully trained in material handling and equipment operation. An experienced and well-trained demolition contractor will manage your project and ensure that the job gets done. Most sales agents will promise everything just to close a deal but are no longer accountable when their team fails to deliver. You will not find another demolition contractor in all of Memphis, TN who will help you save and spend wisely. Taking down old and unwanted buildings may look like a simple task; however, it requires the experience and competence of professional service providers like us to get your job done properly. Taking down old and unwanted buildings may look like a simple task; however, it requires the experience and competence of professional service providers like us to get your job done properly.
What Demolition Services Can You Expect to Find in Memphis, TN?
Industrial Demolition Services: This requires application of specialized techniques by highly trained professionals. We will safely and effectively bring down industrial structures such as factories, mills and manufacturing plants among others.
Commercial Demolition services: You can call our demo company if you need someone to knock down commercial structures such as commercial centres, groceries, airplane hangars and the like.
Concrete demolition and recycling services: Our demolition experts are experienced in salvaging not only metal scraps but concrete structures and slabs as well.
Scrap Metal Demolition Services: Allow our demo company to take down your metal structure. Our experts will downsize and process scrap metal for the purpose of recycling or reusing.
The Top Choice Among Demolition Companies in Memphis, TN
Despite being highly preferred over other demolition contractors, we keep our feet grounded. Our demolition experts and demolition contractors are dedicated to meeting all your needs. Our demolition company in Memphis, TN makes use of a unique approach that minimizes waste and maximizes recyclable materials. Our demo company delivers effective and safe results on your time and budget.
Safely Regulated Methods for Demolition and Deconstruction in Memphis, TN
Explosive Demolition: We have a team of demolition experts in Memphis, TN who thoroughly oversee the process of using explosives to crumble a structure, including the strict adherence to safety regulations and environmental protocols.
Non-Explosive Demolition: Certain buildings are not recommended for use of explosives, to which local demolition contractors opt for wrecking balls. Made of steel, a wrecking ball is suspended and swung into the building repeatedly causing it to topple or crumble down.
Selective Demolition: In cases of remodeling or renovation, demo contractors may be required to pull apart specific areas of the structure. We exceed other building demolition companies when it comes to precision in conducting selective demo such as disassembling interiors, floor coverings, ceilings and walls.
Common Equipment Used for Demolition in Memphis, TN
Hydraulic Breakers – This strong hammer is built to withstand heavy and rigorous use. As one of the high-quality demolition tools used by our demo company, it offers greater productivity in regards to speed, efficiency and its overall performance.
Wrecking balls – Heavy and solid balls made of steel, wrecking balls are safely suspended on a crane and used to weaken a building until it gives.
Hydraulic Shears and Rock Breakers – They are able to demolish steel structures. Hydraulic shears are also used for recycling or secondary breaking. Rock Breakers are robust pounding hammers that are usually fitted to excavators. They are used to demolish rocks, as the name suggests or concrete.
Bulldozers – Commonly used where heavy lifting is required, this flexible machine can also be used to topple down weak structures.
Dumpers – In the demolition business, dumpers are used to transport debris from the demolition site.
Cranes – Demolition contractors use cranes to transfer materials within the site especially from lower to upper floors and vice versa. Aside from being used as a pulley, our demo company also uses cranes for wrecking balls.
Crawler Loaders – Flexible heavy equipment, crawler loaders can move on top of uneven surfaces and are also used for excavating and lifting.
Contact Us for Any Demolition Services in Memphis, Tennessee
Call our demolition company in Memphis, Tennessee. There's a reason why we continue to be highly recommended by building contractors and the rest of our clientele. Find out why we have remained the #1 demolition company for years as you experience top of the line customer service. Our Memphis deconstruction and demolition company is licensed and highly reputable. Call us
(855) 885-3366
today for all your demolition solutions.
Zip Code Areas We Service in Memphis
38122, 38125, 38127, 38107, 38106, 38105, 38104, 38103, 38109, 38108, 38152, 38132, 38133, 38131, 38141, 38111, 38112, 38114, 38115, 38116, 38117, 38118, 38119, 38018, 38016, 38134, 38128, 38120, 38126, 37501, 37544, 38101, 38113, 38124, 38130, 38136, 38137, 38145, 38148, 38150, 38151, 38157, 38159, 38161, 38163, 38166, 38167, 38168, 38173, 38174, 38175, 38177, 38181, 38182, 38184, 38186, 38187, 38188, 38190, 38193, 38194, 38197