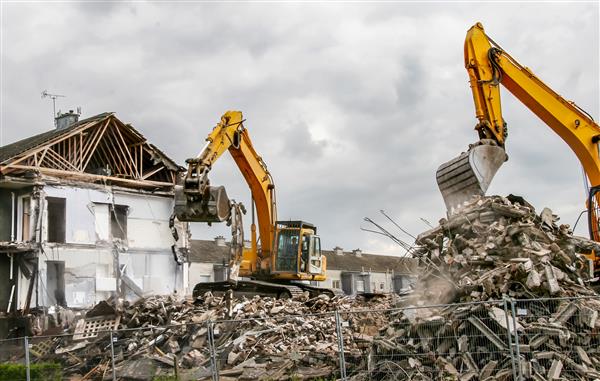 Experience the Best House Demolition in Memphis, TN with Omni Demolition
A house demolition in Memphis, TN is in order when you notice large cracks and other signs of compromised structure. Unlike other house demolition companies, we are upfront and reliable, and we will never sell you services you do not need. If you spot any cracks or weakened structures inside your home, your first priority should be to call a specialist to inspect the damage. If the damage is beyond repair, don't settle for a minor renovation job. We know that property owners are also affected by house demolitions. We also have a great amount of experience with mobile home demolition projects.
Home Demolition Methods in Memphis, TN
At every house demolition job, we make sure that the project is accident-free when we demolish a Memphis, TN property. We do this by conducting an initial inspection and checking every section of the building we need to work on. Our demolition contractors implement strict measures at all times. Our residential demolition contractors make use of various tools and equipment to ensure that we deliver flawless service. When hiring residential demolition companies in Memphis, TN, you need to be very cautious as amateur operators in this field may make mistakes that can create a costly mess out of something as simple as a mobile home demolition project. Rest assured we will lay out the demolition plan before we start.
What You Should Prepare Once You Receive a Memphis, TN Home Demolition Cost Estimate
Comparing the rates of house demolition companies in Memphis, TN should be included in your to-do list. Before you commit to a home demotion team, you should always ask for a comprehensive cost estimate so you can check which team offers the most competitive pricing. A teardown can be a worthwhile option for you, but be aware of some home demolition companies' potential snares, traps, and costs up front. At Omni Demolition, our residential demolition contractors promise the most cost effective charges together with unparalleled services whether it's for something small like a mobile home demolition or as big as a multi-level condominium. Upon your request, we can provide a full breakdown of the fees you will need to pay. You can count on our staff at Omni Demolition to answer your questions or concerns about our services.
Residential Demolition Permits to Procure in Memphis, TN
Every house demolition project requires a permit, regardless of its scale. Other special inspections and documentation for your house tear-down or mobile home demolition may be asked from you depending on the state you are in. You can't start working on the project unless you get a green light from the local office of Memphis, TN. If you choose to work with our team, we will happily assist you in completing the requirements and processing the permit application. Make sure you push through with the application to avoid delays as well as penalties.How to Organize for a Residential Demolition in Memphis, TNAny big or small home demolition job in Memphis, TN begins with preparation. Inspect your home for any hazardous materials. Make sure that the area is free from harmful chemicals. Make sure you remove any personal items or important home equipment. There shouldn't be anything left inside the house during the demolition job to avoid interruptions. Getting a timeline is vital because all demolition projects, even mobile home demolitions, leave a huge mess, and a timeline will give you an idea when the demolition will actually take place and how long the entire process will be. Once a demolition job starts, it would be expensive to stop it.
Instances That Call for Residential Demolition in Memphis, TN
The strength of various structures fades over time. Sometimes, a building degrades faster when it is exposed to extreme temperature changes, pest infestation, water damage or fire. If you spot cracks, cave-ins or other signs of wear and tear, especially in the home's foundation, contact an expert right away. Depending on the overall condition of your house, professionals may recommend breaking down and rebuilding the affected structure or doing a small renovation job to boost the strength of the material. With a residential demolition service in Memphis, TN, you won't need to worry about degraded cement or foundation. A house demolition crew would then be needed in these situations.
Guaranteed Quality Residential Demolition in Memphis, TN Property
For many years, thousands of homeowners have depended on our team of residential demolition contractors to help them with their property. With the extensive industry background of our contractors, you can definitely enjoy outstanding home demolition deals, regardless of how small or big your property is. Taking down walls to achieve your desired open floor plan might not be as easy as it seems. While it might be tempting to give it a go using a sledgehammer, it's not a wise thing to do. It would take immense effort and time to manually knock down a house.
Call Us Now for Reliable Home Demolition Services in Memphis, Tennessee
Never worry about paying expensive equipment rental fees or dealing with accidents due to negligence. Think about your safety and everyone else who lives with you. Let us help you remove the damaged sections of your home or demolish the whole structure today. We have the best Memphis, Tennessee residential demolition contractors. We know that we have to earn your business and that is why we uphold high standards when it comes to the quality of services we offer. We are only a phone call away for all your demolition needs.
Zip Code Areas We Service in Memphis
38122, 38125, 38127, 38107, 38106, 38105, 38104, 38103, 38109, 38108, 38152, 38132, 38133, 38131, 38141, 38111, 38112, 38114, 38115, 38116, 38117, 38118, 38119, 38018, 38016, 38134, 38128, 38120, 38126, 37501, 37544, 38101, 38113, 38124, 38130, 38136, 38137, 38145, 38148, 38150, 38151, 38157, 38159, 38161, 38163, 38166, 38167, 38168, 38173, 38174, 38175, 38177, 38181, 38182, 38184, 38186, 38187, 38188, 38190, 38193, 38194, 38197