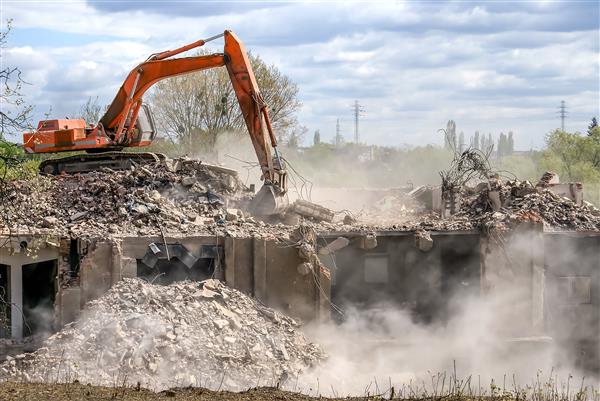 Finding the Best Concrete Removal Company in Hampton, VA
Concrete removal is an essential part of any construction project in Hampton, VA. Omni Demolition has the best concrete slab removal experts in the region. We have spent years perfecting our services. We offer affordable concrete hauling services without compromising quality and safety. We guarantee professional workmanship and absolutely no guesswork when you sign with us. No amount of training can bring the average amateur provider up to speed with the kind of workmanship and commitment that we can only perfect through years of experience.
Tools and Equipment We Use to Perform Our Concrete Removal Service in Hampton, VA
At Omni Demolition, we use the best and most effective equipment for concrete removal projects, from pallet jacks and bobcats to jackhammers and hoists. At Omni Demolition, specialized heavy machinery and equipment are required for concrete slab removal. Hydraulic slitters are very efficient in breaking thick and dense concrete. Our professional experts in Hampton, VA are able to tackle any task such as removing concrete driveway, concrete slab demolition and concrete wall demolition with the help of our line-up of premium equipment and machinery such as diamond wire saws, demolition hammers, pavement breaks and hydraulic splitters. It is important to get professional contractors for your demolition and concrete hauling job. They also reduce concrete into recyclable pieces.
When Should You Book a Concrete Demolition Service in Hampton, VA?
Concrete demolition in Hampton, VA is necessary when you need to bring down an old structure in order to erect a new one. There are various factors that affect the life span of concrete. Along with concrete demolition we also offer concrete hauling services. Concrete demolition is also important in removing unsafe structures from a property. Having them torn down can be quite a challenge as opposed to erecting them.
Do You Require Permits for Concrete Removal Services in Hampton, VA?
A concrete removal or concrete hauling project in Hampton, VA, requires that you obtain a number of permits and approvals from the local council. Some of the concrete structures requiring permits include seawalls and sidewalks, among others. Unlike other concrete removal companies, Omni Demolition will take care of all the permit preparations for you. Often, the permits are necessary to allow governing bodies to check on how the demolition process is being conducted. If you have just moved to Hampton, VA or if this is your first ever attempt in handling a major renovation or structural change, chances are you do not know which requirements you need and how you can get the necessary permits completed. Before you begin a demolition job, it is advisable to first understand the laws and requirements of your location. Your local council may require that you get planning permits, demolition permits and a concrete demolition consent.
Cost of Concrete Demolition in Hampton, VA
Some contractors in Hampton, VA will give you rock bottom packages which could mean poor quality services while some will be too expensive with no guarantee that they will deliver as promised. Our contracts fall midrange but our customer service and workmanship rockets sky high. Reinforced concrete has metal rods and steel mesh. This means that it will require the use of heavy machinery for demolition. As a result, the cost of removal will be higher. Unreinforced concrete on the other hand is easier to remove. Whether you have an easy patio demolition or patio removal job for us or a major road removal project, expect nothing less than V.I.P. treatment and a premium end result. We might not have rock-bottom prices but considering the excellent workmanship and first rate customer service we provide, you are guaranteed the best value for your money. We guarantee to provide a competitive and reasonable price. The demolition project itself will usually cost you an estimated $1000 to $15,000+, depending on the size and situation.
How Much Time Should a Concrete Demolition Project Take in Hampton, VA?
Firstly, we begin with a site visit. Then we discuss all the aspects of the concrete demolition project with you. Next, we develop the best possible way to tackle the task at hand. The processes such as concrete slab removal, concrete hauling and recycling may be the same but the situations will always have some variation. There are unforeseen factors that we take into consideration before settling on a completion date for your project such as extremities in weather conditions. We devise a plan to safely accomplish your project in a cost-effective way with projected timelines and then submit our proposal to you. Your safety and satisfaction are both assured at our company as we strive to deliver polished services. The type can either be reinforced or unreinforced. For example, reinforced concrete structures with rebar are heavier in nature and will require heavier and more equipment or more time than unreinforced concrete structures.
What Can I Do With My Concrete Waste in Hampton, VA?
It comes right after a concrete demolition and removal project. A demolition project can generate tons of waste materials. Fortunately, we can recycle the removed concrete so you can use them as base materials for your asphalt pavement, patios and other parts of the project. Feel free to ask our concrete demolition contractors about recycled concrete. In this day and age of strict adherence to environmental laws, recycling concrete is a welcomed option. Concrete lasts long, and you can use it in various ways.
Contact Our Hampton, Virginia Concrete Demolition Experts
Our concrete demolition services in Hampton, VA consist of concrete slab removal and concrete removal service. While the end result of our services is a torn down building or structure, we use a number of concrete slab removal techniques to achieve our purpose. Experience a professional concrete removal service that is reasonably priced. Our team works systematically as we strive to provide a smooth service. We can guarantee incident-free operations with very minimal to zero disruption to adjacent properties. Concrete demolition in Omni Demolition is the best way to safely tear down buildings or structures made from concrete.
Zip Code Areas We Service in Hampton
23666, 23664, 23665, 23651, 23605, 23661, 23663, 23669, 23630, 23667, 23668, 23670, 23681