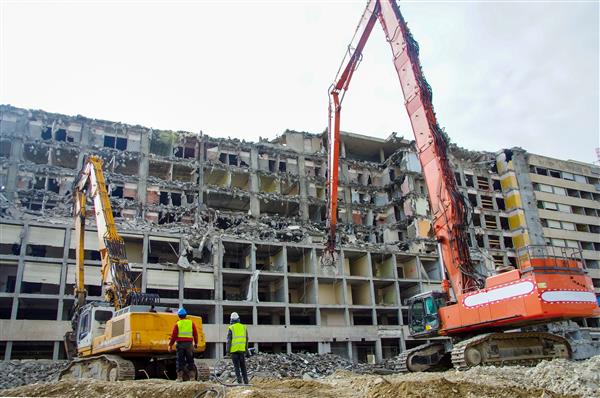 Demolition Contractors Hampton, VA The Demolition Company That You Can Count On
It can be a huge challenge finding reliable and affordable demolition contractors in Hampton, VA, but that is what Omni Demolition is here for. Just like any other major construction or remodeling plan, having a property demolished requires the skills of professionals, along with the use of appropriate equipment. Our demolition contractor is on standby at all times ready to cater to your needs. You can trust that our demolition experts are all well-versed when it comes to everything that has to do with eco-friendly demolition, as well as health and safety guidelines. There are no second guesses when you sign with us.
Do You Need Demolition or Deconstruction in Hampton, VA?
Demolition is aimed at basically bringing down a structure. A demolition expert typically recommends a deconstruction before the actual demolition to be rid of any potentially dangerous materials in the building or to salvage items that can still be re-used in the future. Deconstruction in Hampton, VA involves taking a structure apart. There are two types of deconstruction: selective and whole-house.
Discover Our Amazing Services for All Your Demolition Projects in Hampton, VA
Our demolition experts and demolition contractors in Hampton, VA are highly skilled in meeting all your demands. If you wish to have a an effortless and hassle-free experience when leveling a property in Hampton, VA, we are the demolition contractor that you can rely on. We also take time to really understand your needs and deliver according to your desires with no excuses. But this is not just a one-time initiative, it is ingrained in the workmanship of each and every demolition contractor in our company.
Our Range of Demolition Services in Hampton, VA
Industrial Demolition Services: We can handle any challenging industrial demolition project you may have. With our world-class equipment and staff, we are able to demolish plants, mills, manufacturing buildings and so on.
Commercial Demolition services: Our demo company, has proven to be knowledgeable in demolishing commercial buildings despite their confinement in between other structures. Using specialized equipment plus our own unique strategy, we have in the past taken down airplane hangars, grocery stores, bridges, shops, and warehouses.
Concrete demolition and recycling services: We are the only demolition experts who carefully set aside re-usable materials from your site for possible future use such as slabs to be crushed later on into gravel.
Scrap Metal Demolition Services: Our demo company is experienced in salvaging scrap from your demolition project. You can recycle the scrap metal. This will minimize on wastage and cost.
The Top Choice Among Demolition Companies in Hampton, VA
Our team of demolition experts and demolition contractors will work tirelessly and dedicatedly to ensure that your project is completed on time. Our demolition experts and demolition contractors have an established performance record of completing demolition jobs in the right way, on budget and on time. Our demolition company in Hampton, VA makes use of a unique approach that minimizes waste and maximizes recyclable materials. Each project in our demo company is always given the care and attention that our customers deserve and expect.
Methods Used for Demolition and Deconstruction in Hampton, VA
Explosive Demolition: Our demolition experts in Hampton, VA bring down structures or buildings by removing the main structural elements such as the walls and pillars with the help of explosives. This reduces the building's structural stability, causing it to collapse under its own weight. This method is faster, environmentally friendly and safer when compared to other methods.
Non-Explosive Demolition: Instead of explosives, local demolition contractors may also use a wrecking ball to tear down a building. This method also requires safety precaution as swinging wrecking balls are harder to control than it seems.
Selective Demolition: This method is used when buildings are being remodeled or rebuilt and the client wishes to retain some parts of the structure. Not all contractors can perform this demolition as it involves meticulous planning and careful effort. Our demo contractors are veterans in conducting selective demolition especially in handling specialized equipment required for the job. You can trust our team of experts in providing calculated and top of the line performance, which other inexperienced building demolition companies cannot guarantee.
The process requires demo contractors to work around normal operating hours on small working spaces and under strict timetables. Our company, unlike other building demolition companies, understands the significance of all these considerations. We ensure that we provide an environment that is safe for everyone involved with as minimal disruption as possible.
Demolition Equipment in Hampton, VA
Hydraulic Breakers – This strong hammer is built to withstand heavy and rigorous use. As one of the high-quality demolition tools used by our demo company, it offers greater productivity in regards to speed, efficiency and its overall performance.
Wrecking balls – Attached to a crane, these heavy balls made of steel are used to weaken structures. They are swayed right into the building causing it to break and collapse.
Hydraulic shears and rock breakers – Used by specialists to cut through various materials such as concrete, metal, wood, and steel.
Bulldozers – It has a ripper and is used to move large quantities of rubble. It is also used to bring walls down.
Dumpers – Dumpers are also known as tipper trucks. They are used for transporting rubble or waste from the demolition site. If you are in the demolition business, safety is paramount and some of the safety hazards are demolition wastes. A dumper is a very important in removing the large amount of debris from the site.
Cranes – Aside from being used to secure a wrecking ball, demolition contractors in our demo company also use cranes to lower and lift materials within the site.
Crawler Loaders – Mostly used for excavating, this equipment is also utilized for its lifting and loading capabilities.
Call us Today for Demolition Services in Hampton, Virginia
Our demolition company is a leading demolition company in Hampton, Virginia with proven resources, knowledge, professionalism and experience to successfully manage any demolition project you may have. For years now, we have helped all our clients demolish and deconstruct their buildings and structures successfully. We guarantee safe, timely and effective services. Consult with a reliable demolition company and save yourself from all the worries. We deliver your Hampton demolition needs in a timely manner without compromising on the quality of our work. Call us today at
(855) 885-3366
and allow us to assist you with your demolition requirements.
Zip Code Areas We Service in Hampton
23666, 23664, 23665, 23651, 23605, 23661, 23663, 23669, 23630, 23667, 23668, 23670, 23681