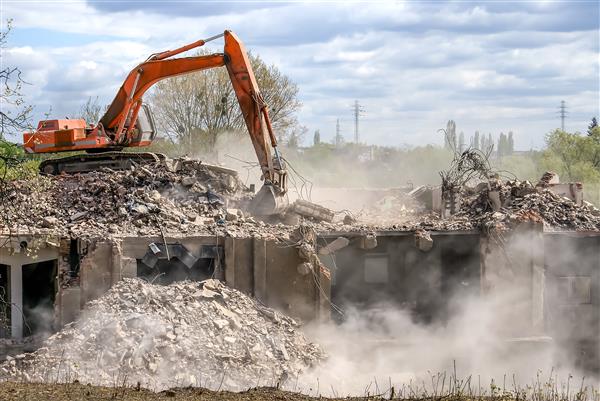 Finding the Best Concrete Removal Company in Suffolk, VA
Hiring professionals for concrete removal services in Suffolk, VA is not a minor expense and imagine how frustrating it would be if you ended up employing amateurs. Omni Demolition has the best concrete slab removal experts in the region. We have spent years perfecting our services. We have well-trained experts who can help you with tasks such as concrete hauling, partial house demolition and site cleanup. Omni Demolition is the most reliable concrete expert in the city. They are dedicated to only one outcome: 100% success in project execution.
Tools and Equipment We Use to Perform Our Concrete Removal Service in Suffolk, VA
At Omni Demolition, we use a number of equipment for concrete removal. At Omni Demolition, specialized heavy machinery and equipment are required for concrete slab removal. A few examples of the equipment we use include chipping hammers, demolition hammers and hydraulic concrete crushers. Whether we are hired for removing concrete driveway, concrete slab demolition, or concrete wall demolition, you can guarantee no equipment failure onsite. Depending on the nature of the project, we select different equipment to deliver maximum results. Diamond wire saws are able to to cut through thick concrete and is usually used in heavy demolition work.
Here to Help with Your Concrete Demolition Needs in Suffolk, VA
Concrete is designed to last a very long time if it is installed properly. However, like every other type of material, its structure will also degrade over time. Temporary resurfacing cracked surfaces or patching up crumbling foundations will only cause repeated spending, more hassles and even threaten the safety of the building occupants. We have an expert team of laborers, managers and engineers who see to it that demolition and concrete hauling standards are met if not exceeded. For plumbing, steam fitting and electrical works, concrete demolition is in most cases the only option that allows pipe penetrations. Do not just settle for a renovation job where they will only apply another layer of material on the affected structure, hiding the weakening structure below.
What Reports or Paperwork Do I Need for a Suffolk, VA Concrete Removal Project?
When it comes to conducting a concrete removal or concrete hauling project, existing policies and permit requirements may vary from state to state. Some of the concrete structures requiring permits include seawalls and sidewalks, among others. Unlike other concrete removal companies, Omni Demolition will take care of all the permit preparations for you. Often, the permits are necessary to allow governing bodies to check on how the demolition process is being conducted. Avoid getting penalized by the local authority. Permit requirements also vary depending on the geographical location of your demolition project. Therefore, it is important to familiarize yourself with the legal requirements of where you live. At Omni Demolition, you can trust our team to assist you in securing the required clearances and permits.
Concrete Demolition Expenses in Suffolk, VA
Some contractors in Suffolk, VA will give you rock bottom packages which could mean poor quality services while some will be too expensive with no guarantee that they will deliver as promised. The cost of demolition is impacted by several things like the amount of concrete that needs to removed. Apart from the cost of the permit, you will also need to pay around $4,000 to $15,000 for the cost of the demolition service. Whether you have an easy patio demolition or patio removal job for us or a major road removal project, expect nothing less than V.I.P. treatment and a premium end result. Unreinforced concrete on the other hand is easier to remove. This is because, removing reinforced steel in the concrete structures requires manual cutting. If the structure contains hazardous materials such as asbestos, it may cost you extra to have the hazardous materials removed.
How Long Do Concrete Demolition Projects Take Place in Suffolk, VA?
Frankly speaking, there is no general timeframe that can be given as each concrete demolition job is different from the other. Our team of experts, however, is the most knowledgeable in the industry when it comes to concrete slab removal, or concrete hauling so we can guarantee the quickest operations without compromising quality and safety. There are unforeseen factors that we take into consideration before settling on a completion date for your project such as extremities in weather conditions. We devise a plan to safely accomplish your project in a cost-effective way with projected timelines and then submit our proposal to you. Rest assured we will take good care of your demolition needs in Suffolk, VA and provide a clearly defined timeline for the entire project.
Why Recycle Concrete in Suffolk, VA?
The recycled material from a concrete demolition and removal project can be used as aggregate in making new concrete and in construction work. Concrete recycling is a more viable option of taking care of demolition waste. Our concrete demolition contractors can also use recycled concrete for landscaping projects. The aggregate can then be used to make new concrete. Recycling concrete can save a considerable amount of money which would otherwise go towards transporting the concrete to a local landfill or towards disposal costs.
Make the Wise Decision by Calling Us for Concrete Demolition in Suffolk, Virginia
By choosing our experts, you can be completely sure that you will receive smooth and exceptional concrete demolition services as compared to hiring other companies. At Omni Demolition, your Concrete slab removal project needs the exceptional expertise and experience that we bring to the table in Suffolk, VA. Whether you call for a concrete slab removal, concrete hauling, site cleanup or any other service, you can be sure that you'll be getting the best team to assist you. If you are still in doubt whether Omni Demolition is the contractor to sign with, you can browse our website for customer testimonials and proof of our unquestionable workmanship. We also follow strict measures and carefully evaluate our demolition and removal plan to avoid delays. We professionally handle each client request in Suffolk, VA.
Zip Code Areas We Service in Suffolk
23433, 23432, 23437, 23436, 23435, 23434, 23438, 23439