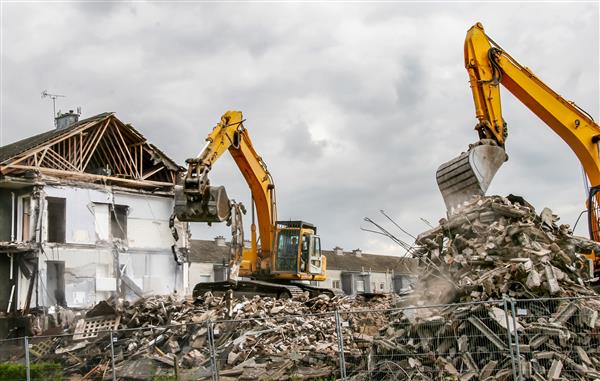 Omni Demolition: A Reliable and Trustworthy Residential House Demolition Company
Hiring a professional to handle your house demolition in Suffolk, VA may be the best decision you will ever have to make. We at Omni Demolition strive to provide the most cost-effective services among all the other local house demolition companies. Here at Omni Demolition, our residential demolition contractors will be there and will carry out the task at hand only when you are ready. Consider the amount of effort and money you need to rent out the necessary equipment, not to mention the risks you have to put up with if you knock down your property alone. Unlike a minor renovation, you can ensure that the building's overall condition is improved when you demolish and rebuild your house. We have a team of specialists who can work on big projects such as multi-level buildings or smaller ones like a mobile home demolition project. Omni Demolition is here to assist you with your needs.
Home Demolition Techniques in Suffolk, VA
Whenever we provide house demolition service in Suffolk, VA, we thoroughly survey the area to check all the weak spots. Our demolition contractors implement strict measures at all times. We carefully create a plan to effectively target which parts we need to work on first. Trust our team to discuss every detail of the demolition plan. We have experienced residential demolition contractors who can work on your project fast. When hiring residential demolition contractors, you need to be very cautious. It is recommended that you hire a pro even for simple mobile home demolition projects.
Home Demolition Estimates in Suffolk, VA
Selecting among the many house demolition companies in Suffolk, VA can be a tough task, especially if it's your first time knocking down a house. You may end up hurting yourself while carrying out the task on your own. In addition to the cost, you should also consider the complete package as a whole Some home demolition companies offer cheap rates yet sub-par services. You can easily request a free cost estimate from our team of residential demolition contractors. In case you have questions, you can easily consult with our mobile home demolition professionals. Upon your request, we can provide a full breakdown of the fees you will need to pay. At Omni Demolition, you are welcome to ask for a free cost estimate.
Required Residential Demolition Preparations in Suffolk, VA
Any house demolition project in Suffolk, VA requires licenses and permits before it can start. Other special inspections and documentation even for a mobile home demolition might be asked from you depending on the state you are in. A permit needs to be acquired if there is no existing building permit. The cost of this document varies but it is usually around fifty to sixty dollars. If you have questions about the documentation requirements in your area, contact our team. Allow our team of specialists to assist you the best way possible.Getting ready for a Residential Demolition in Suffolk, VAWhen planning for a home demolition project in Suffolk, VA, you should make sure that everything is removed from the site. In addition, we recommend asking our demolition team how long the project will take so you can start planning for the next steps. Before starting the core process, long and tedious planning even for a simple mobile house demolition is required, especially if the chosen method is implosion. It is important to set up clear exit routes for debris clearing machinery. Site clearance of debris should be immediately assigned to a designated area where debris is being sorted.
Do I Really Need a Residential Demolition Service in Suffolk, VA?
If you own a piece of land and have an older property sitting on it, you might want to demolish it and start from scratch. Perhaps you bought the land with a property already on it, or it could just be an old structure that needs to go. It is better to call a demolition specialist to lend you a hand instead. Our Suffolk, VA residential demolition experts are well-prepared to take on your request on your preferred schedule. You can rebuild your home or parts of it to ensure that it is safe for you and your loved ones.
Equipment Used for Residential Demolition in Suffolk, VA
We provide the best services in the city because of our team of brilliant and well-trained residential demolition contractors. We have been the leading company in the city because we have the best contractors who make sure to use only the finest home demolition tools and equipment. The project may call for the use of excavators, cranes, and large hydraulic equipment, etc. For large buildings, it requires the use of wrecking ball. At times, explosives are used to knock down huge structures. We use our various tools to make hauling materials, breaking walls and excavating materials easier and faster. Thanks to our high-precision equipment, we can provide a definite project schedule.
Have a Pending Home Demolition Project in Suffolk, Virginia? Call Us Now
We have the required connections, equipment and knowledge to revert your site to flat dirt, safely and on schedule. We take all residential demolition projects very seriously and focus our efforts on a safe and fruitful demolition process. Fortunately, with our Suffolk, Virginia residential demolition contractors, you will never have to worry about handling your run-down property on your own. Guided by the standards set by the industry and our extensive experience, we guarantee to provide the service you deserve. Call us today at
(855) 885-3366
and we will give you a full cost estimate free of charge.
Zip Code Areas We Service in Suffolk
23433, 23432, 23437, 23436, 23435, 23434, 23438, 23439