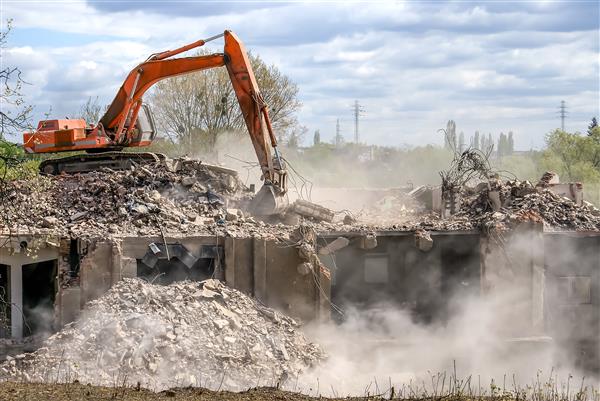 Your Company of Choice for Your Concrete Removal Projects in Spokane, WA
Concrete removal involves tearing down concrete buildings and structures in Spokane, WA. If you have a desire to transform your old home into a new one, then we will no doubt make it happen here at Omni Demolition with our concrete slab removal and concrete hauling services. Whether it is taking down an old building to replace it with a new one or improving the condition of a derelict building, Omni Demolition has the right people for the job.
Equipment Used for Concrete Removal in Spokane, WA
At Omni Demolition, we use a number of equipment for concrete removal. At Omni Demolition, the type of equipment needed for concrete slab removal in Spokane, WA depends on the techniques used to tear down a building or structure. You can talk to our experts about your demolition or concrete removal needs anytime you want. Whether we are hired for removing concrete driveway, concrete slab demolition, or concrete wall demolition, you can guarantee no equipment failure onsite. Pavement breakers are used when you need to partially repair a section of a pavement; it is able to demolish a few inches of the concrete pavement without breaking it up completely. Apart from helping you perform hard tasks by using precision tools and equipment, a concrete hauling expert can help you with the legal papers required by the local authority.
Conditions that Require a Concrete Demolition in Spokane, WA
Concrete demolition in Spokane, WA solves the potential issue of unsafe structures. Whether the project requires breaking asphalt or concrete in residential, commercial or industrial spaces, we have the equipment and service crew ready to do the job. Whatever your demolition and concrete hauling requirements are, we can help you achieve all your goals at a budget-friendly price. While a renovation job might be a less expensive option, we still recommend hiring a demolition specialist, as a renovation may be superficially covering up critical signs of an unsafe structure. With just one phone call, you can contact our team in Spokane, WA and we will handle your requests within the set schedule.
What Documents Should I Prepare for My Concrete Removal Project in Spokane, WA?
A concrete removal or concrete hauling project in Spokane, WA, requires that you obtain a number of permits and approvals from the local council. While other concrete removal companies may charge you extra fees to have your permits processed, our experts at Omni Demolition will sort it out for you. Omni Demolition ensures a smooth operation for every single client that puts their faith in our services. We will make sure that you have all the permits you need to ensure an uninterrupted execution of your demolition project. Height and size of your demolition project are factors considered in determining whether or not you will need to get a permit for the job.
How Much Cost Will I Incur in a Concrete Demolition Project in Spokane, WA?
The two biggest factors that determine the cost of your concrete demolition project in Spokane, WA are location and size. In addition to the demolition permit costs, you should also factor in the total cost of the service. In urban areas, demolition companies charge a minimum of $4,000 for their fees. Quite a number of concrete removal companies in Spokane, WA reduce the cost per square foot once the project is a given size. Ask your potential Spokane, WA patio demolition companies how much they charge before you make your final decision. Feel free to contact us to learn how much we charge for a patio removal or other similar services. For a budget of $10,000 you will be able to complete the removal of foundation and reinforced concrete. The actual demolition typically ranges from $4,000 to $14,000. We provide all types of demolition services at affordable rates.
How Long Do Concrete Demolition Projects Take Place in Spokane, WA?
We pride ourselves in having a quick an efficient turn around time in our concrete demolition projects. To eliminate demolition delays, we plan all our concrete slab removal and concrete hauling in Spokane, WA effectively with hands-on management principles. There are unforeseen factors that we take into consideration before settling on a completion date for your project such as extremities in weather conditions. The bigger the demolition structure, the more time it will take to complete the job. We do not give our clients overly ambitious timelines.
Is it Possible to Recycle Concrete in Spokane, WA?
It is not only an environmentally friendly process of utilizing concrete rubble but it is also a cost cutting measure for your concrete demolition and removal project. A demolition project can generate tons of waste materials. Fortunately, we can recycle the removed concrete so you can use them as base materials for your asphalt pavement, patios and other parts of the project. Our concrete demolition contractors can use recycled concrete as a cheaper alternative of aggregate as opposed to newly mined aggregate. It is also an environmentally friendly approach of dealing with the waste. Concrete lasts long, and you can use it in various ways.
Hire a Premium Concrete Demolition Company in Spokane, Washington
Our commitment is in offering personalized and satisfactory concrete demolition services in Spokane, WA to all our clients-from concrete slab removal to any other concrete removal service you may be in need of. At Omni Demolition, our demolition contractors have specialized skills and years of experience in the field undertaking many concrete slab removal projects. Our history of completed projects speaks for us when it comes to expertise, safety requirement compliance, and outstanding workmanship. We are capable of demolishing any type of concrete structure or building with precision. If not demolished properly, concrete can cause serious harm and injury to the environment and people. Call us today at
(855) 885-3366
for a free consultation and ask one of our agents for a free estimate.
Zip Code Areas We Service in Spokane
99201, 99203, 99202, 99205, 99204, 99207, 99208, 99224, 99223, 99001, 99212, 99209, 99210, 99219, 99220, 99252, 99256, 99258, 99260