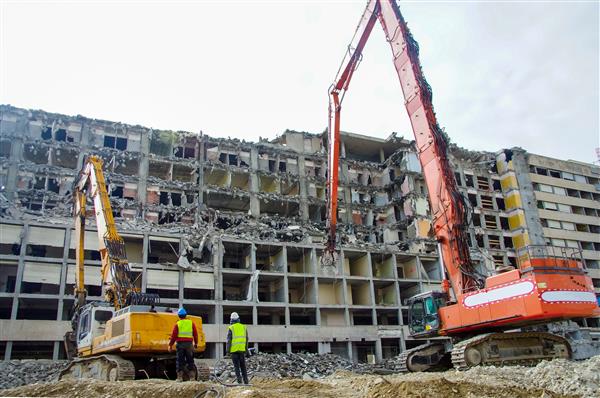 Demolition Contractors Spokane, WA The Demolition Company That You Can Count On
When looking to hire demolition contractors in Spokane, WA, Omni Demolition is your best choice. You are guaranteed to get the best value for your money with our expertise partnered with updated equipment and strict adherence to state safety regulations and policies. We offer unrivalled expertise and deliver tailor-made solutions to both simple and tough demolition projects. If you need a structure or building taken down, our demolition experts will use the fastest and most economical method of demolition. We are an environmentally friendly company.
Do You Need Demolition or Deconstruction in Spokane, WA?
Demolition can be described as dismantling of buildings or a specific room by a demolition expert. A demolition expert may order a careful deconstruction prior to a demolition to carefully remove chemically hazardous materials as a safety precaution. Some of the items salvaged in deconstruction are: roofing materials, windows, plumbing fixtures, doors, cabinets, flooring among others. Deconstruction could be a component included in the demolition where our skilled team removes all hazardous and re-usable objects prior to the building being knocked down.
Why Choose Us as Your Company of Choice for Your Demolition Project in Spokane, WA
We have demolition experts who plan everything meticulously, from the bringing in of our equipment up to the clearance of the property from wastes and debris. Hire the most recommended demolition contractor in all of Spokane, WA. It is our core mission to exceed all your expectations. Our demolition contractor will use special equipment and apply all the necessary skills in ensuring that the demolition process does not cause harm or injury to anyone or anything. From the start to the finish of your project, we are focused on your absolute satisfaction. From the start to the finish of your project, we are focused on your absolute satisfaction.
Our Demolition Services in Spokane, WA
Industrial Demolition services: Our best-in-class strategies and state-of-the-art equipment allow us to offer specialized industrial demolition services for your chemical plant, mills and factories.
Commercial Demolition services: Our demo company uses superior equipment and expertise in tackling various commercial demolition structures such as strip malls, warehouses, office buildings, hotels, bridges, grocery stores and airplane hangars among others.
Concrete demolition and Recycling Services: Our demolition experts are able to recycle your concrete slabs and structures by crushing them and turning them into reusable gravel.
Scrap Metal Demolition Services: Unlike other contractors who concentrate only on concrete, our demo company can assist in handling metal frames and recycling scraps.
Key Advantages Against Other Demolition Companies in Spokane, WA
Compared to other service providers, we take pride in having hardworking demolition experts and highly skilled demolition contractors. Our resources are as varied as they are effective: dependable and advanced equipment as well as expert personnel. Our commitment to our patrons helped us become the most respectable demolition company in all of Spokane, WA. When it comes to bringing down old, dilapidated or unwanted property, we have vast experience as a demo company and we will ensure that our services do not cause any unintended damage or pollution
The Types of Methods Used in Demolition and Deconstruction in Spokane, WA
Explosive Demolition: Our demolition experts in Spokane, WA implode your building making it collapse safely with minimal damage to the immediate surroundings.
Non-Explosive Demolition: Our local demolition contractors will use a wrecking ball to demolish a building in situations that do not allow the use of explosives.
Selective Demolition: This is a type of demolition whereby building materials, part of the structure or building are separated and then sorted for the purpose of reusing or recycling. Our demo contractors have mastered the art of selective demolition that other building demolition companies do not have.
Common Equipment Used for Demolition in Spokane, WA
Hydraulic breakers – Powerful excavators necessary in every demo company, hydraulic breakers or crushers are used to excavate structures quickly. These are commonly used to grind up concrete or rocks.
Wrecking Balls – Buildings or structures that are more than 6 storeys high are demolished with the help of a wrecking ball suspended on a crane by a steel rope. The wrecking ball is pulled then released towards the structure. With force, the steel ball strikes the structure and demolishes it in bits.
Hydraulic Shears/ Rock breakers – They are fitted to an excavator and have the ability to cut through concrete, metal, rocks and wood.
Bulldozers – Commonly used where heavy lifting is required, this flexible machine can also be used to topple down weak structures.
Dumpers – In every demolition business, dumpers are necessary to clear the site from rubble and debris.
Cranes – Demolition companies use cranes to move materials from different levels of a structure. A demo company will also use this machinery together with a steel ball. For a wrecking ball to work, it has to be attached to the crane.
Crawler Loaders – Mostly used for excavating, this equipment is also utilized for its lifting and loading capabilities.
Call us Today for Demolition Services in Spokane, Washington
We are ranked as the leading demolition company in Spokane, Washington. Signing with us means you deal with our highly diligent specialists who will never present mediocre work to our clients. As an established demolition company, we maintain high standards of service and workmanship no matter how big or small a contract is. Our Spokane deconstruction and demolition company has highly skilled personnel with years of experience in the demolition business. Dial
(855) 885-3366
for a professional Spokane demolition that will not break your bank.
Zip Code Areas We Service in Spokane
99201, 99203, 99202, 99205, 99204, 99207, 99208, 99224, 99223, 99001, 99212, 99209, 99210, 99219, 99220, 99252, 99256, 99258, 99260