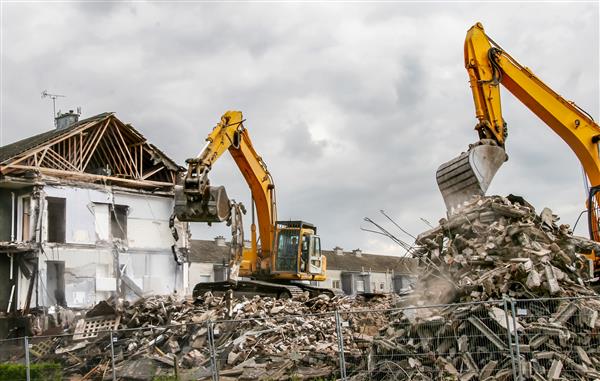 Omni Demolition: A Residential House Demolition Company You Can Count On
House Demolition in Racine, WI is what our demolition contractors do best. We at Omni Demolition strive to provide the most cost-effective services among all the other local house demolition companies. We are insured and fully licensed residential demolition contractors. Don't let the damage worsen and affect the rest of your house. Hiring a demolition team is the best option if you want to spare yourself from all the trouble. Once we get your signal to go ahead, we will make the process simple for you whether our services are needed for a large demolition project or for something as small as a mobile home demolition project.
How Our Home Demolition Service in Racine, WI Works
As a company specializing in house demolition in Racine, WI, we strive to provide each client with exceptional services. Your safety is our top priority. We follow strict safety measures to avoid accidents. The scale and method of all demolition strategies are dependent on the budget available, the size of the project, and any external factors that might be in play-for instance, the need to demolish a structure without causing any damage to the nearby structure. Contrary to popular belief, there is an art to effectively destroying a building. With the help of our residential demolition contractors, you can tear down any type or size of building. Compared to other residential demolition companies, we charge very reasonable fees, and we can work on projects of any scale. An inexperienced amateur demolition company can turn a simple mobile home demolition project into a large costly disaster.
What You Should Prepare Once You Receive a Racine, WI Home Demolition Cost Estimate
House demolitions in Racine, WI need a proper plan of action. With that said, we make sure that home demolition projects are completed on time and within budget. We determine the final cost by considering various factors, including the severity of the building's condition, the size of the property, and your location. Make sure that when you check the various home demolition companies in the city, you also look at the whole package completely. Apart from the expenses incurred when hiring home residential demolition contractors, you also need to keep in mind that you need to budget some money to secure your items such as furnishings, appliances and more. Omni Demolition provides the most reasonably priced rates and unmatched services for a major demolition such as tearing down a multi-level building or a minor one such as a mobile home demolition. We can confidently say that our services are all-inclusive. In general, the size of the project, the type of demolition, plus the magnitude of the property damage determines the total cost of the service. Other factors considered are the availability of equipment and the size of the team you need.
Residential Demolition Permits to Procure in Racine, WI
A house demolition project will require you to apply for a permit. Other special inspections and documentation for your mobile home demolition may be asked from you depending on the state you are in. The requirements vary depending on the state you live in. Other special inspections and documentation may be asked from you depending on the state you are in. Failure to secure all the necessary permits can get you penalized.
Things You Must Prepare Before a Residential Demolition Service in Racine, WI
We highly recommend keeping your kids, pets and other people away from the vicinity of the house so our Racine, WI home demolition team can work as quickly as possible. Whether it is a huge office building or a small house, site preparation is a crucial factor. Once your permit application is granted, the next step is to prep your house for demolition. You should make sure that no one gets to access your house on the day of the demolition to avoid accidents. Health and safety preparations should be undertaken prior to the start of a demolition job, no matter how small it is; even as a mobile home demolition.
Instances That Call for Residential Demolition in Racine, WI
After some time, the structure of a house weakens due to constant exposure to changing weather, as well as other stressors. Or perhaps the land needs to be prepped for a new construction. Depending on the severity of the situation, you can hire a team to renovate the damaged sections of the house or take down the structure so you can build a new one. It won't take long for our team to tear down the weak parts of your home. Renovation is mostly recommended for aesthetic purposes, while Racine, WI residential demolition is done to create better and more durable structures.
Equipment Used for Residential Demolition in Racine, WI
Omni Demolition residential demolition contractors have always provided safe and reliable home demolition services in Racine, WI. Irrespective of whether you are looking into a home demolition or a commercial project in Racine, WI, Omni Demolition carries out any demolition job using specialized tools to guarantee a smooth project completion. We use a long list of equipment, including trucks, excavators and loaders. We use our various tools to make hauling materials, breaking walls and excavating materials easier and faster. We will give you an estimated completion date to help you plan your next residential project.
Get in Touch with Us for a Hassle-Free Racine, Wisconsin Home Demolition Service
Don't waste time, most especially if you think your house is slowly falling apart. Choose to work with a seasoned home demolition expert who can carry out your demolition requests. No matter how big or demanding the job, we have the resource, experience, and skills to take care of it safely, responsibly and professionally. All our residential demolition contractors in Racine, Wisconsin are certified, and full background checks have been carried out on all of them. When you choose us for your removal and demolition needs, you can expect to receive a definite timeline and a full-detailed price quotation. Call
(855) 885-3366
today to get in touch with our staff.
Zip Code Areas We Service in Racine
53405, 53404, 53406, 53403, 53402, 53401, 53407, 53408