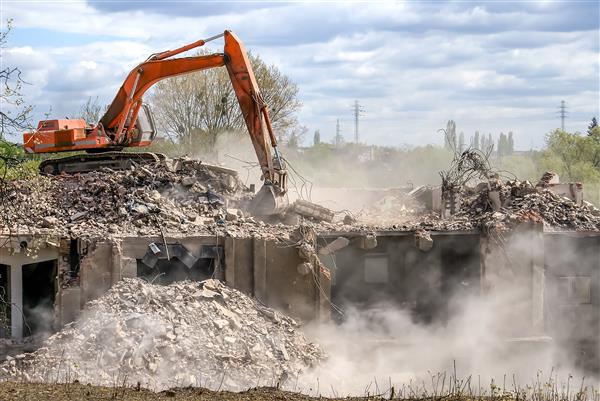 Your Premium Concrete Removal Company in Arvada, CO
When you have a concrete removal project in Arvada, CO, it is important to place your confidence in professionals like us. As with all our clients, we at Omni Demolition will get your job done perfectly with no excuses. Our concrete slab removal and concrete hauling professionals will take the lead during your demolition project, going above and beyond to deliver exceptional and satisfactory services. We guarantee professional workmanship and absolutely no guesswork when you sign with us. We achieve 100% success in all our projects by examining the task at hand from all conceivable angles and then deciding on the course of action that is best suited for your project.
Concrete Removal Equipment Used in Arvada, CO
Our contractors at Omni Demolition can perform a wide range of services because they are well-equipped. Within a reasonable timeframe, we can cut, crush and remove any size of concrete structure. Some of the equipment we have includes bobcats, trackers, pallet jacks and track loaders. Concrete slab removal in Arvada, CO requires the use of special equipment to get the job done perfectly, efficiently and safely. Service providers who have faulty equipment will surely cause delays in your project or worse, add their own repair expenses on top of your original bill. Some of the tasks involved in a demolition job include concrete slab demolition, removing concrete driveway and concrete wall demolition. Our team periodically conducts machine inspection and maintenance to guarantee that everything we need for the job is in tip-top condition. Pavement breakers are also used for heavy demolition jobs. In primary demolition, equipment and tools such as the wrecking ball, hammers and crushers demolish concrete into big sized rubble.
When Do You Need Concrete Demolition Services in Arvada, CO?
Concrete removal is an essential part of making your home, building or structure beautiful. Temporary resurfacing cracked surfaces or patching up crumbling foundations will only cause repeated spending, more hassles and even threaten the safety of the building occupants. No matter the size of your demolition and concrete hauling project, we are well able to handle it for you. When buildings become old, their concrete slabs become unstable posing a threat to anyone living in or around such establishments. We are an environmentally friendly company.
What Reports or Paperwork Do I Need for a Arvada, CO Concrete Removal Project?
The state and local authorities in Arvada, CO require necessary permits whether you will be conducting a concrete removal or concrete hauling project. Some concrete removal companies may charge extra for processing it on your behalf but not us—we are here to make the permit process as simple and effortless as possible. For one, you will need a permit. The purpose of a permit is to ensure that the governing body is able to monitor the work being done in its jurisdiction for the safety of all involved. You will also need to have a rough estimate of the possible project costs. The good news is that at Omni Demolition, we will take care of everything.
Spending Wisely on Concrete Demolition Costs in Arvada, CO
The national average concrete removal cost is between $1500 to $2000. The cost of demolition is impacted by several things like the amount of concrete that needs to removed. Other companies reach a higher price range of $15,000+. Before you book services even as small as a patio demolition, make sure you ask for the rates first. You can ask our contractors to provide a free quote for a patio removal or other services. To know how much you need to prepare for your project, we highly recommend getting in touch with your chosen demolition company in Arvada, CO. This cost is inclusive of disposal. The cost of concrete removal, however, varies in different cities.
How Much Time Should a Concrete Demolition Project Take in Arvada, CO?
A concrete demolition project requires thorough planning to ensure that it will be completed within the client's deadline. With that in mind, your concrete slab removal and concrete hauling projects in Arvada, CO might take a couple of days, weeks or even months to complete. The removal process requires the use of an arsenal of state-of-the-art equipment, skilled experts and adequate manpower. We devise a plan to safely accomplish your project in a cost-effective way with projected timelines and then submit our proposal to you. Advanced machinery is able to work at a faster speed thus, completing your job faster. However, using advanced equipment can be costly.
Is it Possible to Recycle Concrete Demolition Waste in Arvada, CO?
It comes right after a concrete demolition and removal project. A demolition project can generate tons of waste materials. Fortunately, we can recycle the removed concrete so you can use them as base materials for your asphalt pavement, patios and other parts of the project. Feel free to ask our concrete demolition contractors about recycled concrete. We encourage recycling of concrete debris. It reduces disposal to the city's landfills. Recycling concrete can save a considerable amount of money which would otherwise go towards transporting the concrete to a local landfill or towards disposal costs.
Your Company of Choice for All Your Concrete Demolition Needs in Arvada, Colorado
Our team is only a call away when our clients need urgent concrete demolition services. While the end result of our services is a torn down building or structure, we use a number of concrete slab removal techniques to achieve our purpose. We are self-driven in completing all our tasks with accuracy. We act fast and charge fair rates for whatever service we deliver. With our help, you won't have to risk your family's safety. We can guarantee incident-free operations with very minimal to zero disruption to adjacent properties.
Zip Code Areas We Service in Arvada
80005, 80004, 80007, 80003, 80002, 80403, 80001, 80006