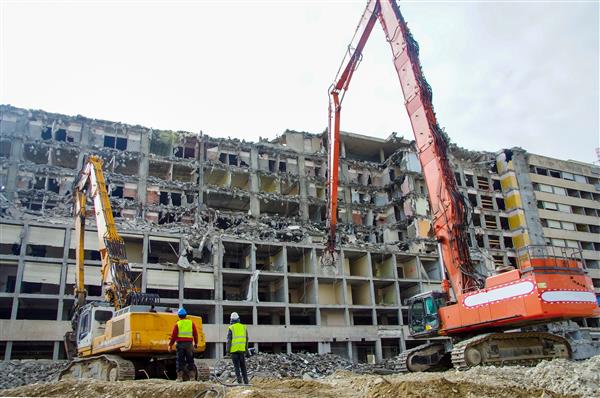 Expert Demolition Contractors Arvada, CO: Your Partner Demolition Company
The strength of Omni Demolition lies not only in its state of the art equipment and the expertise of its demolition contractors but the commitment that we have in providing unsurpassable services. Just like any other major construction or remodeling plan, having a property demolished requires the skills of professionals, along with the use of appropriate equipment. We offer unrivalled expertise and deliver tailor-made solutions to both simple and tough demolition projects. We have a team of seasoned demolition experts ready to act on any project. We are highly competent and able to handle any project you may have.
The Difference Between Demolition and Deconstruction in Arvada, CO
Demolition is the process of tearing down or pulling down buildings and structures by a demolition expert. Some projects require complete levelling while others simply need specific parts removed to be replaced. For every client call, we have a demolition expert equipped to do the job. Deconstruction, on the other hand, is the disassembling of a building while preserving its re-usable parts. If you are going to rebuild or remodel an existing building and you wish to maintain some segments, a deconstruction is recommended.
Discover Our Amazing Services for All Your Demolition Projects in Arvada, CO
We know that before you consider hiring us, you will want to understand how the job gets done by our demolition experts. Compared to other demolition contractors who are highly profit-driven, we are committed to giving back to the community through outstanding workmanship and transparent transactions. We have a proven record of accomplishment in excellence. You will not find another demolition contractor in all of Arvada, CO who will help you save and spend wisely.
Professional Demolition Services in Arvada, CO
Industrial Demolition services: We have tried and tested thorough demolition of industrialized buildings. Our record includes taking down plants, manufacturing buildings, mills and the like.
Commercial Demolition services: Our demo company uses superior equipment and expertise in tackling various commercial demolition structures such as strip malls, warehouses, office buildings, hotels, bridges, grocery stores and airplane hangars among others.
Concrete Demolition and Recycling Services: We are a safe demolition company. We also listen to what you are saying. Are you trying to cut down on costs and reduce wastage? Once our demolition experts have demolished your concrete structure, we can grind it into gravel or turn it into an aggregate for making new concrete.
Scrap Metal Demolition Services: You do not have to worry about disposing of scrap metal once your metal structure is demolished, our demo company will help you sort out the scrap metal which can be recycled and reused for building.
We are Unparalleled by Other Demolition Companies in Arvada, CO
Our team of demolition experts and demolition contractors will work tirelessly and dedicatedly to ensure that your project is completed on time. We take pride in employing some of the finest calibre of demolition experts throughout the city. As an established demolition company in all of Arvada, CO, we see to it that our services, equipment and workmanship are always above customer satisfaction. Our demo company delivers effective and safe results on your time and budget.
Types of Demolition and Deconstruction in Arvada, CO
Explosive Demolition: This method should be done only by experienced demolition experts in Arvada, CO as it involves safety parameters that should be strictly observed. It involves turning a switch to initiate an explosion, which will then collapse the building into a mound of rubble.
Non-Explosive Demolition: Although somehow rare, our local demolition contractors use a wrecking ball to tear down a structure. Compared to using explosives, this method costs less; however, there is limited control on the amount of damage each swing can make.
Selective Demolition: Recommended for buildings that are being rebuilt, selective demolition involves carefully removing some parts of the building to make way for a modified construction. Unlike new and upcoming building demolition companies, our demo contractors are experienced in extracting parts of the building while still maintaining its structural integrity.
Important Demolition Equipment in Arvada, CO
Hydraulic Breakers – A demo company uses hydraulic breakers to demolish concrete and pulverize rocks.
Wrecking balls – Although rarely used nowadays, wrecking balls are heavy steel balls used to gradually destroy a structure's integrity until it collapses.
Hydraulic shears and rock breakers – When attached to excavators, these tools are helpful in cutting through any type of surface. Using electrical force, it can slice through metal, steel, concrete, rock and wood.
Bulldozers – A favorite among contractors, a bulldozer can be an intimidating piece of equipment on wheels although it is fairly easy to maneuver. It can be used to transport copious amounts of waste, as well as to wreck walls.
Dumpers – In every demolition business, dumpers are necessary to clear the site from rubble and debris.
Cranes – Demolition companies use cranes to move materials from different levels of a structure. A demo company will also use this machinery together with a steel ball. For a wrecking ball to work, it has to be attached to the crane.
Crawler Loaders – They are very effective in removing materials from the demolition site. They are used to move or clear an area of demolition rubble. Crawler loaders can also be used to push down smaller-sized structures.
Go Ahead and Contact Us for All Your Demolition Needs in Arvada, Colorado
Your number one demolition company in Arvada, Colorado is always at your service. We guarantee safe, timely and effective services. Our demolition company provides all our clients with dynamic solutions for all their Arvada demolition and deconstruction needs. As the top Arvada deconstruction and demolition company, no job is ever too big or too small for us. Call us
(855) 885-3366
today for all your demolition solutions.
Zip Code Areas We Service in Arvada
80005, 80004, 80007, 80003, 80002, 80403, 80001, 80006