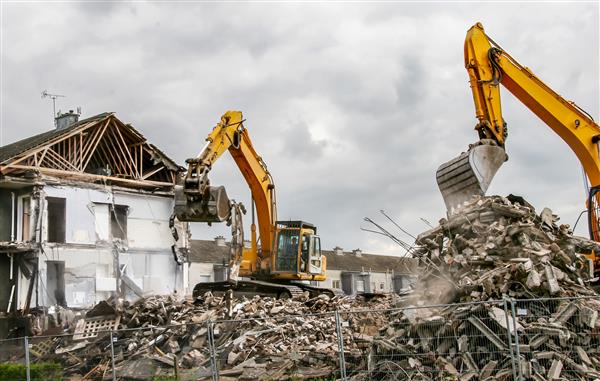 Residential House Demolition by Omni Demolition
Dangerous building cave-ins require quick attention from a seasoned house demolition expert in Arvada, CO. Omni Demolition is one of the best house demolition companies in the country. At Omni Demolition, we take great pride in our residential demolition contractors who have been in this industry for several years. Don't let the damage worsen and affect the rest of your house. We know that property owners are also affected by house demolitions. Whether you call us for a full-scale mansion demolition or an easy mobile home demolition, rest assured you will receive our best services. Instead of covering cracks with layers of cement, you must address the structural issue so you can avoid accidents and other expenses.
Unparalleled Arvada, CO Home Demolition Solutions You Can Afford
At every house demolition job, we make sure that the project is accident-free when we demolish a Arvada, CO property. We do this by conducting an initial inspection and checking every section of the building we need to work on. When a client dials our number to book our Arvada, CO demolition package, we immediately schedule an onsite inspection. This way we can assess the situation, provide a project timeline and come up with a sound plan. The scale and method of all demolition strategies are dependent on the budget available, the size of the project, and any external factors that might be in play-for instance, the need to demolish a structure without causing any damage to the nearby structure. We can identify which parts are more prone to cave-ins. Let our residential demolition contractors work on each necessary part of your house. As one of the leading residential demolition companies in the city, you can count on us to provide reasonably priced home, condo, townhouse or mobile home demolition services.
The Cost of a Home Demolition in Arvada, CO
Asking for a house demolition price quotation in Arvada, CO can help you choose which company to hire. Before you commit to a home demotion team, you should always ask for a comprehensive cost estimate so you can check which team offers the most competitive pricing. A teardown can be a worthwhile option for you, but be aware of some home demolition companies' potential snares, traps, and costs up front. Here at Omni Demolition, our residential demolition contractors offer the most affordable house and mobile home demolition rates coupled with unmatched services. The overall cost of the demolition depends on the location of the property; the existence of established plants and trees and the placement of essential services such as electricity, gas and water; and lastly the proximity to the nearest disposal or recycling facility. In general, the size of the project, the type of demolition, plus the magnitude of the property damage determines the total cost of the service. Other factors considered are the availability of equipment and the size of the team you need.
Required Residential Demolition Preparations in Arvada, CO
House demolition in Arvada, CO, particularly in densely populated parts, necessitates the filing of permits and other procedures to make sure environmental and physical safety precautions are observed. Documentation and special inspections for your demolition project, even for a humble mobile home demolition, could be necessary depending on the state you are in. To apply for a clearance, you will need to complete paperwork for the gas, sewerage, asbestos clearance and electrical wirings. This way, your safety is 100 percent assured. Some of the reports you will need to secure include dust control clearance and asbestos inspection. Failure to secure all the necessary permits can get you penalized.
Things You Must Prepare Before a Residential Demolition Service in Arvada, CO
Make sure to keep your kids and pets out of the property once the Arvada, CO home demolition team arrives. This way, you can prevent any unnecessary incidents and ensure that the plan will run smoothly. Initially, you should clean out your house. Remove all your valuables and furniture. The project may be put to a halt if the authorities spot any harmful chemicals in the property. Additionally, you will need to double check all the appliances and equipment. Talk to our mobile home demolition professionals for more tips on how to prepare your home.
When is Residential Demolition in Arvada, CO Necessary
The strength of various structures fades over time. Sometimes, a building degrades faster when it is exposed to extreme temperature changes, pest infestation, water damage or fire. Perhaps you bought the land with a property already on it, or it could just be an old structure that needs to go. It is better to call a demolition specialist to lend you a hand instead. Trust our residential demolition professionals in Arvada, CO. We will conduct an inspection to pinpoint all the areas that need immediate attention and plan the best course of action.
Exceptional Quality Residential Demolition Equipment for Your Arvada, CO House
Omni Demolition residential demolition contractors have always provided safe and reliable home demolition services in Arvada, CO. Our contractors use high-end equipment and whether you call us to remove a small section of your house or the entire structure, rest assured we will use industry-grade tools. We use a wide range of equipment to clean out the site, pull out foundation beams, cut down wires and more. It would take immense effort and time to manually knock down a house. Be it a one or three storey house, we can definitely provide exceptional services.
Get in Touch with Us for a Hassle-Free Arvada, Colorado Home Demolition Service
We have built a reputation in the house demolition industry as one of the leading demolition companies. Think about your safety and everyone else who lives with you. With all the right equipment, we assure you of minimal time, to complete the task at hand. No matter how big or demanding the job, our residential demolition contractors in Arvada, Colorado have the resources, experience and skills to take care of it safely, responsibly and professionally. When you choose us for your removal and demolition needs, you can expect to receive a definite timeline and a full-detailed price quotation.
Zip Code Areas We Service in Arvada
80005, 80004, 80007, 80003, 80002, 80403, 80001, 80006