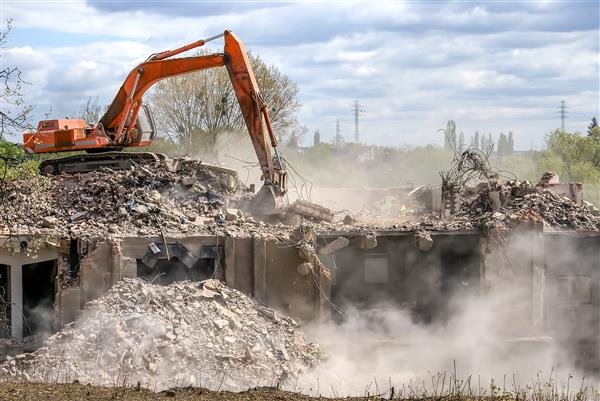 The Leading Company for All Your Concrete Removal Needs in Melbourne, FL
We are experts in providing concrete removal in Melbourne, FL. For your concrete slab removal and concrete hauling services, you can rest easy knowing that we have got you covered. As such our contractors know how to carry out the necessary service you need to rebuild or remodel your home. After all the work is done and the dust settles, you'll find that our services are done with excellence and are very affordable.
Important Equipment Used for Concrete Removal in Melbourne, FL
When looking for a contractor to hire, do not get drawn in by bargain prices. Instead, double check the company's performance and the condition of their equipment. At Omni Demolition, specialized heavy machinery and equipment are required for concrete slab removal. A few examples of the equipment we use include chipping hammers, demolition hammers and hydraulic concrete crushers. Our tools and equipment can be used on various projects of various sizes. As such, our services such as concrete slab demolition and concrete wall demolition are perfect for any type of situation. Our team periodically conducts machine inspection and maintenance to guarantee that everything we need for the job is in tip-top condition. When everything about your structure screams it is time for demolition, safety should be your priority.
When Do You Need Concrete Demolition Services in Melbourne, FL?
There are several reasons why a house needs to be demolished. Whether the project requires breaking asphalt or concrete in residential, commercial or industrial spaces, we have the equipment and service crew ready to do the job. Rest assured, we will deliver an excellent job well done, regardless of the scale of the project. Furthermore, we promise to charge reasonable rates for the concrete hauling or crushing task you may need after the demolition work is done. Concrete demolition is also important in removing unsafe structures from a property. With just one phone call, you can contact our team in Melbourne, FL and we will handle your requests within the set schedule.
Are Permits necessary for Concrete Removal in Melbourne, FL?
Planning to undertake a concrete removal and concrete hauling project in Melbourne, FL? Great. Other concrete removal companies may charge you extra to process the necessary permits. The governing bodies also ensure that environmental and safety regulations are complied with. There are several instances where you need to get a permit from your local council such as: when a building is to be entirely demolished, part of the building is to be demolished or more than a half of a given floor area of a building or structure is to be demolished. The good news is that at Omni Demolition, we will take care of everything.
Cost of Concrete Demolition in Melbourne, FL
The first step is to determine how much the job will cost you. In addition to permit application fees in Melbourne, FL, there is no accurate range of expenses that we can give outright as every project requirement is unique. Reinforced concrete has metal rods and steel mesh. This means that it will require the use of heavy machinery for demolition. As a result, the cost of removal will be higher. Unreinforced concrete on the other hand is easier to remove. It doesn't matter if you need a patio demolition, concrete hauling, patio removal or other services. No need to get worked up in guessing project costs when all you have to give us a call and we will be happy to give you a free estimate. Permits can cost you a few dollars to thousands of dollars depending on your location and project needs.
Estimated Time Required for a Concrete Demolition Project in Melbourne, FL
Time taken to complete a concrete demolition project usually depends on a number of things. We plot reasonable timetables for the complete operation in Melbourne, FL, from preparation, to actual concrete slab removal, up to concrete hauling and site clearing. The removal process requires the use of an arsenal of state-of-the-art equipment, skilled experts and adequate manpower. We devise a plan to safely accomplish your project in a cost-effective way with projected timelines and then submit our proposal to you. That said, depending on the size of your project, your budget and legal requirements, your project in Melbourne, FL can take days, weeks or even months.
How Can I Reuse the Concrete Waste Generated from My Project in Melbourne, FL?
Do you ever wonder where all the waste from a concrete demolition and removal project go? Deconstructed concrete is not the type of waste that will disintegrate and decay at a fast pace when left on its own which is why we encourage recycling, instead of disposing of them in dump sites. Some companies even buy concrete wastes so they can process it to be reused in constructing roads, sidewalks and even airport runways. Our concrete demolition contractors facilitate the hauling of reusable concrete to ensure an organized clearing of the site. The aggregate can then be used to make new concrete. Concrete lasts long, and you can use it in various ways.
Recognize the Most Preferred Concrete Demolition Company in Melbourne, Florida
Our commitment is in offering personalized and satisfactory concrete demolition services in Melbourne, FL to all our clients-from concrete slab removal to any other concrete removal service you may be in need of. Our expert contractors at Omni Demolition have unparalleled skills and experience in the concrete slab removal business. We are self-driven in completing all our tasks with accuracy. First rate customer service need not make a dent in your savings. We professionally handle each client request in Melbourne, FL.
Zip Code Areas We Service in Melbourne
32901, 32903, 32934, 32935, 32902, 32912, 32919, 32936, 32941