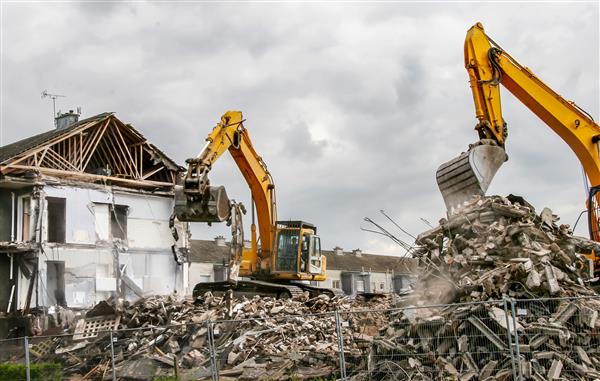 Omni Demolition: A Residential House Demolition Company You Can Trust
We provide complete house demolition services in Melbourne, FL for any size of project. We at Omni Demolition strive to provide the most cost-effective services among all the other local house demolition companies. If you wish to keep your business local and be assured of expert service, Omni Demolition's residential demolition contractors provide exceptional service. Consider the amount of effort and money you need to rent out the necessary equipment, not to mention the risks you have to put up with if you knock down your property alone. We don't offer excuses; we just offer professional and timely demolition services guaranteed to fit your budget. In fact, our experienced professionals can work even on your mobile home demolition project, no matter how small it is. Cracks tend to widen over time, and this allows moisture to seep into the material. The extra moisture weakens the integrity of the structure. By working with experts, you can avoid such issues.
How We Provide Outstanding Melbourne, FL Home Demolition Services
House demolition in Melbourne, FL is not as simple as it seems. There's more to taking down a building than just smashing it with a wrecking ball. We want to deliver our Melbourne, FL services as safely as possible by using various tools and hydraulic equipment. Guided by years and years of practice, our residential demolition contractors can finish your project within a very short timeframe. Compared to other residential demolition companies, we charge very reasonable fees, and we can work on projects of any scale. Additionally, we also offer emergency mobile home demolition service for urgent situations.
What to Consider After Receiving a Melbourne, FL Home Demolition Cost Estimate
Selecting among the many house demolition companies in Melbourne, FL can be a tough task, especially if it's your first time knocking down a house. By knowing the costs, you can set your expectations and budget better. Some home demolition companies also have high rates because there are instances where they need to do additional tasks other than demolition. We pride ourselves in having one of the best teams of residential demolition contractors. We can assign a mobile home demolition specialist to check your property today. We can confidently say that our services are all-inclusive. At Omni Demolition, you are welcome to ask for a free cost estimate.
Obtaining a Residential Demolition Permit in Melbourne, FL
House demolition in Melbourne, FL, particularly in densely populated parts, necessitates the filing of permits and other procedures to make sure environmental and physical safety precautions are observed. Other special inspections and documentation even for a mobile home demolition might be asked from you depending on the state you are in. There are several requirements you will need to secure so the local government can process your application. Any demolition company will need to be able to work within strict safety regulations that are controlled by safety inspectors.Arranging for a Residential Demolition in Melbourne, FLJust as you don't just undertake a home demolition project in Melbourne, FL without the proper permits, you don't do it without getting the site ready, either. Once the local office approves your permit application, you must start preparing the property. Make sure that the area is free from harmful chemicals. The area will be completely cleared out and no one but authorized personnel will be permitted near it. When it comes to preparing even a simple mobile home demolition, you want to be sure that everyone is on the same page.
Do I Really Need a Residential Demolition Service in Melbourne, FL?
There are a lot of reasons as to why a residence would need to be demolished. This ranges from wanting to renovate the house, a natural disaster that has damaged parts of the house, or the need to remove an existing structure so you can build a new one. We highly suggest calling in a specialist to check out your property if you suspect weakened or compromised foundation or walls. With a residential demolition service in Melbourne, FL, you won't need to worry about degraded cement or foundation. Instead of booking a renovation job for unsafe structural issues, we suggest a demolition service instead.
Tools and Equipment Used for Residential Demolition in Melbourne, FL
Omni Demolition's residential demolition contractors have always provided safe and reliable home demolition services in Melbourne, FL. Omni Demolition carries out any demolition job using specific tools and equipment to guarantee a smooth completion. We use our own equipment to haul materials, break down walls, excavate foundation beams and more. It would take immense effort and time to manually knock down a house. We will give you an estimated completion date to help you plan your next residential project.
Contact Us Today for Home Demolition Services in Melbourne, Florida
Don't waste time, most especially if you think your house is slowly falling apart. Never hire companies that will charge you a cheap rate but provide unsatisfactory services. We promise to complete your request within a short span of time. All our residential demolition contractors in Melbourne, Florida are certified, and full background checks have been carried out on all of them. You can have a look at the reviews on our site and social media profiles to see testimonials from many satisfied customers.
Zip Code Areas We Service in Melbourne
32901, 32903, 32934, 32935, 32902, 32912, 32919, 32936, 32941