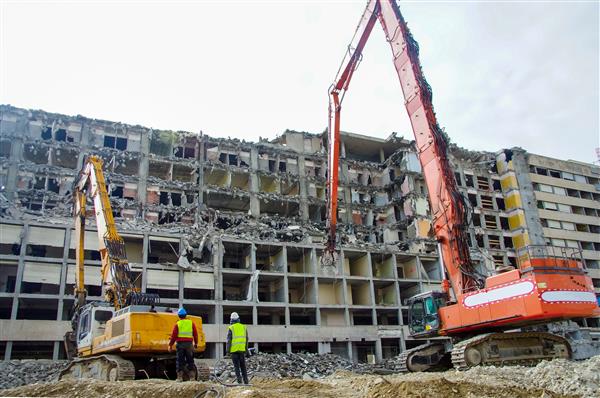 The Demolition Company with Demolition Contractors in Melbourne, FL You Can Count On
Omni Demolition is composed of reliable and dependable demolition contractors in Melbourne, FL. We will make sure that the project is completed within your budget and stipulated timeframe. No job is ever too big, too small or too demanding for us. Our demolition experts provide top-notch work. There are no second guesses when you sign with us.
Better Understanding of Demolition and Deconstruction in Melbourne, FL
Demolition is the process of tearing down or pulling down buildings and structures by a demolition expert. A demolition expert typically recommends a deconstruction before the actual demolition to be rid of any potentially dangerous materials in the building or to salvage items that can still be re-used in the future. Deconstruction in Melbourne, FL involves taking a structure apart. There are two types of deconstruction: selective and whole-house.
Complete Accountability from Highly Skilled Specialists for Your Demolition Project in Melbourne, FL
We maintain multi-disciplined and highly seasoned demolition experts and demolition contractors in Melbourne, FL-fully trained in material handling and equipment operation. If you wish to have a an effortless and hassle-free experience when leveling a property in Melbourne, FL, we are the demolition contractor that you can rely on. Most sales agents will promise everything just to close a deal but are no longer accountable when their team fails to deliver. Our demolition contractor will handle your needs on a one-on-one level and ensure that your project is given the undivided attention it deserves.
Our Range of Demolition Services in Melbourne, FL
Industrial Demolition services: We have taken down massive structures such as warehouses, industrial buildings, bridges, power plants, and mills. Our special equipment and expertise allow for the safe demolition of vast properties.
Commercial Demolition services: We are the demo company to call when it comes to commercial spaces that require strategic planning, especially narrow and often crowded areas. Our capability in wrecking restaurants, grocery stores, and office buildings shows our mastery in handling business districts.
Concrete demolition and recycling services: Our demolition experts can break down concrete surfaces and slabs into reusable gravel.
Scrap Metal Demolition Services: Our demo company is experienced in salvaging scrap from your demolition project. You can recycle the scrap metal. This will minimize on wastage and cost.
A class Above the Rest in Melbourne, FL
Compared to other service providers, we take pride in having hardworking demolition experts and highly skilled demolition contractors. Our team uses sophisticated equipment and observes high standards in every operation. Our demolition company is experienced in implementing both small and large projects. We continue to fulfil our commitment as a demo company when it comes to putting our clients as top priority.
Methods Applied in Demolition and Deconstruction in Melbourne, FL
Explosive Demolition: Our qualified demolition experts have years of experience in explosive demolition projects. Using our expertise and meticulous planning, we will safely execute your project with minimal disruption to your surroundings.
Non-Explosive Demolition: Our local demolition contractors will use a wrecking ball attached to a crane to knock down a building. The heavy wrecking ball is swung several times on the targeted structure before it can collapse.
Selective Demolition: This is also known as interior demolition. When your building or property is structurally sound but its interior needs to be remodeled or upgraded, our demo contractors apply selective demolition. We use highly advanced demolition techniques giving us a reputation that other building demolition companies cannot match.
Important Equipment Used for Demolition in Melbourne, FL
Hydraulic breakers – Our demo company uses hydraulic breakers or hammers in crushing otherwise solid surfaces such as concrete, cement and even rocks.
Wrecking balls – A massive ball made of steel, it is suspended on a crane and maneuvered into a swinging motion to tear down a building. It sounds less dangerous than using explosives but the use of wrecking balls gives little control to the depth of damage done, hence it requires careful and professional handling.
Hydraulic shears and rock breakers – These are helpful in cutting all sorts of steel, wood, rocks, concrete and metal. They make a very clean cut within a short period of time.
Bulldozers – It has a ripper and is used to move large quantities of rubble. It is also used to bring walls down.
Dumpers – Copious amount of time is spent clearing demolition sites and this is where dumpers come in very handy. An experienced demolition business deploys dumpers to haul debris and waste away from the site.
Cranes – Demolition contractors use a crane to attach a wrecking ball. A demo company can also use a crane for moving materials on the different levels of the structure or building.
Crawler Loaders – They are very effective in removing materials from the demolition site. They are used to move or clear an area of demolition rubble. Crawler loaders can also be used to push down smaller-sized structures.
Call us Today for Demolition Services in Melbourne, Florida
Your number one demolition company in Melbourne, Florida is always at your service. Signing with us means you deal with our highly diligent specialists who will never present mediocre work to our clients. Our demolition company provides all our clients with dynamic solutions for all their Melbourne demolition and deconstruction needs. Our Melbourne deconstruction and demolition company has highly skilled personnel with years of experience in the demolition business. Call us
(855) 885-3366
today for all your demolition solutions.
Zip Code Areas We Service in Melbourne
32901, 32903, 32934, 32935, 32902, 32912, 32919, 32936, 32941