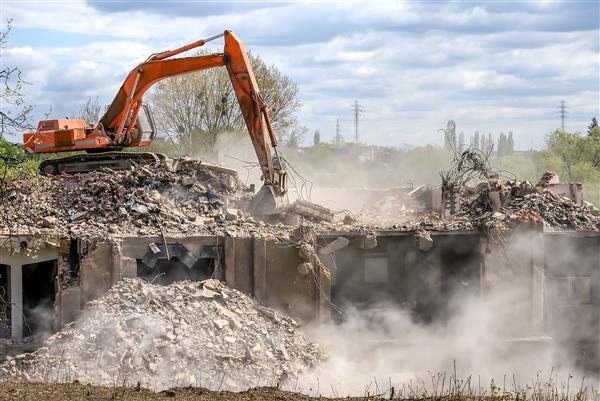 A First-Class Company for all Your Concrete Removal Needs in Coon Rapids, MN
Concrete removal in Coon Rapids, MN is definitely not a job for the faint at heart and that is why many recommend hiring only seasoned expert contractors like those at Omni Demolition to handle your projects. Our highly trained experts undergo rigorous and continuous training to ensure that any concrete slab removal or concrete hauling job is executed safely and correctly. As such our contractors know how to carry out the necessary service you need to rebuild or remodel your home. We have spent years perfecting our services.
High-power Equipment Best for Concrete Removal in Coon Rapids, MN
You no longer need to worry about paying high equipment rental fees when you hire our team in Coon Rapids, MN. We have access to pallet jackets, hoists, bobcats and other equipment so we can ensure the timely delivery of our Coon Rapids, MN concrete slab removal services. Here at here Omni Demolition, our bobcats, hoists, pallet jacks and all the other tools we use in the trade are all well-maintained to ensure continuous operations. We strategically plan out tasks and delegate enough manpower especially in removing concrete driveway, conducting concrete slab demolition, or doing a concrete wall demolition. Through controlled and precise actions, chipping hammers are used to chip away specific areas. When everything about your structure screams it is time for demolition, safety should be your priority.
Why Is It Important to Carry Out Concrete Demolition in Coon Rapids, MN?
Some property owners in Coon Rapids, MN may delay hiring a demolition contractor for the sake of avoiding expenses. Concrete is no exception and the time inevitably comes when you will need to demolish your concrete structure in Coon Rapids, MN, for one reason or another. We have an expert team of laborers, managers and engineers who see to it that demolition and concrete hauling standards are met if not exceeded. When buildings become old, their concrete slabs become unstable posing a threat to anyone living in or around such establishments. With just one phone call, you can contact our team in Coon Rapids, MN and we will handle your requests within the set schedule.
Do You Require Permits for Concrete Removal Services in Coon Rapids, MN?
Before you can start a Coon Rapids, MN concrete removal, concrete hauling project or any other related service, you need to secure a few documents. Start by applying for a permit from the local authority. Some of the concrete structures requiring permits include seawalls and sidewalks, among others. Unlike other concrete removal companies, Omni Demolition will take care of all the permit preparations for you. Often, the permits are necessary to allow governing bodies to check on how the demolition process is being conducted. Planning to have a concrete demolition job done in your property? Depending on the nature of your project you may or may not need one. Before you begin a demolition job, it is advisable to first understand the laws and requirements of your location. The good news is that at Omni Demolition, we will take care of everything.
How Much Can a Concrete Demolition Project Cost in Coon Rapids, MN?
The cost of a concrete demolition project depends on the size and location of the project. You need to factor in the cost of permits and hauling as well. The cost of demolition is impacted by several things like the amount of concrete that needs to removed. Apart from the cost of the permit, you will also need to pay around $4,000 to $15,000 for the cost of the demolition service. Our concrete demolition projects in Coon Rapids, MN include patio demolition, patio removal, tearing down walkways and walls, demolishing decks, entire buildings, among others. We provide detailed and accurate estimates that are easy to understand. We guarantee to provide a competitive and reasonable price. Manpower, permits and type of equipment used also determine the cost of the project.
Expected Duration of a Concrete Demolition in Coon Rapids, MN
Time taken to complete a concrete demolition project varies. Once you find it satisfactory and approve of the proposal, work on your concrete slab removal and concrete hauling project in Coon Rapids, MN commences. Our experts ensure that operations are done continuously and without incident. After we check the overall condition of your property in Coon Rapids, MN, we can start discussing the available options. Advanced machinery is able to work at a faster speed thus, completing your job faster. However, using advanced equipment can be costly.
You Get More Value by Recycling Concrete in Coon Rapids, MN
Constructions, concrete demolition and removal projects produce a lot of by-products and potential waste. Recycling has economical and environmental benefits. The concrete is crushed by our concrete demolition contractors and used as a coarse aggregate for new concrete. The aggregate can then be used to make new concrete. Contractors also take advantage of recycled concrete as they are not only environmentally-friendly but also cost-effective while still proven durable.
Why Come to Us for All Your Concrete Demolition Needs in Coon Rapids, Minnesota
Our concrete demolition contractors know the best possible way to provide concrete demolition services in Coon Rapids, MN in a safe way because they have been comprehensively trained on all safety techniques. Whether you require complete or partial concrete slab removal Coon Rapids, MN, you can expect prime services at a reasonable price. Furthermore, whether you have a strict budget or timeframe, there is no problem we cannot solve. You can rest assured that we will deliver nothing less than exceptional results. If not demolished properly, concrete can cause serious harm and injury to the environment and people. Get in touch with us for the best concrete removal service.
Zip Code Areas We Service in Coon Rapids
55433, 55448