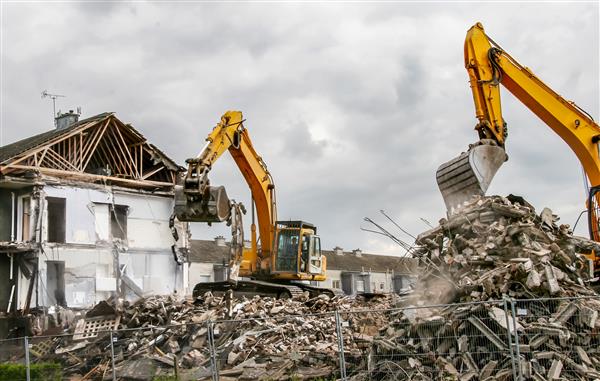 Omni Demolition: Your Expert in House Demolition in Coon Rapids, MN
Hiring a professional to handle your house demolition in Coon Rapids, MN may be the best decision you will ever have to make. The only challenge you need to face is learning how to select the best among the many local house demolition companies. If you wish to keep your business local and be assured of expert service, Omni Demolition's residential demolition contractors provide exceptional service. We have been in business for many years providing exceptional customer service. Unlike a minor renovation, you can ensure that the building's overall condition is improved when you demolish and rebuild your house. You can always count on our team of professionals to work on your project swiftly especially when it comes to small projects such as a mobile home demolition.
Home Demolition Techniques in Coon Rapids, MN
Whenever we provide house demolition service in Coon Rapids, MN, we thoroughly survey the area to check all the weak spots. Your safety is our top priority. We follow strict safety measures to avoid accidents. Our approach differs depending on the size of the building and its overall condition. Our residential demolition contractors make use of various tools and equipment to ensure that we deliver flawless service. When hiring residential demolition companies in Coon Rapids, MN, you need to be very cautious as amateur operators in this field may make mistakes that can create a costly mess out of something as simple as a mobile home demolition project. We will give you a fixed timeline for the project and discuss the entire procedure before we proceed.
Getting a Home Demolition Evaluation in Coon Rapids, MN
Now that you know how we handle our Coon Rapids, MN house demolition service, you might be wondering how much we charge. Before you commit to a home demotion team, you should always ask for a comprehensive cost estimate so you can check which team offers the most competitive pricing. By examining the rates, you can check which among the different home demolition companies in the area offers the most competitive services. Here at Omni Demolition, our residential demolition contractors offer the most affordable house and mobile home demolition rates coupled with unmatched services. This way, you can get more for your money. Trust us at Omni Demolition to handle your project seriously.
Acquiring a Residential Demolition Permit in Coon Rapids, MN
House demolition in Coon Rapids, MN, particularly in densely populated parts, necessitates the filing of permits and other procedures to make sure environmental and physical safety precautions are observed. You can't start a house demolition or mobile home demolition job without a permit from the local government. The requirements vary depending on the state you live in. If you choose to work with our team, we will happily assist you in completing the requirements and processing the permit application.How to Plan for a Residential Demolition in Coon Rapids, MNWhen planning for a home demolition project in Coon Rapids, MN, you should make sure that everything is removed from the site. If water, electricity, or gas lines are not cleared during the demolition of a structure, a collapse could result in a dangerous explosion or exposure to chemicals. These dangerous situations can put every person at a demolition site at risk for serious injury. Flooding and electrical fires are a dangerous threat at every demolition. We make sure that mobile home demolition service is carried out efficiently at a very cost effective rate, and that no error takes place during the duration of the project, making sure to meet your schedule as quickly and efficiently as possible. Once a demolition job starts, it would be expensive to stop it.
Why Should I Pick a Coon Rapids, MN Residential Demolition Over a Renovation Service?
There are many scenarios in which this kind of assistance is beneficial and even necessary. Other factors that affect the durability of a building are environmental stressors like fluctuating temperature and sudden weather changes. Small cracks can result in bigger and more serious problems along the way. As such, we suggest proactively approaching structural issues. Trust our residential demolition professionals in Coon Rapids, MN. Instead of booking a renovation job for unsafe structural issues, we suggest a demolition service instead.
Guaranteed Quality Residential Demolition in Coon Rapids, MN Property
Omni Demolition residential demolition contractors have always provided safe and reliable home demolition services in Coon Rapids, MN. Our residential demolition contractor uses equipment like cranes, wrecking balls, bulldozers, jackhammers, sledgehammers or chainsaws. We can work on various materials as well. Thanks to our high-powered tools and equipment, we can swiftly work on your requests.
Need a Home Demolition Job Done in Coon Rapids, Minnesota? Contact Us Today
We have the required connections, equipment and knowledge to revert your site to flat dirt, safely and on schedule. Never hire companies that will charge you a cheap rate but provide unsatisfactory services. Our superior work ethic is the reason we exceed our customers' expectations. If you're in need of an expert residential demolition contractor in Coon Rapids, MN to assist you with your next project, don't hesitate to give us a call at
(855) 885-3366
. Our company has proudly served many residential, commercial and industrial property owners in Coon Rapids, MN, and we're proud to assist you as well.
Zip Code Areas We Service in Coon Rapids
55433, 55448