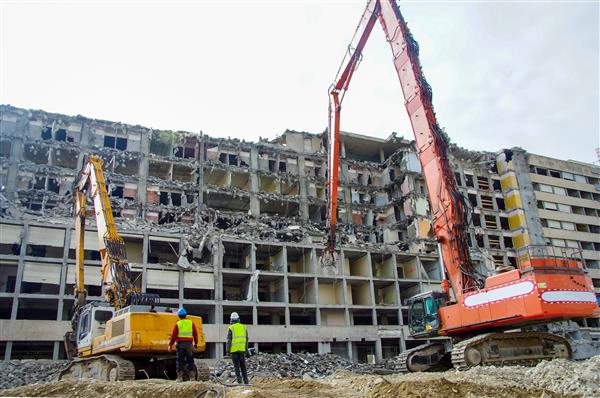 Demolition Contractors in Coon Rapids, MN: Your Trusted Demolition Company
Omni Demolition has paved the way for many construction services in the city through the exemplary workmanship and warm customer service of our demolition contractors. Our demolition contractor is on standby at all times ready to cater to your needs. Always making sure that our clients are not kept in the dark, our demolition experts will guide you accordingly when it comes to recommended methods, pricing and procedures to be enacted. This minimizes the chances of accidents or injuries at the demolition site.
Demolition vs. Deconstruction in Coon Rapids, MN
Demolition is taking down or dismantling a building or structure with a strong and overwhelming force whose end result is rubble or waste. Demolition can either be selective or explosive. Explosive demolition uses mostly dynamite to bring down big buildings. Selective demolition involves bringing down a part of a building or tearing a section of a wall by a demolition expert. A deconstruction entails careful removal of a structure's segments or hazards such as electrical wires, gas pipes and hydro lines prior to a complete knocking down of the building. The rubble from the process is either disposed-off as waste, used as clean fill or re-used as aggregate. In case of metal structures, the scrap metal is recycled. Our demolition expert tests and removes hazardous material before knocking down the building.
Why Hire Us for Your Demolition Project in Coon Rapids, MN
Our demolition experts have done thousands of contracts and not a single one has given us negative feedback. First and foremost, our selection of advanced and reliable equipment enables our demolition contractors to be highly efficient as well as cost-effective. Our word is our bond. We have an impeccable record of giving our clients value for their money while never compromising on the quality of our work. No other demolition contractor in all of Coon Rapids, MN has a crew that is as dedicated and diligent as ours.
Professional Demolition Services in Coon Rapids, MN
Industrial Demolition services: We have taken down massive structures such as warehouses, industrial buildings, bridges, power plants, and mills. Our special equipment and expertise allow for the safe demolition of vast properties.
Commercial Demolition services: We are the demo company to call when it comes to commercial spaces that require strategic planning, especially narrow and often crowded areas. Our capability in wrecking restaurants, grocery stores, and office buildings shows our mastery in handling business districts.
Concrete demolition and Recycling Services: Our demolition experts are able to recycle your concrete slabs and structures by crushing them and turning them into reusable gravel.
Scrap Metal Demolition Services: Allow our demo company to take down your metal structure. Our experts will downsize and process scrap metal for the purpose of recycling or reusing.
We Lead, Other Demolition Companies Follow in Coon Rapids, MN
Despite being highly preferred over other demolition contractors, we keep our feet grounded. We take pride in employing some of the finest calibre of demolition experts throughout the city. Our demolition company in Coon Rapids, MN makes use of a unique approach that minimizes waste and maximizes recyclable materials. Being a demo company in this business for years, we have perfected the process of demolishing structures as cost-effectively and safely as possible.
Main Methods for Demolition and Deconstruction in Coon Rapids, MN
Explosive Demolition: This method should be done only by experienced demolition experts in Coon Rapids, MN as it involves safety parameters that should be strictly observed. It involves turning a switch to initiate an explosion, which will then collapse the building into a mound of rubble.
Non-Explosive Demolition: In instances where the height of the building makes it unsafe to use explosives, a wrecking ball is used by local demolition contractors to weaken the structure before tearing it down.
Selective Demolition: A more complex method compared to using explosives or wrecking balls, selective demolition requires demo contractors to remove certain parts of a structure while keeping the rest of it in place. We have mastered this technique and take pride in being skilled in doing what other building demolition companies cannot.
Demolition Equipment in Coon Rapids, MN
Hydraulic Breakers – This strong hammer is built to withstand heavy and rigorous use. As one of the high-quality demolition tools used by our demo company, it offers greater productivity in regards to speed, efficiency and its overall performance.
Wrecking Balls – Although less common in demolition sites, it is an efficient way of demolishing a concrete structure. This solid steel ball is attached to a crane. It is then swung to the targeted building several times to strike down the structure.
Hydraulic shears and rock breakers – A modification to excavators, these tools help in cutting through solid surfaces such as wood, metal, rocks, and concrete.
Bulldozers – These can be utilized to apply pressure on a structure and weaken it as well as to haul waste and other materials onsite.
Dumpers – If you are in the demolition business, you will definitely need a dumper/ tipper truck for transporting demolition waste.
Cranes – Demolition contractors utilize a crane to ease the burden of moving heavy materials or equipment back and forth on a construction site. Our demo company also uses cranes to suspend wrecking balls for non-explosive demos.
Crawler Loaders – They are effective in bringing down structures. They can also be used to clean up a demolition site. Crawler loaders can help move debris. Its tracks enable the unit to move easily and freely on the property.
Contact Us for Any Demolition Services in Coon Rapids, Minnesota
A proper assessment from a qualified demolition company in Coon Rapids, Minnesota is necessary before you proceed with any major changes in your property. You can rest easy knowing that we have a solution for all your demolition projects. Find out why we have remained the #1 demolition company for years as you experience top of the line customer service. As the top Coon Rapids deconstruction and demolition company, no job is ever too big or too small for us. Contact us at
(855) 885-3366
.
Zip Code Areas We Service in Coon Rapids
55433, 55448