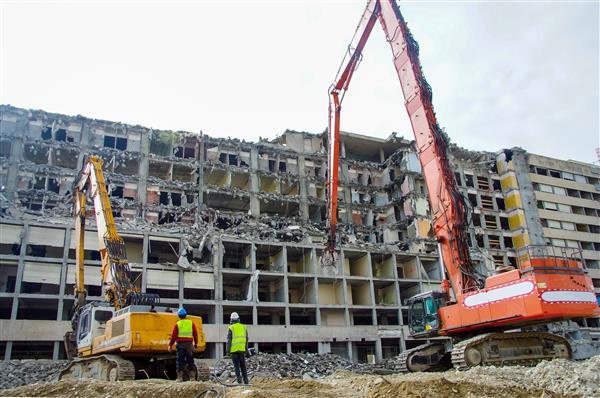 Demolition Contractors Bloomington, MN: The Number One Demolition Company
Having been in the demolition business for years, Omni Demolition has built an unshakable reputation as the leading demolition company in Bloomington, MN. Our contractors ensure that the necessary safety measures and procedures are in place in the work environment. Our team of demolition experts provide outstanding demolition services whether complete or selective. There are no second guesses when you sign with us.
Do You Need Demolition or Deconstruction in Bloomington, MN?
Demolition is the process of tearing down or pulling down buildings and structures by a demolition expert. A demolition expert may order a careful deconstruction prior to a demolition to carefully remove chemically hazardous materials as a safety precaution. Deconstruction is when a demolition expert takes a structure apart carefully, one piece at a time. In instances where a building will be remodelled or reconstructed, a deconstruction is more appropriate.
Our Commitment to Your Demolition Project in Bloomington, MN
We know that before you consider hiring us, you will want to understand how the job gets done by our demolition experts. If you wish to have a an effortless and hassle-free experience when leveling a property in Bloomington, MN, we are the demolition contractor that you can rely on. Our management style is hands-on, giving us the opportunity to customize solutions to fit your demolition needs. Do not be tricked by demolition contractors who cannot walk the talk. From the start to the finish of your project, we are focused on your absolute satisfaction. From the start to the finish of your project, we are focused on your absolute satisfaction.
We Offer Demolition Services in Bloomington, MN Fit for Your Needs
Industrial Demolition services: Complexity and size do not intimidate us. We have successfully torn down enormous structures such as manufacturing plants, factories, warehouses and even utility installations.
Commercial Demolition services: Our demo company uses superior equipment and expertise in tackling various commercial demolition structures such as strip malls, warehouses, office buildings, hotels, bridges, grocery stores and airplane hangars among others.
Concrete Demolition and Recycling Services: We are a safe demolition company. We also listen to what you are saying. Are you trying to cut down on costs and reduce wastage? Once our demolition experts have demolished your concrete structure, we can grind it into gravel or turn it into an aggregate for making new concrete.
Scrap Metal Demolition Services: As an all-around demo company, we can also take care of any unwanted steel erections and metal scraps onsite. We follow a certain procedure in salvaging items that are still good for future use so you can be sure nothing goes to waste.
The Top Choice Among Demolition Companies in Bloomington, MN
Our demolition experts and highly skilled demolition contractors consistently make innovations with the way demolitions are made. Our demolition experts and demolition contractors have an established performance record of completing demolition jobs in the right way, on budget and on time. You are guaranteed a hassle-free experience when you sign with us, the most trusted demolition company in Bloomington, MN. You will never find a more reliable demolition company in Bloomington, MN than us.
Main Methods for Demolition and Deconstruction in Bloomington, MN
Explosive Demolition: We have a team of demolition experts in Bloomington, MN who thoroughly oversee the process of using explosives to crumble a structure, including the strict adherence to safety regulations and environmental protocols. Non-Explosive Demolition: Our local demolition contractors will use a wrecking ball to demolish a building in situations that do not allow the use of explosives.
Selective Demolition: This is a type of demolition whereby building materials, part of the structure or building are separated and then sorted for the purpose of reusing or recycling. Our demo contractors have mastered the art of selective demolition that other building demolition companies do not have.
The Main Equipment Used in Demolition in Bloomington, MN
Hydraulic breakers – Commonly known as hydraulic hammers, these are often used by our demo company to grind up slabs and concrete structures.
Wrecking balls – Heavy and solid balls made of steel, wrecking balls are safely suspended on a crane and used to weaken a building until it gives.
Hydraulic Shears/ Rock breakers – They are fitted to an excavator and have the ability to cut through concrete, metal, rocks and wood.
Bulldozers – Commonly seen in construction sites, bulldozers are not only good for flattening surfaces but also for moving and transporting waste materials. It can also be maneuvered to knock down weak walls and structures.
Dumpers – Not every demolition business have their own dumpers but we use them for taking waste products and debris off the site.
Cranes – Demolition companies use cranes to move materials from different levels of a structure. A demo company will also use this machinery together with a steel ball. For a wrecking ball to work, it has to be attached to the crane.
Crawler Loaders – Flexible heavy equipment, crawler loaders can move on top of uneven surfaces and are also used for excavating and lifting.
Go Ahead and Contact Us for All Your Demolition Needs in Bloomington, Minnesota
If you are looking for a reliable demolition company in Bloomington, Minnesota, there is no need to look any further. When you have a demolition project, do not hesitate to contact us. Signing with our demolition company guarantees a stress-free project, from the accurate estimation, the actual operations, onsite clearance as well as processing required permits. Our work integrity and reasonable packages are only some of the reasons why we are a well renowned Bloomington deconstruction and demolition company. Get in touch with us today at
(855) 885-3366
and we will be more than glad to help.
Zip Code Areas We Service in Bloomington
55425, 55420, 55431, 55437, 55438