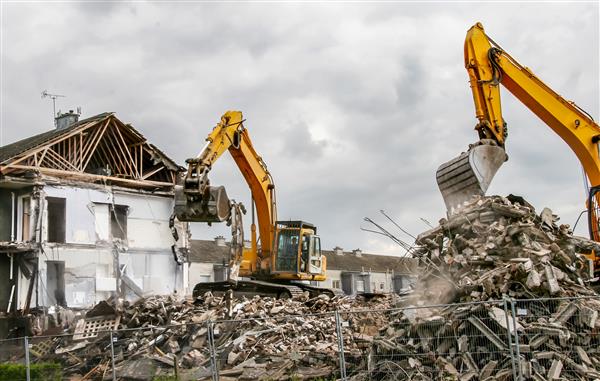 Guaranteed Superior Quality House Demolition in Bloomington, MN Only at Omni Demolition
Contrary to popular belief, house demolition in Bloomington, MN is not just about blowing off some structure or tearing down buildings. It is an engineered process aimed at the safe and efficient removal of supportive structures. Compared to other local house demolition companies, we have more high-powered equipment and professional residential demolition contractors. We have a team of seasoned residential demolition contractors who can readily assess your property. Without a doubt, we all need change somewhere in our lives. Call in a professional to have the area checked. We can handle everything from a straightforward mobile home demolition to a full-blown townhouse complex or condo demolition. Instead of covering cracks with layers of cement, you must address the structural issue so you can avoid accidents and other expenses.
How We Provide Outstanding Bloomington, MN Home Demolition Services
House demolition is our cup of tea and we are one of the most reputable demolition companies in Bloomington, MN. We want to deliver our Bloomington, MN services as safely as possible by using various tools and hydraulic equipment. If you do not have a solid plan on how to take down each part of the structure, you risk getting injured. The techniques we use also differ if you only need an interior demolition job. Let our residential demolition contractors work on each necessary part of your house. Unlike other residential demolition companies, our contractors are proficient in working on any size of project, whether you need a mobile home demolition project done or you need a large multi-storey building demolished. Rest assured we will lay out the demolition plan before we start.
The Cost of a Home Demolition in Bloomington, MN
Asking for a house demolition price quotation in Bloomington, MN can help you choose which company to hire. By knowing the costs, you can set your expectations and budget better. There are a few things home demolition companies use to determine the total cost of a service, and the list includes your project location and the condition of the structure. Here at Omni Demolition, our residential demolition contractors offer the most affordable house and mobile home demolition rates together with incomparable services. The size of the building is also taken into consideration. Before you hire a team of contractors, be sure to consider their level of expertise, the equipment they use and their customer feedback.
Getting a Residential Demolition Permit in Bloomington, MN
House demolition in Bloomington, MN, particularly in densely populated parts, necessitates the filing of permits and other procedures to make sure environmental and physical safety precautions are observed. Avoid incurring penalties and delaying your project by acquiring all the necessary permits, even for a simple mobile home demolition. The first thing that needs to be done is to ask for the appropriate demolition permits and to establish any legal requirements necessary for the building to be demolished. The engineers need to make sure that the building will be brought down in a safe manner and all the debris is contained within the site and will not affect the local neighborhood. We will brief you about everything you need to ensure a smooth demolition project.How to Plan for a Residential Demolition in Bloomington, MNSo you've made up your mind to hire a professional for your Bloomington, MN home demolition plan. The next logical step is to prepare your house for the demolition job. If you have personal items, furniture or any other valuables, remember to take them out in advance. Flooding and electrical fires are a dangerous threat at every demolition. Before starting the core process, long and tedious planning even for a simple mobile house demolition is required, especially if the chosen method is implosion.
Reasons for a Residential Demolition in Bloomington, MN
There will surely come a time when a house is no longer safe for dwelling, and a simple renovation job is no longer enough to reinforce its structure. We highly suggest calling in a specialist to check out your property if you suspect weakened or compromised foundation or walls. It is better to call a demolition specialist to lend you a hand instead. With a residential demolition service in Bloomington, MN, you won't need to worry about degraded cement or foundation. You can build new and stronger structures once the demolition project is completed.
Using the Right Equipment and Tools for a Residential Demolition in Bloomington, MN
As a leading corporation with the finest residential demolition contractors in Bloomington, MN, we strive to deliver top-notch home demolition services to all our customers. The most common classifications of demolition include industrial, residential, and commercial demolition. The project may call for the use of excavators, cranes, and large hydraulic equipment, etc. For large buildings, it requires the use of wrecking ball. At times, explosives are used to knock down huge structures. Our equipment such as track loaders and excavators allow us to deliver stellar services.
Call and Book Your Bloomington, Minnesota Home Demolition Appointment Today
We have built a reputation in the house demolition industry as one of the leading demolition companies. We have offered demolition services to the people of Bloomington, Minnesota for over many years, offering high-end quality services. Our superior work ethic is the reason we exceed our customers' expectations. No matter how big or demanding the job, our residential demolition contractors in Bloomington, Minnesota have the resources, experience and skills to take care of it safely, responsibly and professionally. Rest assured that we follow strict measures when performing our services. Contact us today at
(855) 885-3366
so we can get started on your demolition project!
Zip Code Areas We Service in Bloomington
55425, 55420, 55431, 55437, 55438