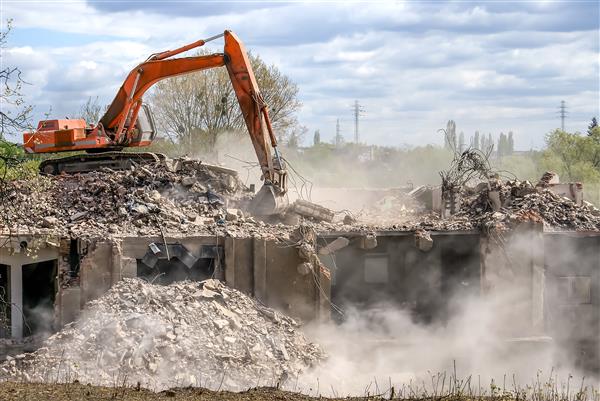 The Leading Company for All Your Concrete Removal Needs in Wilmington, NC
Concrete removal is an important aspect in the construction industry in Wilmington, NC. The importance of concrete demolition cannot be overstated. For example, at Omni Demolition, clients need concrete slab removal and concrete hauling services in order to build or rebuild new structures. Ultimately, when you need concrete demolition services to ensure that your building structure is exactly as you envision it to be, you will definitely need Omni Demolition to make it happen. We achieve 100% success in all our projects by examining the task at hand from all conceivable angles and then deciding on the course of action that is best suited for your project.
Special Equipment Used for Concrete Removal in Wilmington, NC
From plowing to chipping to drilling and demolishing concrete, we are your go-to company. Omni Demolition uses state of the art technology dedicated to do rapid yet effective concrete slab removal and concrete hauling. We give importance to our client's time which is why we ensure equipment and material readiness to avoid any delays to your projects. Our professional experts in Wilmington, NC are able to tackle any task such as removing concrete driveway, concrete slab demolition and concrete wall demolition with the help of our line-up of premium equipment and machinery such as diamond wire saws, demolition hammers, pavement breaks and hydraulic splitters. Depending on the nature of the project, we select different equipment to deliver maximum results. After the demolition, the waste has to be dealt with, so we also have special machinery for concrete hauling.
When Do You Need Concrete Demolition Services in Wilmington, NC?
One of the most important questions when it comes to concrete demolition services in Wilmington, NC is if the circumstances call for demolition at all. Some of the main reasons include the overall condition of the structure and presence of faulty wirings or leaky water pipes underneath the cement. No matter the size of your demolition and concrete hauling project, we are well able to handle it for you. Oftentimes, damages to properties require a complete removal and replacement instead of a concrete resurfacing which only hides the damage. All of the technicians follow safety procedures to ensure the project flows smoothly without any delays.
What Reports or Paperwork Do I Need for a Wilmington, NC Concrete Removal Project?
The state and local authorities in Wilmington, NC require necessary permits whether you will be conducting a concrete removal or concrete hauling project. While other concrete removal companies may charge you extra fees to have your permits processed, our experts at Omni Demolition will sort it out for you. If you have just moved to Wilmington, NC or if this is your first ever attempt in handling a major renovation or structural change, chances are you do not know which requirements you need and how you can get the necessary permits completed. You will be required to submit a few documents depending on the type and size of your project. Your local council may require that you get planning permits, demolition permits and a concrete demolition consent.
How Much Do I Need to Pay for Concrete Demolition Services in Wilmington, NC?
The cost of a concrete demolition project depends on the size and location of the project. You need to factor in the cost of permits and hauling as well. Permits can cost an average of $200 to a few thousand dollars. Quite a number of concrete removal companies in Wilmington, NC reduce the cost per square foot once the project is a given size. You should contact our reputable professionals in Wilmington, NC for any concrete removal job such as a patio demolition or patio removal. We might not have rock-bottom prices but considering the excellent workmanship and first rate customer service we provide, you are guaranteed the best value for your money. This cost is inclusive of disposal. The cost of concrete removal, however, varies in different cities.
How Long Does It Take to Complete a Concrete Demolition Project in Wilmington, NC?
No concrete demolition project is completely the same as each requires varied materials, manpower, equipment and time frame to finish. We understand the importance of honoring our commitments and we deliver our concrete slab removal and concrete hauling services in Wilmington, NC with no excuses. Depending on our agreement and forecast, work can be completed within a day, a week or even a month. We explain the steps involved, paperwork required, plus cost estimate to help our clients ensure everything runs smoothly. Other factors determining the length of time your demolition project will take are the area of the concrete structure, the thickness of the concrete slab and the type of slab.
Concrete Recycling in Wilmington, NC?
After the completion of a concrete demolition and removal project, you tend to end up with lots of concrete aggregate. Concrete recycling is an environmentally friendly process and prevents unnecessary waste transportation and disposal costs. Our concrete demolition contractors can use recycled concrete as a cheaper alternative of aggregate as opposed to newly mined aggregate. The aggregate is used in the production of new structural concrete. Once concrete waste is salvaged, the uncontaminated concrete free of paper, wood and other materials is crushed.
Your Company of Choice for All Your Concrete Demolition Needs in Wilmington, North Carolina
If you have been looking to hire a concrete slab removal expert, chances are you have seen ads from other providers in Wilmington, NC who offer the cheapest concrete demolition services, but are you sure you want to risk spending on a contractor that has no credibility and is seemingly desperate for clients? Hopefully not. While the end result of our services is a torn down building or structure, we use a number of concrete slab removal techniques to achieve our purpose. Experience a professional concrete removal service that is reasonably priced. We use various techniques when we provide our services to ensure that we finish the project within the targeted time frame. Dial our phone number today and let us know what concrete removal service you require.
Zip Code Areas We Service in Wilmington
28401, 28405, 28409, 28403, 28412, 28402, 28404, 28406, 28407, 28408, 28410