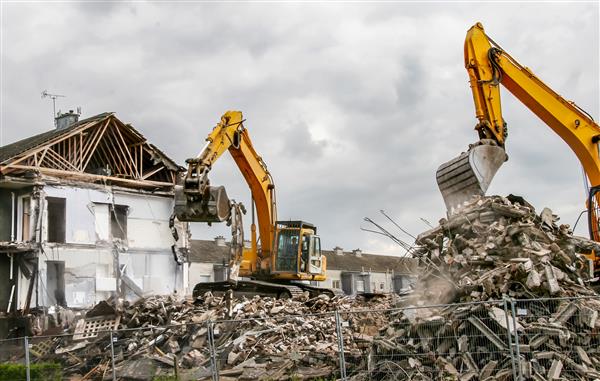 Omni Demolition: A Reliable and Trustworthy Residential House Demolition Company
A house demolition in Wilmington, NC is in order when you notice large cracks and other signs of compromised structure. You must learn how to choose among the many house demolition companies in the city. If you wish to keep your business local and be assured of expert service, Omni Demolition's residential demolition contractors provide exceptional service. We coordinate the entire project from start to finish, including but not limited to all the necessary documentation, inspections, and city permitting. Once we get your signal to go ahead, we will make the process simple for you whether our services are needed for a large demolition project or for something as small as a mobile home demolition project.
How We Stand Out from Other Wilmington, NC Home Demolition Companies
There is more to the house demolition industry in Wilmington, NC than blowing up buildings, fun as that may be. We have been in this line of work for many years, making us your best option when you need help with demolition. Regardless if you need help knocking down your home to create a new structure, add new features or strengthen the entire building, we suggest hiring a specialist right away, so you can plan your project smoothly. With the help of our residential demolition contractors, you can tear down any type or size of building. Whether it is for a small home or a huge mansion, you must always be cautious in selecting residential demolition companies as amateur employees may make mistakes adding extra delays and costs to the project. It is recommended that you hire a professional even for a simple mobile home demolition project.
What is the Cost of a Home Demolition in Wilmington, NC
Comparing the rates of house demolition companies in Wilmington, NC should be included in your to-do list. You may be able to recoup most of the demolition costs by recycling the structural elements and contents of the demolition itself, whether by tax-deductible donations or through sales. There are a few things home demolition companies use to determine the total cost of a service, and the list includes your project location and the condition of the structure. You can easily request a free cost estimate from our team of residential demolition contractors. We can supply you with a cost estimate for anything as small as a mobile home demolition project or as big as a multi-storey condo development. Don't put your fate in an inexperienced company. Other factors are also considered, such as the equipment needed, and the urgency of the request.
Getting a Residential Demolition Permit in Wilmington, NC
House demolition in Wilmington, NC, particularly in densely populated parts, necessitates the filing of permits and other procedures to make sure environmental and physical safety precautions are observed. Some of the usual paperwork required for a house demolition or mobile home demolition job include asbestos inspection repair and dust control clearance. If you have the city on your side, the neighbors will fall in line nicely. Avoid incurring penalties and delaying your project by applying for the necessary permit. Failure to secure all the necessary permits can get you penalized.Getting ready for a Residential Demolition in Wilmington, NCWe highly recommend keeping your kids, pets and other people away from the vicinity of the house so our Wilmington, NC home demolition team can work as quickly as possible. Preparing for a demolition takes a lot of time and our residential demolition contractors make sure that time is not wasted. They do a thorough check of the structure, ensure the building and site are cleared and make the best decision as to the type of home demolition that should be applied. A demolition contractor then starts the process with the removal of valuables from the building, such as the copper wiring; then follows the removal of materials like glass, asbestos sheets and other materials, which are considered to cause serious safety hazards during and after demolition. We make sure that mobile home demolition service is carried out efficiently at a very cost effective rate, and that no error takes place during the duration of the project, making sure to meet your schedule as quickly and efficiently as possible. It may be more efficient to transport a mobile home to a local landfill by truck and have the demolition take place at the landfill to save time and money.
Instances That Call for Residential Demolition in Wilmington, NC
There are other possible reasons for a house demolition. Some possible reasons that could justify demolitions: unstable foundation, widespread infestation in the house, and when there is a need to build a new structure. Demolishing the house or parts of it is your best option, most especially if the property shows risks of caving in. If you own a home that you want to make major changes to, you need the help of a residential demolition team in Wilmington, NC. We will conduct an inspection to pinpoint all the areas that need immediate attention and plan the best course of action.
Why We Excel in Providing Residential Demolition Service in Wilmington, NC
As a leading corporation with the finest residential demolition contractors in Wilmington, NC, we strive to deliver top-notch home demolition services to all our customers. Our residential demolition contractor uses equipment like cranes, wrecking balls, bulldozers, jackhammers, sledgehammers or chainsaws. Taking down walls to achieve your desired open floor plan might not be as easy as it seems. While it might be tempting to give it a go using a sledgehammer, it's not a wise thing to do. Rest assured that we can tear down the defective structure and remove every piece of steel and crushed cement within our promised day of completion. We guarantee to work fast so you can start rebuilding your property right away.
Contact Us Today for Home Demolition Services in Wilmington, NC
Never delay your demolition project because you may be at risk of getting hurt or spending a lot of money on repair jobs. Fortunately, you can count on our team to help you remove and knock down the defective parts of your house. Let us help you remove the damaged sections of your home or demolish the whole structure today. Count on our residential demolition contractors in Wilmington, North Carolina to provide everything you need for your house demolishing needs. Our company has proudly served many residential, commercial and industrial property owners in Wilmington, NC, and we're proud to assist you as well. Give us a call at
(855) 885-3366
so we can get started on your project!
Zip Code Areas We Service in Wilmington
28401, 28405, 28409, 28403, 28412, 28402, 28404, 28406, 28407, 28408, 28410