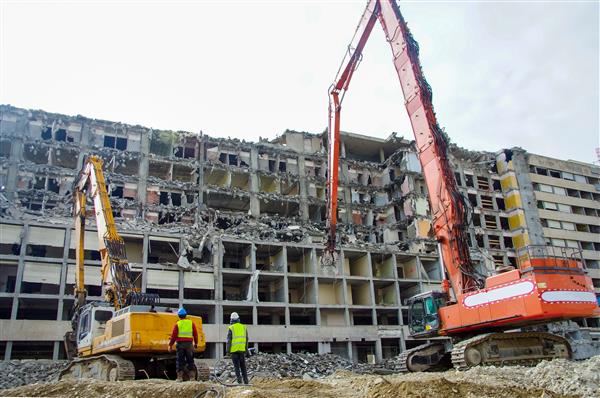 Demolition Contractors in Wilmington, NC: Your Trusted Demolition Company
Omni Demolition has efficient and expertly trained demolition contractors. We are dedicated to working on your project with no distractions whatsoever. Our contractors ensure that the necessary safety measures and procedures are in place in the work environment. If you need a structure or building taken down, our demolition experts will use the fastest and most economical method of demolition. The primary projects we undertake are demolition and deconstruction.
Dependable Demolition and Deconstruction in Wilmington, NC
Demolition is the process of tearing down or pulling down buildings and structures by a demolition expert. Demolition can either be selective or explosive. Explosive demolition uses mostly dynamite to bring down big buildings. Selective demolition involves bringing down a part of a building or tearing a section of a wall by a demolition expert. Deconstruction differs from demolition in that, it involves tearing apart a building or a home in a manner that salvages materials. It is usually done when one wants to remodel or improve a part of the building. Some projects require complete levelling while others simply need specific parts removed to be replaced. For every client call, we have a demolition expert equipped to do the job.
Why Hire Us for Your Demolition Project in Wilmington, NC
Our demolition experts and demolition contractors in Wilmington, NC are highly skilled in meeting all your demands. If you wish to have a an effortless and hassle-free experience when leveling a property in Wilmington, NC, we are the demolition contractor that you can rely on. Our word is our bond. We have an impeccable record of giving our clients value for their money while never compromising on the quality of our work. Our demolition contractor will use special equipment and apply all the necessary skills in ensuring that the demolition process does not cause harm or injury to anyone or anything.
Professional Demolition Services in Wilmington, NC
Industrial Demolition Services: We can handle any challenging industrial demolition project you may have. With our world-class equipment and staff, we are able to demolish plants, mills, manufacturing buildings and so on.
Commercial Demolition services: Our demo company uses superior equipment and expertise in tackling various commercial demolition structures such as strip malls, warehouses, office buildings, hotels, bridges, grocery stores and airplane hangars among others.
Concrete demolition and recycling services: Our demolition experts are experienced in salvaging not only metal scraps but concrete structures and slabs as well.
Scrap Metal Demolition Services: Allow our demo company to take down your metal structure. Our experts will downsize and process scrap metal for the purpose of recycling or reusing.
We Stay Ahead Other Demolition Companies in Wilmington, NC
Our demolition company in Wilmington, NC offers a broad spectrum of solutions which enables us to deliver prompt and successful results. Our demolition experts are highly experienced in all types demolition services be they in a remote or challenging environment. Our commitment to our patrons helped us become the most respectable demolition company in all of Wilmington, NC. Our demo company is well equipped in handling any job, however simple or complex.
Types of Demolition and Deconstruction in Wilmington, NC
Explosive Demolition: We have a team of demolition experts in Wilmington, NC who thoroughly oversee the process of using explosives to crumble a structure, including the strict adherence to safety regulations and environmental protocols.
Non-Explosive Demolition: Our local demolition contractors are flexible and in situations where explosive demolition may be unsafe, we may use a wrecking ball which is attached to a crane at a manageable height to bring down a building.
Selective Demolition: This is also known as interior demolition. When your building or property is structurally sound but its interior needs to be remodeled or upgraded, our demo contractors apply selective demolition. We use highly advanced demolition techniques giving us a reputation that other building demolition companies cannot match.
Utilizing the Proper Equipment for Demolition in Wilmington, NC
Hydraulic breakers – Our demo company uses hydraulic breakers or hammers in crushing otherwise solid surfaces such as concrete, cement and even rocks.
Wrecking balls – Attached to a crane, these heavy balls made of steel are used to weaken structures. They are swayed right into the building causing it to break and collapse.
Hydraulic shears and rock breakers – Used by specialists to cut through various materials such as concrete, metal, wood, and steel.
Bulldozers – They are used to remove huge rubble and dirt piles. They are also used to push down smaller-sized structures and buildings.
Dumpers – Dumpers are also known as tipper trucks. They are used for transporting rubble or waste from the demolition site. If you are in the demolition business, safety is paramount and some of the safety hazards are demolition wastes. A dumper is a very important in removing the large amount of debris from the site.
Cranes – In demolition, demolition contractors need a crane. Cranes can be used to lift a small-sized excavator. A wrecking ball can also be attached to a crane for demolition making it an essential piece of machinery in a demo company.
Crawler Loaders – They are very effective in removing materials from the demolition site. They are used to move or clear an area of demolition rubble. Crawler loaders can also be used to push down smaller-sized structures.
Contact Us for Cost-effective Demolition Services in Wilmington, North Carolina
Our demolition company is a leading demolition company in Wilmington, North Carolina with proven resources, knowledge, professionalism and experience to successfully manage any demolition project you may have. For years now, we have helped all our clients demolish and deconstruct their buildings and structures successfully. When you have a demolition project, do not hesitate to contact us. Our demolition company provides all our clients with dynamic solutions for all their Wilmington demolition and deconstruction needs. We are the Wilmington deconstruction and demolition company to go to for premium and safe demo services. Go ahead and give us a call today at
(855) 885-3366
. We are always at your service.
Zip Code Areas We Service in Wilmington
28401, 28405, 28409, 28403, 28412, 28402, 28404, 28406, 28407, 28408, 28410