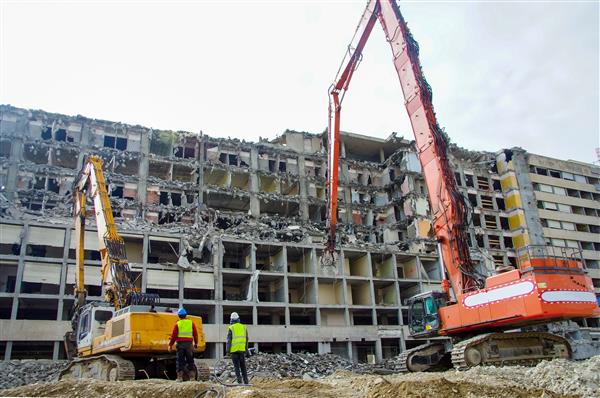 The Demolition Company with Demolition Contractors in Greensboro, NC You Can Count On
Omni Demolition is recognized as the leading provider of demolition contractors in Greensboro, NC. You are guaranteed to get the best value for your money with our expertise partnered with updated equipment and strict adherence to state safety regulations and policies. We have an enduring assurance to safety. Unlike other service providers, our demolition experts are all highly skilled and experienced in this business. For complex demolition jobs, we offer reliable demolition services.
Distinction Between Demolition and Deconstruction in Greensboro, NC
Demolition is taking down or dismantling a building or structure with a strong and overwhelming force whose end result is rubble or waste. Some projects require complete levelling while others simply need specific parts removed to be replaced. For every client call, we have a demolition expert equipped to do the job. A deconstruction may be a prerequisite to the actual demolition process where hazardous materials are taken out prior to the tear down of the structure. Deconstruction could be a component included in the demolition where our skilled team removes all hazardous and re-usable objects prior to the building being knocked down.
Our Commitment to Your Demolition Project in Greensboro, NC
Our demolition experts will meticulously execute your demolition project in a timely and safe manner. If you wish to have a an effortless and hassle-free experience when leveling a property in Greensboro, NC, we are the demolition contractor that you can rely on. Our word is our bond. We have an impeccable record of giving our clients value for their money while never compromising on the quality of our work. Taking down a structure sounds chaotic but unlike other demolition contractors, our services are done with utmost care and with as little disturbance to the community as possible.
We Offer Demolition Services in Greensboro, NC Fit for Your Needs
Industrial Demolition Services: We can handle any challenging industrial demolition project you may have. With our world-class equipment and staff, we are able to demolish plants, mills, manufacturing buildings and so on.
Commercial Demolition services: Need your commercial demolition project done right the first time? Our demo company will take care of that for you. Our portfolio includes: airplane hangars, restaurants, grocery stores, gas stations, warehouses and libraries among others.
Concrete demolition and recycling services: Our demolition experts can break down concrete surfaces and slabs into reusable gravel.
Scrap Metal Demolition Services: Instead of hiring another contractor, we will help you save money as our demo company will take care of handling misplaced steel erections and sorting metal scraps for salvaging.
Key Advantages Against Other Demolition Companies in Greensboro, NC
Our demolition experts and demolition contractors offer a professional and innovative approach to all your demolition projects. We are a class above the rest. What sets us apart is our unshaken resolve to achieve 100% in customer satisfaction. We are a demolition company that takes our work seriously and consistently conduct regularly equipment maintenance, which ensures efficient and quick clearing operations. We continue to fulfil our commitment as a demo company when it comes to putting our clients as top priority.
Our Methods for Demolition and Deconstruction in Greensboro, NC
Explosive Demolition: Our qualified demolition experts have years of experience in explosive demolition projects. Using our expertise and meticulous planning, we will safely execute your project with minimal disruption to your surroundings.
Non-Explosive Demolition: This method of demolition does not use explosives. Our local demolition contractors can use equipment such as wrecking balls, excavators and bulldozers.
Selective Demolition: In cases where property owners want to retain a certain part or frame of a structure, demo contractors will conduct the selective method. In this procedure, building demolition companies need to ensure the integrity of the structure is not compromised after some parts are removed.
We Facilitate High-End Equipment for Demolition in Greensboro, NC
Hydraulic Breakers – A demo company uses hydraulic breakers to demolish concrete and pulverize rocks.
Wrecking balls – Used mainly for non-explosive demos, these heavy impacting balls are helpful in progressively weakening a building until all that's left are frameworks that are then easier to tear down.
Hydraulic shears and rock breakers – These are helpful in cutting all sorts of steel, wood, rocks, concrete and metal. They make a very clean cut within a short period of time.
Bulldozers – A bulldozer is a heavy piece of equipment that has a robust bucket attachment. This attachment enables the bulldozer to clear trash, rubble and debris from a demolition site. Bulldozers are multi-purpose, they can also be used to push down heavy smaller-sized structures.
Dumpers – A necessity in every demolition business, dumpers are used to haul waste materials off the demolition site. It ensures the pre-construction area is free from any trash or debris brought about by the demolition.
Cranes – In demolition, demolition contractors need a crane. Cranes can be used to lift a small-sized excavator. A wrecking ball can also be attached to a crane for demolition making it an essential piece of machinery in a demo company.
Crawler Loaders – This heavy machinery is used to move aside debris material. It can also load the material onto a dump truck.
Call Us for Outstanding Demolition Services in Greensboro, North Carolina
We are your dependable and trusted demolition company in Greensboro, North Carolina. We take any demolition challenge head on. Our demolition company never offers excuses; we simply provide professional and timely services guaranteed to accommodate your budget. We are the Greensboro deconstruction and demolition company to go to for premium and safe demo services. Contact us at
(855) 885-3366
.
Zip Code Areas We Service in Greensboro
27410, 27455, 27408, 27409, 27403, 27401, 27406, 27407, 27405, 27214, 27402, 27404, 27411, 27412, 27413, 27415, 27416, 27417, 27419, 27420, 27425, 27427, 27429, 27435, 27438, 27495, 27497, 27498, 27499