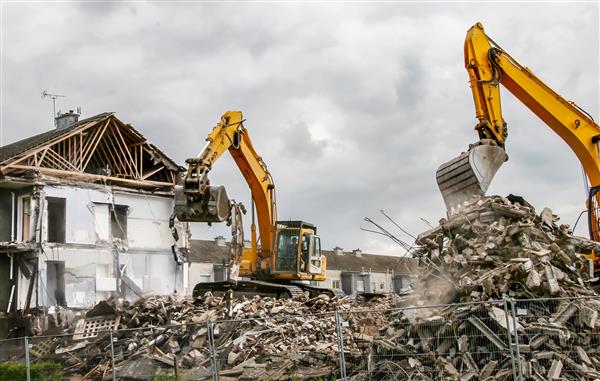 Residential House Demolition by Omni Demolition
It takes a lot of effort and time to do a house demolition in Greensboro, NC. It is also quite a risky job, most especially if you don't have the right equipment or if you lack technical background and experience. You must learn how to choose among the many house demolition companies in the city. If you wish to keep your business local and be assured of expert service, Omni Demolition's residential demolition contractors provide exceptional service. Consider the amount of effort and money you need to rent out the necessary equipment, not to mention the risks you have to put up with if you knock down your property alone. Call in a professional to have the area checked. All of our work is conducted by experienced machine operators who can work even on your mobile home demolition project to ensure a safe demolition project. Instead of covering cracks with layers of cement, you must address the structural issue so you can avoid accidents and other expenses.
How Our Greensboro, NC Home Demolition Solutions Differ from the Rest
At every house demolition job, we make sure that the project is accident-free when we demolish a Greensboro, NC property. We do this by conducting an initial inspection and checking every section of the building we need to work on. Accidents can happen in a home demolition site. As knowledgeable residential demolition contractors, we offer unrivaled expertise to all aspects of the modern demolition process. Whether it is for a small home or a huge mansion, you must always be cautious in selecting residential demolition companies as amateur employees may make mistakes adding extra delays and costs to the project. An inexperienced amateur demolition company can turn a simple mobile home demolition project into a large costly disaster.
Cost Estimation of Home Demolition in Greensboro, NC
House demolition costs in Greensboro, NC are bound by some variables that determine the total expenses during a demolition project. We determine the final cost by considering various factors, including the severity of the building's condition, the size of the property, and your location. You can compare our rates with other home demolition companies. We at Omni Demolition will assign seasoned residential demolition contractors to work on your project. Rest assured that our affordable mobile home demolition package includes everything you need to get a flawless finish. This way, you can get more for your money. Be sure that the team you choose will explain everything you need to know about the job at hand.
Acquiring a Residential Demolition Permit in Greensboro, NC
Every house demolition project requires a permit, regardless of its scale. Other special inspections and documentation for your mobile home demolition may be asked from you depending on the state you are in. Our residential demolition contractors are licensed to do the work that you need done, and they will also help you obtain the proper permits for the project at hand. This will help you avoid unnecessary fines and delays in your project. Some of the reports you will need to secure include dust control clearance and asbestos inspection. We will brief you about everything you need to ensure a smooth demolition project.Preparing for a Residential Demolition in Greensboro, NCUnlike construction, a home demolition in Greensboro takes less time, but one of the most time consuming and tiresome parts of the process would be the preparation stage. If you have personal items, furniture or any other valuables, remember to take them out in advance. Once your permit application is granted, the next step is to prep your house for demolition. The area will be completely cleared out and no one but authorized personnel will be permitted near it. Our trustworthy demolition company is experienced in all phases of the demolition process and we believe that this must be followed even for a simple mobile home demolition.
Why You Should Book a Residential Demolition Service in Greensboro, NC
There are a lot of reasons as to why a residence would need to be demolished. This ranges from wanting to renovate the house, a natural disaster that has damaged parts of the house, or the need to remove an existing structure so you can build a new one. Timeworn buildings on your estate could be shabby and risky, and they need to be demolished for aesthetic or safety reasons. More often it costs less to rebuild than to repair. If your property has undergone extensive fire damage or water damage, it is important to call a residential demolition company in Greensboro, NC as soon as possible. Obviously, you need the assistance of a residential demolition company if you want a safe, satisfactory result.
Equipment and Tools Used for Residential Demolition in Greensboro, NC
Omni Demolition residential demolition contractors have always provided safe and reliable home demolition services in Greensboro, NC. Omni Demolition carries out any demolition job using specific tools and equipment to guarantee a smooth completion. Taking down walls to achieve your desired open floor plan might not be as easy as it seems. While it might be tempting to give it a go using a sledgehammer, it's not a wise thing to do. With demolition equipment such as trucks, loaders, tractors, wheeled tippers, concrete crushers and excavators, demolition can be done in just a matter of hours. The most popular among these is the wrecking ball, though safety explosives are also commonly used.
Call and Book Your Greensboro, North Carolina Home Demolition Appointment Today
It is definitely not easy to tear down walls and pull out foundation beams. Contrary to what most people believe, demolishing a house or any type of building is not an easy task. Our crew is always available to help you. We have the best Greensboro, North Carolina residential demolition contractors. Our company has proudly served many residential, commercial and industrial property owners in Greensboro, NC, and we're proud to assist you as well. We are only a phone call away for all your demolition needs.
Zip Code Areas We Service in Greensboro
27410, 27455, 27408, 27409, 27403, 27401, 27406, 27407, 27405, 27214, 27402, 27404, 27411, 27412, 27413, 27415, 27416, 27417, 27419, 27420, 27425, 27427, 27429, 27435, 27438, 27495, 27497, 27498, 27499