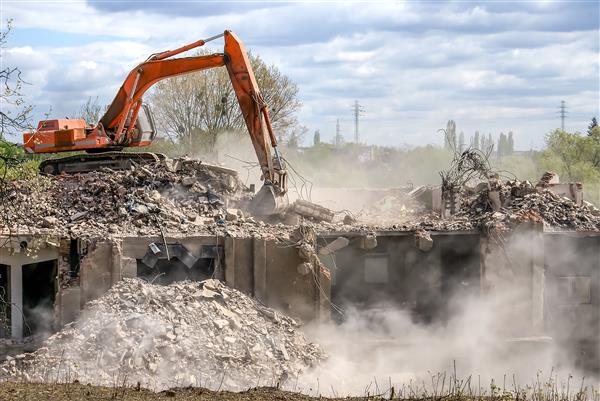 Cost-effective Solutions to Your Concrete Removal Needs in Camden, NJ
When bigshot companies in Camden, NJ make you feel intimidated as you seek advice on demolition procedures, concrete removal and other related services, our clients enjoy professional and friendly consultation for free. Omni Demolition has the best concrete slab removal experts in the region. We have spent years perfecting our services. For many years, we have been delivering quality solutions such as construction site cleanup, demolition jobs and concrete hauling. Ultimately, when you need concrete demolition services to ensure that your building structure is exactly as you envision it to be, you will definitely need Omni Demolition to make it happen. At Omni Demolition you can benefit from our affordable fees and quick delivery time.
Specialized Equipment Used for Concrete Removal in Camden, NJ
At Omni Demolition, we use the best and most effective equipment for concrete removal projects, from pallet jacks and bobcats to jackhammers and hoists. We have access to pallet jackets, hoists, bobcats and other equipment so we can ensure the timely delivery of our Camden, NJ concrete slab removal services. We highly recommend consulting with experts when you plan for your demolition project. Some of the services we offer include removing concrete driveway, concrete slab demolition, and concrete wall demolition. Rotary hammers, on the other hand, can demolish concrete using the hammer alone or they can make holes in concrete. After the demolition, the waste has to be dealt with, so we also have special machinery for concrete hauling.
Addressing Your Concrete Demolition Needs in Camden, NJ
Concrete removal is an essential part of making your home, building or structure beautiful. Temporary resurfacing cracked surfaces or patching up crumbling foundations will only cause repeated spending, more hassles and even threaten the safety of the building occupants. Whatever your demolition and concrete hauling requirements are, we can help you achieve all your goals at a budget-friendly price. Great concrete quickly transforms the look of a structure. It also upgrades the quality of a building and comfort of the residents. All of the technicians follow safety procedures to ensure the project flows smoothly without any delays.
Are Permits necessary for Concrete Removal in Camden, NJ?
Before you can start a Camden, NJ concrete removal, concrete hauling project or any other related service, you need to secure a few documents. Start by applying for a permit from the local authority. Avoid dealing with questionable concrete removal companies that overcharge for permit processing fees. Planning to have a concrete demolition job done in your property? Depending on the nature of your project you may or may not need one. Before you begin a demolition job, it is advisable to first understand the laws and requirements of your location. You may be required to get in touch with the gas, electric and water company for clearances or reports.
Concrete Demolition Expenses in Camden, NJ
Other service providers in Camden, NJ make their proposed contract sound complicated to justify unreasonably priced estimates. The bigger the size of the concrete, the more the job will cost. Quite a number of concrete removal companies in Camden, NJ reduce the cost per square foot once the project is a given size. Whether you have an easy patio demolition or patio removal job for us or a major road removal project, expect nothing less than V.I.P. treatment and a premium end result. We provide detailed and accurate estimates that are easy to understand. The actual demolition cost alone can cost you from between $1000 – $15000+ If the structure contains hazardous materials such as asbestos, it may cost you extra to have the hazardous materials removed.
How Long Can I expect a Concrete Demolition Project to Take in Camden, NJ?
Concrete is usually reinforced with tough steel making it virtually indestructible. A concrete demolition project needs the services of professionals to have it done right and safely. It can take days, weeks or even months to complete a concrete slab removal and concrete hauling project in Camden, NJ. At our company, we are able to finish a demolition or hauling job within as little as a few days, depending on the size of the property. In instances that an unforeseen situation arises, the client is notified to ensure that they are not kept in the dark and to establish the right expectations. With that in mind, it might take days, weeks or even months to have your project completed depending on its nature, type and all the other aforementioned factors.
Is it Possible to Recycle Concrete Demolition Waste in Camden, NJ?
After the completion of a concrete demolition and removal project, you tend to end up with lots of concrete aggregate. We can help you do the responsible thing by recycling wastes such as pulverized concrete and even metal scraps, which can also help recoup some of the demolition project costs. With the help of our professional concrete demolition contractors, you can recover some costs and contribute to other projects with your recycled concrete. The crushed materials are often referred to as dry aggregates, and they can last a long time if applied the right way. Additionally, crushed concrete is also cheaper and greener compared to the regular type. Recycled concrete has been gaining popularity among the community of demolition and construction experts in the city.
Make the Wise Decision by Calling Us for Concrete Demolition in Camden, New Jersey
Our concrete demolition services in Camden, NJ consist of concrete slab removal and concrete removal service. Omni Demolition has all the skills, tools and equipment needed to perform a concrete slab removal or hauling service. Furthermore, whether you have a strict budget or timeframe, there is no problem we cannot solve. We have been in this business for many years. We guarantee to come and fix your concrete-related problems fast. We also follow strict measures and carefully evaluate our demolition and removal plan to avoid delays. Call us today at
(855) 885-3366
for a free consultation and ask one of our agents for a free estimate.
Zip Code Areas We Service in Camden
08104, 08105, 08102, 08103, 08101