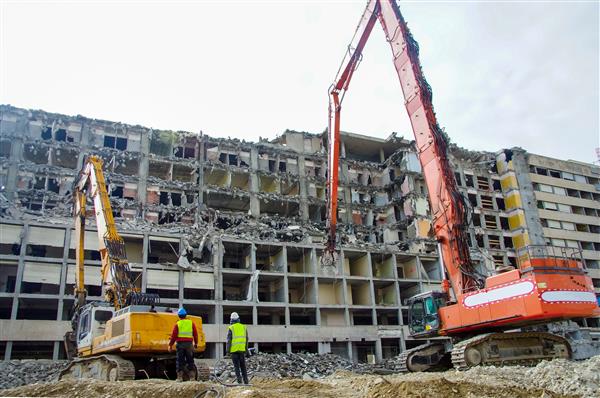 The Best Option For Demolition Contractors Camden, NJ: Our First-Class Demolition Company
Omni Demolition has efficient and expertly trained demolition contractors. We are an established service provider when it comes to experience, skills and workmanship. We offer unrivalled expertise and deliver tailor-made solutions to both simple and tough demolition projects. Always making sure that our clients are not kept in the dark, our demolition experts will guide you accordingly when it comes to recommended methods, pricing and procedures to be enacted. We are always on schedule. For all your projects, we ensure that we provide you with environmentally friendly services.
Do You Need Demolition or Deconstruction in Camden, NJ?
Demolition is the process of tearing down or pulling down buildings and structures by a demolition expert. A demolition expert may order a careful deconstruction prior to a demolition to carefully remove chemically hazardous materials as a safety precaution. Knowing the accurate requirements for your project is important to steering it into the right direction. On the other hand, whole-house deconstruction entails tearing down an entire structure and salvaging any reusable or recyclable materials. Selective deconstruction involves going into a property before demolition and removing high value and easily removable materials.
Highly Recommendable Services for Any Demolition Project in Camden, NJ
Our demolition experts and demolition contractors in Camden, NJ are highly skilled in meeting all your demands. Hire the most recommended demolition contractor in all of Camden, NJ. We are knowledgeable in protocols and we prioritize safety at all times. Our demolition contractors are not only committed to providing first rate work but also ensure that all steps are taken to cause little to zero disturbance to the environment and to the properties adjacent to the site. Our job is thorough and you can be certain that once we are done, you do not have to worry about hazardous wastes being left behind. Our job is thorough and you can be certain that once we are done, you do not have to worry about hazardous wastes being left behind.
We Offer Demolition Services in Camden, NJ Fit for Your Needs
Industrial Demolition services: We have tried and tested thorough demolition of industrialized buildings. Our record includes taking down plants, manufacturing buildings, mills and the like.
Commercial Demolition services: Need your commercial demolition project done right the first time? Our demo company will take care of that for you. Our portfolio includes: airplane hangars, restaurants, grocery stores, gas stations, warehouses and libraries among others.
Concrete demolition and recycling services: Our demolition experts are experienced in salvaging not only metal scraps but concrete structures and slabs as well.
Scrap Metal Demolition Services: Our demo company is also experienced in extracting steel and metal from a building.
We Set the Pace for Other Demolition Companies in Camden, NJ
We take pride in deploying demolition experts and demolition contractors who are not simply knowledgeable on the job but also skilled and experienced all across the state. We take pride in employing some of the finest calibre of demolition experts throughout the city. As the number one demolition company in Camden, NJ, we will work closely with you to guarantee an optimum outcome. Our demo company is well equipped in handling any job, however simple or complex.
Our Approved Methods for Demolition and Deconstruction in Camden, NJ
Explosive Demolition: Our demolition experts in Camden, NJ bring down structures or buildings by removing the main structural elements such as the walls and pillars with the help of explosives. This reduces the building's structural stability, causing it to collapse under its own weight. This method is faster, environmentally friendly and safer when compared to other methods.
Non-Explosive Demolition: In instances where the height of the building makes it unsafe to use explosives, a wrecking ball is used by local demolition contractors to weaken the structure before tearing it down.
Selective Demolition: This method is used when buildings are being remodeled or rebuilt and the client wishes to retain some parts of the structure. Not all contractors can perform this demolition as it involves meticulous planning and careful effort. Our demo contractors are veterans in conducting selective demolition especially in handling specialized equipment required for the job. You can trust our team of experts in providing calculated and top of the line performance, which other inexperienced building demolition companies cannot guarantee.
Main Equipment Used in Demolition in Camden, NJ
Hydraulic Breakers – This strong hammer is built to withstand heavy and rigorous use. As one of the high-quality demolition tools used by our demo company, it offers greater productivity in regards to speed, efficiency and its overall performance.
Wrecking balls – Used mainly for non-explosive demos, these heavy impacting balls are helpful in progressively weakening a building until all that's left are frameworks that are then easier to tear down.
Hydraulic Shears and Rock Breakers – They are usually attached to excavators and then used to make clean cuts through concrete, metal, wood and rocks of large structures.
Bulldozers – It has a ripper and is used to move large quantities of rubble. It is also used to bring walls down.
Dumpers – Not every demolition business have their own dumpers but we use them for taking waste products and debris off the site.
Cranes – Aside from being used to secure a wrecking ball, demolition contractors in our demo company also use cranes to lower and lift materials within the site.
Crawler Loaders – Also meant to be used in excavating, crawler loaders have declined in popularity compared to hydraulics that can be used in heavy drilling. This equipment, however, can run on its own power as opposed to hydraulic excavators that more often require towing.
Contact Us for Cost-effective Demolition Services in Camden, New Jersey
Call our demolition company in Camden, New Jersey. You can rest easy knowing that we have a solution for all your demolition projects. Our demolition company provides all our clients with dynamic solutions for all their Camden demolition and deconstruction needs. Our Camden deconstruction and demolition company has highly skilled personnel with years of experience in the demolition business. For all your demolition needs, call us at
(855) 885-3366
.
Zip Code Areas We Service in Camden
08104, 08105, 08102, 08103, 08101